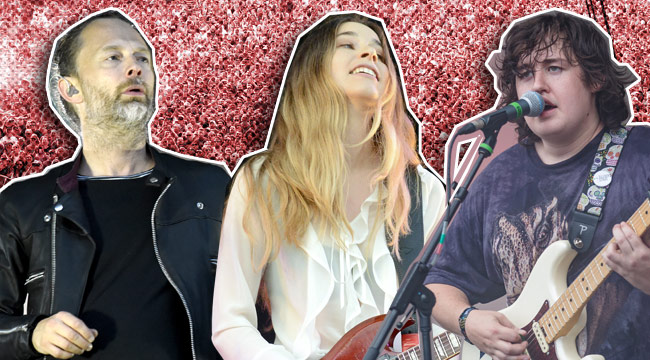 Complain about Lollapalooza for being too corporate, too big, too money hungry, too overrun with kids on molly, or played out. Find fault in the festival's radius clause that makes it hard for clubs to book bands in the summer. Scoff at the promoters' ability to avoid paying taxes for the first few years that the fest was in Chicago. That said, one thing has never changed in the 25 years since Perry Farrell started Lollapalooza – they still put on a hell of a show.
In celebration of Lolla's silver anniversary, a fourth day was added, which seemed like a bit much. By Day 4, those who had been there for the duration were sunburnt, dehydrated, glazed over, and more than a little bit spent. And yet, some of the best sets of the weekend were on Sunday with Haim, LCD Soundsystem, Fidlar, Halsey, Third Eye Blind, Bryson Tiller, and Vince Staples delivering noteworthy performances.
One saving grace of the fourth day, which organizers have now confirmed will be permanent, was a lack of huge conflicts that we've seen in year's past. Things were better spaced out, headliners tended to swing one style to the other on opposite ends of the park, so people could map out their schedule more effectively and take their time getting from stage to stage.
As an eight-year veteran, I still walked a lot (my Fitbit registered at just under 47 total miles from Thursday to Sunday); I just didn't have the sprints I've had in other years where I'm panting, discombobulated, and frantically trying to remember the lyrics to the songs I ran over to see in the first place.
What Lolla has always done well is bridge the gap between generations. Sure, the festival belongs to the teens now (and that's okay!), and it's getting harder and harder for those older fans who have made the weekend an annual outing to avoid the throngs of retro jersey-clad individuals who party aggressively and end up with no spacial awareness or ability to act on a human level. But there's still something magical about younger fans who maybe are discovering a band for the first time that influenced all the groups they listen to now.
Hearing kids on the train say "Jane's Addiction is one of those 'old' bands – they're pretty good though," or watching girls hop around enthusiastically to "Dance Yrself Clean" the same way they would at a Marshmello set, is incredible. It speaks to what Lollapalooza has tried to do for 25 years, and it's hard not to think about those new parents who went to the very first Lollapalooza bringing their own kids to the festival – complete with huge headphones to help block out the noise – to share their love of music and pass it on.
Here are a few highlights from the weekend, in no particular order.
Harambe Would Have Loved Lolla

I'm going to try and explain this the best I possibly can: Lollapalooza has always had an element of "what in the heck is going on" to it, it was the perfect place for the now-internet meme Harambe to thrive. All four days, there were people with signs and shirts for Harambe. One guy even had a blowup doll with Harambe's face on it. Modern Baseball dedicated their dang set to him. And all throughout the weekend people just yelled "Harambe" whenever they felt like it.
Wherever Harambe is right now, I'm sure he's smiling down on all of us, and even he had to love seeing Joey Purp randomly bring out Twista to perform "Overnight Celebrity."

Mr. Mensa, Your Table Is Ready

Perhaps the most powerful set of the festival was Vic Mensa's headlining set on Saturday night at the Pepsi stage. While the Red Hot Chili Peppers were running through another set of new songs and old classics, and Disclosure was doing what Disclosure does, Mensa took the opportunity that had been given to him and ran with it.
He told the story of the time he tried to sneak into Lollapalooza a few years ago and got electrocuted, and mentioned that the festival isn't easy for people from the South Side to attend. (And suggested that it be free – hey, a guy can dream.) He spoke about gun violence and LGBT rights, and Flint, and race relations. And when he performed "16 Shots" – about the shooting of LaQuan McDonald – off his There's Alot Going On EP, he had dancers in faux riot gear marching on him, detaining him, and pantomiming holding guns.
The set was captivating, and breathtaking. And as the crowd, many of whom went on the off-chance that Chance The Rapper (or even Kanye) would show up, started chanting for Chance, Vic stopped and said, "Everybody's always asking me who I'm going to bring up." The only guest he had on stage was Joey Purp, who he performed a new song with. But by the end of the set, it was only Mensa, with a spotlight on him, standing high above the stage.
The message was clear: Mensa loves his friends and mentors (although he suspiciously left out Chance when listing the people who had been with him since "Day 1"), but he's ready to do this thing on his own.
It's HAIM Time

The Haim sisters couldn't stop smiling. They had been wanting to play Lollapalooza forever, and they've been spending so much time in the studio, the anticipation could be felt from as far back as the sound tent. And they left it all out on the stage, ripping through fan favorites and new tracks off their soon-to-come sophomore album.
It's always been hard to define HAIM. What HAIM is, and what they're going to continue to be (especially) is a damn good rock band consisting of members who have always wanted to be in a damn good rock band. As a friend told me on Sunday, "If you asked Alana Haim what she wanted to be when she grew up, she'd tell you she wanted to be in HAIM."
The crowd had a lot of folks who were camped out for Ellie Goulding's headlining set, but even they were won over by the band's awesome performance. And one of the overall highlights of the entire four days was a cover of "I Would Die 4 U," dedicated to Prince.
Sweet Home Chicago

One thing that doesn't get mentioned nearly enough is just how great the city of Chicago is at handling big events. Sure, locals are understandably grumpy with the tourists, traffic, delays, and more, but the city itself is built for stuff like this.
Grant Park couldn't be a better location for a music festival. It's gorgeous, the skyline views never get old, the lake is right there – you can feel it even if you can't see it – and the public transit is just a short walk away. People from the suburbs can get in and out and still go home for the night. There are ample hotels. And Chicago during the summer is easily one of the best cities in America to visit.
As I was walking out on Sunday, I wondered if anywhere else could do what Chicago does with Lollapalooza. I had friends who went to a Cubs game on Saturday afternoon for a day game and made it back into the gates before 5 p.m. It seems unheard of, but that's just Chicago. There's more than one reason why when Lollapalooza decided to take up permanent digs, the Windy City was the pick.

Where Are Your Friends Tonight?

Walk around the side stages at Lollapalooza and you'll hear LCD Soundsystem everywhere. They're in the constant build and eventual drop at the Perry's stage, the mix of guitar and synths of any number of unknown mid-afternoon bands, the ferocity of Grimes, and elsewhere. And even though James Murphy has played Lolla before, the sense of urgency in each and every track to close out Sunday was infectious.
At about 9:45 (the set was supposed to end at 10), Murphy whispered to someone off stage and said, "Oh yeah, we have about 34 minutes. We have time." The band then went into an all-time great performance of "New York, I Love You But You're Bringing Me Down," the same song they played to close their so-called final performance at Madison Square Garden in 2011.
While it wasn't the star-studded affair of that MSG show – and not nearly as long – this set was a prime example of why so many people were upset when LCD Soundsystem broke up in the first place. They're so damn fun and they can hit so many types of music fans in the right place, picking up new fans like a snowball rolling down a hill. The group I was with for this set weren't fans at the start, and came with me simply because they didn't want to deal with the people who were at Ellie Goulding. Within minutes, they were hooked and spent the rest of the show smiling.
That's the power James Murphy has. He can make you reflect on your own mortality and the fact that you're not cool anymore (and trust me, hearing "Losing My Edge" after looking around and seeing crowds of people a decade younger than me was surreal), but keep you dancing all the same. And when the final notes of "All My Friends" rang out, and the video board kept flashing colors, and the house speakers played "Nothing Compares 2 U," I couldn't imagine a more fitting ending.
We're Not Scaremongering, This Is Really Happening

My first panic attack was eight years ago at, where else, Lollapalooza following a Radiohead set. We got this spontaneously spectacular experience as a fireworks show happened right behind the stage as the band ripped through an inspired performance. After a decade of attending Lolla, I've held onto that moment ever since.
I have also held onto the gripping fear that happened as the crowd headed for an exit that was open the night before that was suddenly no longer an exit. That didn't stop anyone from continuing to push and try to get out. More than a little scared I'd get trampled to death, I experienced that feeling where my heart wanted to rip itself out of my chest. My breath got so fast that I felt I could lose it and I couldn't see anything except piercing light in front of me. We all eventually found a new exit, and I'd have many other panic attacks after that (including one when I saw The xx and got stuck in a crowd at a stage that wasn't equipped to handle that many people), but the first one was following a sublime, beautiful moment. Two sides to every coin and what not.
That was the last time I saw Radiohead – until this weekend.
It's pretty much impossible for Radiohead to put on a bad show, but even I was perplexed with the setlist Thom Yorke and company decided to go with. It wasn't accessible to casual observers or new fans, and the band themselves did no favors with Major Lazer at the other end of the park likely keeping the energy up for two-straight hours. But Radiohead has never cared much for what anyone wants them to do, and I wouldn't have it any other way.
The set included plenty of tracks off their new album, and those songs sounded tight and haunting. And they even tossed in classics like "Let Down," "Karma Police," and "Fade Out." We got an inspired version of "Paranoid Android" and maybe the best offering of "Idioteque" I've seen live. Yorke flailed around the way he always does, and the band always sounds as perfect as they can technically. It was a Radiohead show, and like how all pizza is good pizza, all Radiohead shows are good Radiohead shows.
Afternoon Delight

A big part of the fun of Lollapalooza – if you have the energy – is making it to early sets and seeing groups who are performing at Lollapalooza for the first time.
Some of them will get huge someday (Gary Clark Jr. played at like noon one year and blew everyone away, and Ke$ha played in 2009 with so much energy it was impossible to think of her as anything but a future star). Others will fade out, or never make it past the club circuit. But the sheer enthusiasm of bands who are actually happy to be performing at a festival in front of lots of people is infectious.
Modern Baseball could barely believe it was happening themselves, and if you asked the members of that Philly outfit if it happened, they might not believe you even though they were right there on that stage. They gave it everything they had, won over youngsters and former pop punk kids alike, and left the stage ready to take on the world. If they ever get the chance to play Lollapalooza again, it won't be around lunchtime.
Big Grams, Big Fun

There's no reason why Big Grams should exist, but I'm glad that they do. The side project collaboration between Big Boi and Phantogram is offbeat, strange, and doesn't make a whole lot of sense. It's also fun as heck, and Big Boi and Sarah Barthel seem to be having the time of their life on stage.
Big Boi used Phantogram on a solo effort of his (Vicious Lies and Dangerous Rumors), and they had such a good time together that they made a seven-song album that featured Run the Jewels and Skrillex. The performance was the happiest I saw any group the whole weekend outside of HAIM. Big Boi and Barthel played off each other extremely well, cracked jokes, danced, and laughed randomly.
There was a mashup of Phantogram songs to OutKast's "Ms. Jackson" and "The Way You Move," and the crowd responded with a roar.
At one point, Barthel mentioned how she's never done this before, but she wanted to be flashed by someone in the crowd. Big Boi couldn't stop laughing. During the group's last song, she got her wish. And the group showed their appreciation. Barthel yelled out a "YEAHHHHH!"
Much like the existence of Big Grams, there was no reason why that moment should have occurred. But hey, it's Lollapalooza.

Did You Cash In All Your Dreams?

After UPROXX's own Steven Hyden wrote about Third Eye Blind, and the band made headlines during the RNC, I decided I needed to see what kind of crowd the band would draw at Lollapalooza. I last saw the epitome of you-know-that-exact-type-of-'90s-alternative-pop-rock-when-you-hear-it back in 2009 at my college, with a packed house screaming every line to every song except for the new ones, but even when they did play new songs, Stephan Jenkins actually apologized and told the crowd to bear with him.
Even I was shocked to see what happened right as the band started playing. This was easily the biggest non-headliner crowd I saw all weekend. And the age range of faces as I peered out was all over the place. Which made me think about Third Eye Blind's role in music history.
There are 19-year-olds who haven't had a second of being alive without "Semi-Charmed Life" and "Jumper" and "How's It Going to Be?" being in their lives. In coffee shops, and commercials, and movies, and malls, and on the radio. There are people who were in college when the self-titled album came out. Or those who were just getting into music who heard it constantly when it seemed like you couldn't go five minutes without hearing a Third Eye Blind song. And for whatever reason, every single person who had that band as a touchstone who was in Chicago on Sunday came over to hear Jenkins sing.
The sound was bad. A helicopter flew overhead during a few minutes making it even worse. The people in the back couldn't see – or hear – anything. But it didn't matter. When "Jumper" began, and "Semi-Charmed Life" after that, nobody needed to see or hear anything anyway. They all sang their hearts out.
Sure the scene was unexplainable, but lots of things about music are. And they always will be.