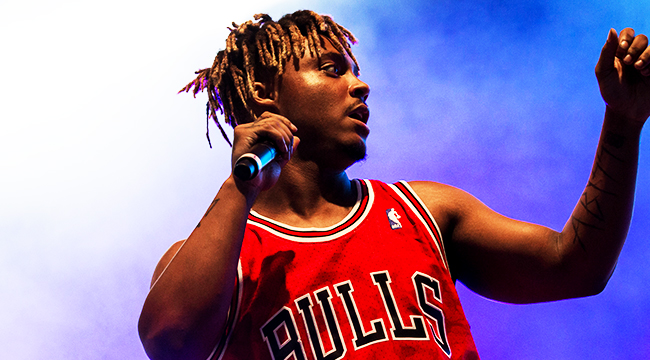 This month's list of best rap albums is dominated by genre-bending projects. It's a fitting circumstance in the same month that Lil Nas X had his "Old Country Road" hit removed from the Billboard country charts because it somehow wasn't country enough. People like Juice WRLD, Lil Xan, Nav, and Chief Keef, who fuse rap with rock and/or R&B, are showing that there's a whole new movement of artists who are having fun exploring the boundaries of rap music. Anyone who calls themselves a purveyor or authority on music needs to get with the times:
Juice WRLD, Death Race For Love
Juice WRLD is an artist who stands at the center of hip-hop's current discussion on genre boundaries. He upset many hip-hop purists last year by saying he didn't want to be known solely as a rapper, but those who actually gave a listen to Death Race For Love should be able to understand what he meant, as he explores a bit of everything on the twenty-two-track album.
Death Race showcases unabashed rockstar aspirations when his querulous, maudlin vocals ring out end rhymes for every ounce of anguish on songs like "Hemotionz" and "Won't Let Go." The album is dominated by 808 drum programming, but his producers matched them with gloomy instrumentation that could easily be the soundscape from an (emo) rock artist. That's the case on "Desire," and the ruckus "Syphilis." But there are moments on the 22-track album where he jumps into his smooth R&B bag such as "Demonz" featuring Brent Faiyaz, "Feeling," and "On God" with Young Thug. Death Race For Love is a mixed bag that shows Juice WRLD exploring a range of sounds to mostly successful ends. It won't end up being the most cohesive album of 2019 by any stretch, but it showcases that he wants to explore the full range of his artistry — and maybe we should sit back and watch him do it.
Rich The Kid, The World Is Yours 2
Rich The Kid has long reminded me of a new school French Montana. Like French, the Atlanta-based rapper social-climbed his way into a comfortable position in the rap game, even getting Kendrick Lamar on a remix of 2018's "New Freezer." Rich has consistently been able to utilize his network and ear for beats to put together enjoyable singles and projects. On The World Is Yours 2, those beats and features once again save the day, and perhaps carry the album.
The 16-track album is unabashedly intent on keeping your speakers lit, with songs like "Two Cups" featuring Offset and Big Sean, "Rockets" featuring Lil Pump and Takeoff, and the arresting "Tic Toc" with Tory Lanez. He expertly chose to co-pilot with a who's who of modern hip-hop and R&B, but one may finish the album longing for more of an imprint from Rich himself. For better or worse, his lyrical themes don't veer from typical money, jewelry, and womanizing content. It's undoubtedly going to get some club and party playlist love, but if the world is his, he could stand to be more present in it next go around.
Chief Keef And Zaytoven, GloToven
It wasn't that long ago when Chief Keef was touting 1017 Glo Gang years ago, and collaborations between the Chicago artist and producing legend Zaytoven seemed like they would come in bountiful waves. The Gucci/Sosa union didn't last that long though, depriving us the opportunity for trap classics. At least GloToven is officially here now. The two prolific artists collaborated on a twelve-track project in which Keef is a glove fit for Zaytoven's moody, piano-dominated soundscapes. Keef affirms his individualism by rhyming "I never gave a f*ck what they said," on the reflective "Ain't Gonna Happen," proclaims, "you wanna be a lame, I'mma let you be one" over cheerful keys on "Fast," and double-time rhymes with Lil Pump on the colorfully titled "Old Heads And Regretful H*es."
Zaytoven's production runs the span from sullen to soaring throughout the project, at most junctures serving as a sturdy canvas for Keef's idle threats, Chicago lingo and charming, unbothered insolence. Maybe we'll be lucky enough to get another go around from the constantly working artists.
DaBaby, Blank Blank
Charlotte artist DaBaby is ascending fast, and Blank Blank is a strong example why. He doesn't veer far from the typical boastful, browbeating trap fare on the ten-song album, but his sense of humor marks him as a standout in the field. He's one of the few people in the game with the gall and charisma to sell lines like, "I just told my b*tch that she gotta learn to be nice to my side b*tch" on "Blank Blank, or "You disrespect me and I'll beat your ass up all in front of your potnas and children" on "Suge." In a sea of trap rappers who don't do enough to stamp their personality on tracks, DaBaby's wit — and skills — resulted in a strong debut that marks him as one of the biggest characters in the game. It's as if he's ready to occupy the lane of southern stalwarts like Ludacris and Young Dro who were hilarious — but also lyrically gifted beyond the humor.
Little Simz, "Grey Area"
Little Simz started March off right with Grey Area, her third album which dropped on the first of the month. Entirely produced by fellow UK artist Inflo, the funky, eclectic project shows her affirming herself as a "Picasso with the pen" on the opening track "Offence", and earning that title through the rest of the album. "Wounds" is a powerful analysis of the toll that gun violence takes, from the victims to the "gunman," to the people who love them. "Venom" is a torrid stream of consciousness where Simz dishes the sad but true observation that "they would never wanna admit I'm the best here / from the mere fact that I've got ovaries."
Another album standout is "Therapy," where she tackles the myth that therapy is some kind of magic microwave to existential content. It doesn't work for everyone. Some feel like Simz does when she rhymes, "I see the way you look at me like I'm some sort of charity / only reason I come here is so I can get some clarity / and it didn't work." Such vulnerable moments are the high marks of the album, but whatever zone she's in, she excels. There's no grey area about her greatness.
Nav, Bad Habits
Toronto artist Nav showed a rare level of humility when he recently divulged that he felt his debut album Reckless "wasn't that good." Nav seemingly took the title to heart through the creative process, admitting that he haphazardly put last year's project together thinking that fans would automatically enjoy it. Nav looked to right that wrong on Bad Habits, a sophomore album that shows the rapper/producer a bit more focused.
Though he largely stuck to his script of menace and debauchery over downcast, hypnotic bangers, he offered a couple more high notes than Reckless. Most notably, there's Weeknd's literal high note soaring through the paranoid "Price On My Head," as well as the title track, which he alarmingly starts off by musing, "I got too much money I don't know which drugs that I want." The 29-year-old's songwriting takes after Future with his knack for dropping glaring laments like "time after time the system took the ones that meant to me the most" on "8 To 4," offering insight on who Nav is beyond the steely cool he shrouds himself in.
Nav's tough guy shtick and overall presence in the rap game, may be too much for many, but for those who are willing to suspend disbelief, Bad Habits is a solid offering with more than a couple songs ripe for any trap playlist.
Lil Xan, Heartbreak Soldiers 2
Lil Xan is still prepping his album, but he offered an appetizer for his fanbase with Heartbreak Soldiers 2. The tape comes in at a terse 18:51, but it sounds like Diego is locked in — as much as he can be with his dreary, melodic delivery. The soundscape is helmed by seven different producers, but they managed to provide a cohesive, synth-driven production for him. Xan's breakout hit "Betrayed" hit — and some of his off the mic incidents — has given him the perception of being a glum artist, but there are bright moments on the project.
He's embracing the Soldier side of the equation on junctures of the project, rhyming about how he "ain't like them gloomy days" on the optimistic "Better Days" and rhyming about jumping to the next level on "Oh No." But on the flipside, he tells a meandering narrative of a fractured relationship on "Emotions," and laments that he "really hate the fame" on the gloomy "Not The Same." Who knows if the optimism will outweigh the pensiveness on the Mac Miller-honoring Be Safe, but he sounds like he's on the right track as far as executing his formula.
Blu &Oh No, A Long Red Hot Los Angeles Summer Night,
A pair of the LA hip-hop community's finest collaborated on A Long Red Hot Los Angeles Summer Night, a carefully-titled album that reflects the care that Blu and Oh No put into the seventeen-track ode to the LA streets. The album is a tall glass of water for anyone thirsty for dense lyricism and picturesque storytelling over dusty drums and jazzy samples. Blu is locked in from the jump, sounding invigorated over Oh No's soundscape which weaves from the seductive glory of "Champagne" and soaring horns of "Made The Call" to the free jazz vibes of "Straight No Chaster" and "Liquor Store." The well-crafted songs are augmented with phone calls and other elements that make the Long Red Hot Los Angeles Summer Night feel like an immersive experience.
Don Trip, Don't Feed The Guerillas
Don Trip dropped his first music since 2018's Chistopher with Don't Feed The Guerillas, a typically introspective project where the Memphis rap legend pours through his internal discontent and tauts his resilience. He has a range of features on the eleven-track project — though no Starlito. Album highlights include "Where I Come From" which features an impassioned verse from Kevo Muney and a defiant Trip reminding naysayers that, "your two cents can't make me rich." The rest of the album is a glimpse of his life in the Memphis streets, where he fights for the validity of his brand of reality rap with jarring lines like, "I would rap like Common Sense, but I saw a n—a best friend rob him and kill him, aint been rhymin like Common since." We're glad he raps just the way he does.
Kxng Crooked, The Weeklys Vol. 1
In case you haven't noticed, Kxng Crooked, who broke out a decade ago with his Hip-Hop Weekly freestyle series, is back at it with another one for 2019. As we head into the second quarter of the year, Crooked decided to compile 10 of his previous freestyles into a project entitled The Weeklys Vol. 1. Crooked shows off his criminally underrated lyrical precision all over the project. Always a preservationist of the culture on Twitter, "Halfway Me" brings new light to Mobb Deep's "Shook Ones Part 2," flipping Havoc's ingenious Herbie Hancock sample into a moody loop over skittish drums. He also flips Lauryn Hill's classic "Killin Me Softly" bridge on "Jewel Emoji." The rest of the eight tracks are a mixed bag sonically, but his ferocious flow is intact throughout.