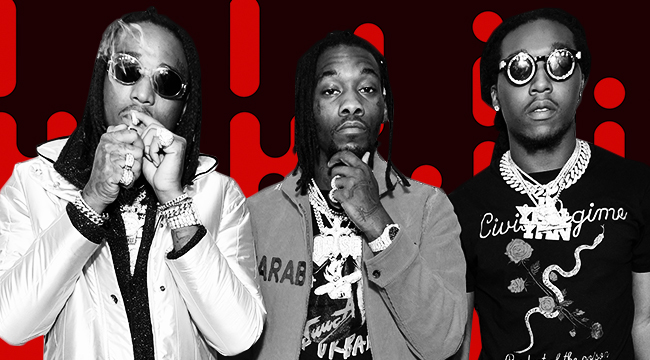 Rap in 2017 was unprecedented in its breadth and depth. More than practically any other year before, you could find something to suit just about any taste. Many artists embraced the frankly ridiculous number of options of sounds, flows, samples, streaming services, subject matter, and perhaps most intriguingly, rhyme partners available thanks to the wonders of our increasingly connected, social media-addicted world.
Whereas in previous years, rappers collaborations were limited to label partners or close friends, in the modern era, anyone can collaborate with anyone else via the internet. While your opinion on this practice may vary, there's no denying that it opened up an entire world of possibilities with regard to rappers bouncing their skills off of their lyrically-inclined foils. In 2017, not only did this result in a bewildering buffet of collaborative albums, it also bridged generation gaps and revealed new layers of the rappers involved.
Some surprised with unexpected levels of skill, while others generated a magnetism that created a perfect equilibrium with their temporary partners. Others demonstrated that rap still has an astonishing amount of room to grow and evolve, giving us a sneak peek into the ways it may do so in the future. In one case — Migos' late-year "Motor Sport" collaboration with both Nicki Minaj and Cardi B — the song somehow both ameliorated and exacerbated rumors of beef between the participants when fans began analyzing possible double meanings for every bar.
With so many options to choose from, it was no easy task narrowing down the best collaborative songs of the year. Some worthy additions had to be cut, like Yo Gotti's monstrous single "Rake It Up" with Nicki Minaj. However, the remaining ten are not just the cream of the crop, they represent everything that hip-hop was in 2017, and provide the groundwork for 2018's forthcoming evolution.
10. Big Boi Feat. Killer Mike & Jeezy, "Kill Jill"
All respect due to Andre 3000, but Big Boi and Killer Mike are one of Atlanta's most dynamic duos, with chemistry unmatched by almost any others in the game. The two go utterly bananas over a vocal sample of something called a Vocaloid — apparently an anime pop star voiced by a computer synthesizer — named Hatsune Miku to explain all the ways in which they are the best at both rapping and trapping.
9. Fat Joe Feat. Remy Ma, "All The Way Up"
You'd be forgiven for doing a double take at seeing this title on a "Best of 2017" list. Didn't this come out like 100 years ago? No, it definitely released this year, but that just goes to show just how much good music has dropped lately. A song that was darn near inescapable in June feels like it came out a year ago or more; as rap becomes even more prolific, expect to get used to that feeling.
8. Joey Badass Feat. Schoolboy Q, "Rockabye Baby"
Remember when Eminem did a freestyle and got a ton of praise for screaming "F*ck Donald Trump"? Joey beat him to it on his boom-bap revival effort All-Amerikkkan Badass. Whether or not Joey eventually came to regret his outburst (you'd get sick of answering the same question in every interview too), it's important as one of the first overt protest releases of 2017, predicting the rise of politically-oriented rap that would eventually take over by the end of the year.
7. Vic Mensa Feat. Pusha T, "OMG"
The bonus track from Vic's confessional and emotive debut, "OMG" foregoes the angst-ridden tales of the rest of The Autobiography for straight up battle rap braggadocio. Combining two of the standout lyricists of two different generations of rap, the song should squarely dead all the complaints that "this" generation "can't rap," as Vic hangs bar for bar with Pusha, demonstrating that cooperation trumps competition when it comes to the hip-hop generation gap.
6. Lil Uzi Vert Feat. Pharrell, "Neon Guts"
Another song that refuses to allow the respective ages of its collaborators to get in the way of the fun, "Neon Guts" finds Pharrell adapting the modern flow style of cloud rap and sounding just as good as he ever has while providing Lil Uzi Vert with a cosign that may make the staunchest old school head pause in their tracks.
5. Migos Feat. Gucci, "Slippery"
Migos may be the most direct analog of Gucci's elaborate cadence in the modern era, but there's one other thing they've clearly adopted from their elder trap rap godfather — his insane work ethic. Even as Culture continued to burn up the charts, Quavo, Takeoff, and Offset found time throughout the year to appear on seemingly every major rap release while recording Culture 2, a plethora of collaborative albums for Quavo and Offset, and campaigning to be the hyenas in Disney's musical Lion King remake. In fact, this song is the followup to the Gucci Mane hit "I Get The Bag" featuring Migos, demonstrating both Guwop's versatility and willingness to return favors. Gucci sets a perfect example, and Migos have followed it to a fantastic amount of success — that's the way it should be.
4. Vince Staples Feat. Kendrick Lamar, "Yeah Right"
Kendrick Lamar can rap to anything. There's just no doubt anymore if there ever was. Many rappers would be daunted by Vince Staples' oddball, electronic selection here, but not Kung-Fu Kenny. He dives right in with aplomb, completely annihilating his verse with apparently little effort. That isn't to say he out-raps Staples; they do completely different things here, but it meshes perfectly, especially with the bizarre backdrop. The most unusual bit, however, may be the fact that Vince doesn't put Kendrick on the tracklist. He simply lets the collaboration come as a surprise — and it's more than welcome.
3. French Montana Feat. Swae Lee, "Unforgettable"
French will probably never be the strongest rapper, true. But there's actually a lot of skill in knowing when to take the backseat. Sometimes knowing how to use space in the beat, how to step back and let the song come together, is a more slippery thing to master. Yet, French Montana does it so easily, it's almost impossible to notice until you realize that you still can't get "Unforgettable" out of your head.
2. Goldlink Feat. Shy Glizzy & Brent Faiyaz, "Crew"
There is hardly a better collaborative single in hip-hop than "Crew" right now. Released a full nine months ago, it is still absolutely impossible to remove from your head. When it comes on, you can't help but groove to it. It's mystifying. Nearly any other song that got as much burn as "Crew" for as long as "Crew" did would have worn out its welcome like relatives over the holidays — too much of a good thing. Instead, every playthrough is like greeting a friend you haven't seen in a dog's age — full of warmth and genuine excitement you get to hear it again, even if it wasn't really all that long ago.
1. 21 Savage, Offset & Metro Boomin, "Ric Flair Drip"
The standout in the ever-expanding field of collaborative albums that released this year, Without Warning's strongest offering was this gem that turned the whole trap rap dynamic on its ear. Rather than the plodding, 808-thundering that has come to define the subgenre, "Ric Flair Drip" picks up the tempo, strips down the drums to the bare minimum and results in a clarity that lets every bar land like a laser-guided dart. I expect rap to continue to bend in this direction for 2018 — see Migos' new single "Stir Fry" for more proof that a big change is right around the corner. This is the beginning of a new era, and the best collab to come out in 2017 by far.