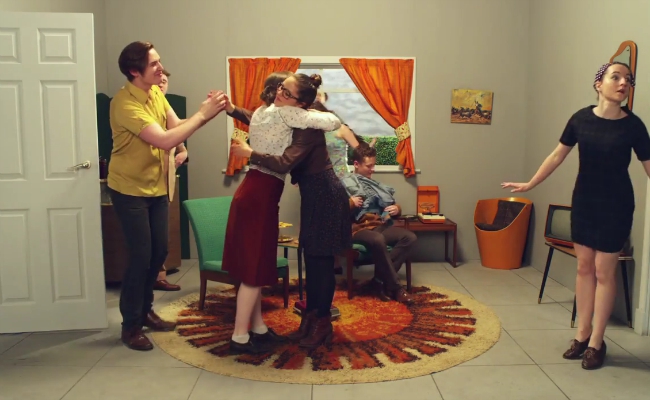 As we dive deeper into July and the summer months heat up, so too do the videos. Demi Lovato and Janet Jackson both proved that with their respective premieres this week. We also got great new clips from Major Lazer, Prince, and DJ Quik. But that's not all that dropped this week, here's the best songs and music videos you may have missed.
Belle And Sebastian – "Perfect Couples"
For their latest clip from Girls In Peacetime Want To Dance, the Scottish indie poppers Belle And Sebastian host a never-ending vintage party all taken in one shot. Of course, it's easy to say "how terribly twee of them." And yes, that may be right, but that doesn't make it any less enjoyable. Also, the impressiveness of it all being in one take recalls something that Michel Gondry would do. But maybe 10 percent more cutesy.
Hudson Mohawke – "Warriors" featuring Pusha T
Pusha T has been quite the busy actor. After starring in Yogi and Skrillex's "Burial" video, he's seen here as the protagonist in Hudson Mohawke's official "Warriors" video. Starring in his G.O.O.D. Music brethren's clip, Push is filmed in black and white running in the dark of the night away from an unknown authorities. While we don't know who could be chasing him (FBI, DEA, CIA), he's certainly rapped about moving enough dope to be on a few hit lists. He'll be fine, bosses like Pusha never take the big fall.
Jenny Hval – "Sabbath"
Norway's Jenny Hval might have been making records for the better part of the past decade, but she's really blown up this year with her new album, Apocalypse, girl. "Sabbath," her latest video from the release, is a dizzying tale split between fiction and reality following her and her bandmates as she struggles to remember what's happening to her. The track is about a woman's sexual rebirth, but the video adds a panic to the already maelstrom-like track. Even though it was shot in lo-fi on cell phones, it's definitely not something that was a toss off. You won't soon forget it.
Jason Isbell – "Something More Than Free"
While it seems that everyone is wildly praising Kacey Musgraves for her country-to-mainstream crossover (and it is well-deserved), another guy on the horizon looking to do the same is Jason Isbell. His latest alt-country album Something More Than Free has been getting a lot of buzz not just in Nashville, and the former Drive-By Truckers member's star is rising. The title track from the album should help elucidate why all of this is happening. A lot of why people are turned off by country music is the glitz and glamour of what has come to be popular in the genre, but "Something More Than Free" is the perfect example of how good songwriting and being genuine can get your foot into most doors.
Pharrell – "Freedom"
"Freedom" was meant to be a beacon signal for the launch of Apple Music. On the first day of broadcasting Beats 1, every DJ played the track on the hour, every hour. Now that things have sort of normalized, so too has the play of the track, but now everyone can have a look at the video that dropped this week. In the visual, Pharrell goes through historical notions of oppression like sweatshops, slavery, and other downtrodden folks hoping to liberate them. Frankly, it's a lot better than it sounds. Pharrell can take any concept and really make it shine.