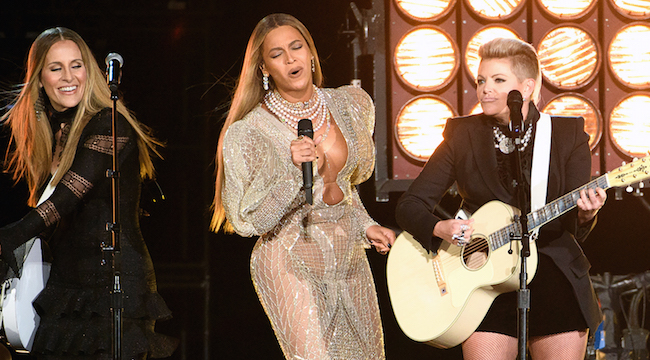 It used to be "Formation" was the most controversial song on Beyonce's Lemonade. The track and its accompanying video garnered Queen Bey so much hate. Especially from critics who felt the "Formation" was "anti-police and "racist." This led to an unsuccessful boycott of Beyonce from the Blue Lives Matter sect and then everyone just stopped caring. That was all earlier this year, though. Now the controversy is on "Daddy Lessons" and whether or not the album cut is a country song.
Beyonce received a historical nine Grammy nominations on Tuesday and could've had more if "Daddy Lessons" wasn't reportedly snubbed by the Academy. The Associated Press reportedly spoke with someone "familiar with the Grammy nomination process" and was told Beyonce submitted the twangy jam but was "rejected" by the country music committee. Had the committee accepted, "Daddy Lessons" would've been eligible for a Best Country Song nomination.
The AP's source didn't explain why "Daddy Lessons" failed to make the cut, but given the backlash the Country Music Awards received for having Bey perform "Lessons" with The Dixie Chicks, perhaps the committee wanted to avoid the same controversy. And that's a crying shame if true.
Despite not being recorded in Nashville, which, per a music critic, is a requirement when calling a song "country," "Daddy Lesson" is undoubtedly country. What's more representative of the genre than a knee-slapping song recorded by a born and bred Houston girl that references guns, Second Amendment rights, and the Bible?
Meanwhile, some fans aren't buying the AP source's claim. Members of the Beyhive claim the only reason why "Daddy Lessons" wasn't nominated for a country Grammy is because Beyonce just didn't submit.
Beyonce's camp has yet to address the controversy. With the alleged rejection, though, country music remains alive and kicking.