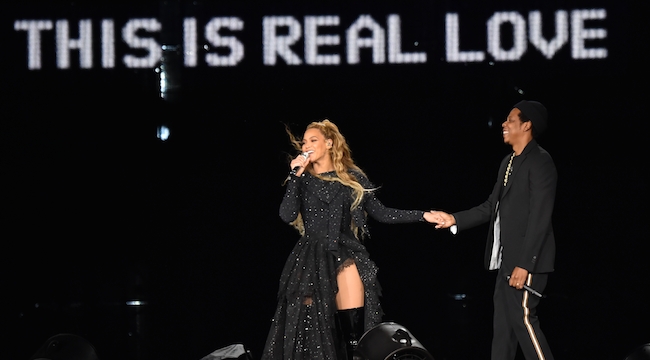 "Let's make love in the summertime" Beyonce coos on "Summer," the opener to her first official joint album with husband Jay-Z, Everything Is Love, and it sounds like it could be a honeymoon. But further inspection of the lyrics yield scars; this is the deep exhale after fighting a war. The beat is reggae-tinged and the strings are lush, and The Carters are sitting in thrones that they created with blood, sweat, and tears. Life is good.
Everything Is Love takes an interesting turn for two artists who have both recently released some of their most personal — and painful — projects. Lemonade found Beyonce taking off her crown and glamour, exposing the the darkest parts of her romantic relationship and her personal history. The project was a brilliant tour de force of sounds and themes that told the story of heartbreak, reflection, and redemption. It was embraced by both the public and the critics as an impressive artistic offering.
Jay-Z's 4:44 album functioned similarly, even if it was without as much sonic diversity. Jay-Z worked primarily with legendary producer No I.D, and the album finds Hov taking off his crown and swagger on many tracks, confessing to the wrongs inside and outside of his marriage. 4:44, like Lemonade, was lauded for its musical integrity and a type of vulnerability rarely found in music by celebrities that have reached this height of exposure.
But Everything Is Love feels different from both of these projects. I expected a joint project from these two to focus on tragedy and betrayal, not just because the trauma they went through with each other was so public, but because there does feel like there is this creative obligation to make music that feels as dark as the sociopolitical times we're living in. Even if their wealth insulates them materially from a lot of what the average American music listener is going through right now, there's this unspoken suggestion that creating music confronting the darkness implies that an artist cares.
Instead, Everything Is Love covers themes about creating wealth for the future generations of their families. Ideas around loyalty and the love of friendship are explored on songs like "Friends," and anthems made out of their well-recorded romance ("713") and their shared celebrity power ("Apesh*t"). In fact, the only time The Carters even touch that lyrical tension that they addressed in their previous works is on sunny "LoveHappy," where they sound conversational and discuss details of Jay-Z's infidelity. On songs like "Black Effect," they make allusions to racialized political moments but it's still in efforts to get your hands in the air, not to appear especially politically conscious. On that track, Jay and Bey take turns rapping, "get your hands up high like a false arrest."
If their last projects were exploring the practice of black confession, Everything Is Love is an exploration of black exceptionalism. Marginalized celebrities are often politicized and given responsibilities to be representative of the entire race, group, or culture they belong to while white people are able to exist diversely without being the ambassador of the entire race or group. This is especially true for The Carters. They function as a celebrity power couple, an artistic union, and the black social representation of what black people should be for many. The songs thematically rely on the ideas that black empowerment is materialism and black capitalism, and these ideas are intertwined in themes of love and closeness that The Carters created. The romantic and warm "Summer" comes right before the money (and ego) centric banger, "Apesh*t". The Carters' exceptionalism — at least in their music — is just as imperative to their brand as love. Nonetheless, the music is really f*cking good.
Given the reception to the record, it may be that listeners felt closer to The Carters when they were abject and reflecting on their own personal sadness. Sadness is universal, but it does feel like there are different levels that we all experience joy. The blues, one of the first musical genres created by Black folks in America, is now synonymous with sadness and despair. Throughout history, mainstream America has been more accepting of black pain and sadness than positive emotions espoused by the same creators. Black commitment and joy has always been challenged as illegitimate and not as deserving of artistic critical acclaim. Black glee is often seen as immature, unrelatable, and even unrealistic.
This partly informs the lack of seriousness bestowed on their joint project versus the artists' previous solo records. Even in the celebratory "Formation" or Jay-Z's "Bam," there seems to be this effort to be relatable. Jay-Z raps about shooters, Beyonce howls about taking her man to Red Lobster. Jay-Z opens with the jarring idea that he must kill his old self to be any good on "Kill Jay-Z, and Beyonce is timid, sorrowful, and reflective on "Pray You Catch Me." Here on Everything Is Love, the celebration feels more distant and big. It seems this project is more concerned with being aspirational rather than relatable.
This social and political moment will be a chapter many will revisit for reflection and perspective, and the art created in this time will show how people reacted, resisted, and were absorbed into the era. However, on this release, The Carters also display the ability to make art that feels truly triumphant — for both the artists and the listeners — in a time where things often feel uncertain at best and doomed at worst. The critiques around their hyper-wealth, materialism, and capitalism are necessary, yes, but here The Carters offer the idea that redemption can happen. They offer the idea that celebration can still come after turmoil.
Beyonce and Jay-Z are marketing geniuses; if they're not giving the public something they desire, it is not because they are unaware of what their fans want. It is because they don't care. This is its own type of success that, to quote Beyonce, "can't be quantified." We can only assume they offered these anthemic, lush trap songs for a reason, instead of something that felt more skeletal and darker to match the times. But it feels as though The Carters aren't declaring everything is love, but hoping this can be true, offering music that motivates the public to adopt the idea that even if everything isn't love, it could be.
Everything Is Love is out now via Roc Nation/Parkwood Entertainment/Sony Music. Get it here.