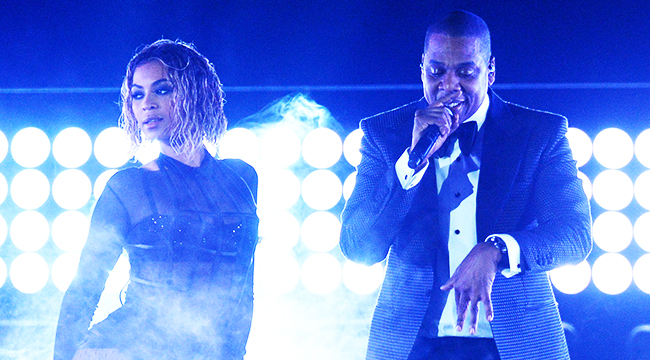 If since-deleted Ticketmaster listings and official Facebook posts are to be believed, this summer the most powerful couple in the music industry, Beyonce and Jay-Z, will once again hit the stadium circuit for a sequel of their highly acclaimed On The Run tour from 2014. If you were lucky enough to catch the first iteration of On The Run, you'll recall an experience like no other. While dogged by a never-ending string of tabloid covers, wildly speculating about the imminent end of their marriage in wake of the infamous "elevator incident," the Carters hit the road, styling themselves as a pair of Bonnie & Clyde-style outlaws, knocking crowds of 60, 70, and 80,000 people off their feet on a nightly basis, with a collection of some of the biggest hits of the 21st century.
As someone who attended an On The Run show during the first go-around and was utterly blown away by the pair's singing, dancing, and rapping, as well as the larger presentation of the show itself, I think that there's room for improvement. That's not a knock on the Carters' first run, which surely has to rank in the Top-10 of a long list of outdoor stadium tours over the last five or six decades, but merely an admission that there's always room for improvement. And while artists as visionary and talented as Jay and Bey don't really need much outside help envisioning ways in which to build upon what they've already done, here are a few ideas that could help make On The Run 2, bigger, better, and more compelling than the original.

1. Fling Some Mud And Beg For Forgiveness
The format for the first On The Run tour was a tag-team affair that fit the narrative of Jay and Bey as two outlaws on the lam together. The duo opened the show together with "'03 Bonnie & Clyde" and would kick together it for a couple of songs. Beyonce eventually leaves the stage giving Jay the spotlight to run through "I Just Wanna Love U (Give It 2 Me)" and "Tom Ford." Then the lights would go down, Bey would emerge to play "Single Ladies" or "Flawless," and so on. At the end, they stood tall together as conquerers while Beyonce blasted out her song "Halo," while watching a cute video of themselves on vacation with their daughter Blue Ivy.
For this go-around, it would be far more compelling for Beyonce to emerge solo, and rip into her nastiest, most raw and angry cuts off Lemonade. Songs like "Sorry," "Hold Up," and "Love Drought." She brings up "Becky with the good hair." She tires of those "f*cking excuses." She wonders at the "wicked way to treat the girl that loves you." Then, and only after she's done airing her grievances, does Jay emerge spitting the title track to 4:44, rapping in circles all around her, apologizing for his infidelity, admitting "I don't deserve you." Maybe Jay is too prideful to pull off that kind of emotionally-charged display night-after-night for tens of thousands of people, but if 4:44 was the public response to the wounded feelings that Beyonce laid bare on Lemonade about the state of their fractured relationship, it would make for grand theater for the two of them to dramatize their personal turmoil and eventual reconciliation for a paying audience. The catharsis of their coming together at the end of the show would be legendary.

2. More Spectacle
Anyone who's ever watched an action movie series knows that you gotta go bigger the second and third time around. The first Terminator movie featured a human from the future battling a malevolent T-800 cybernetic android who looked a lot like Arnold Schwarzenegger. Pretty cool. Terminator 2 featured a similar model T-800 getting the crap kicked out of him by an even more technologically advanced shapeshifting android assassin called the T-1000. Badass!
For On The Run 2, the Carters need to get their T-1000 on. I'm talking lasers. I'm talking holograms. I'm talking floating stages, massive blow-up dolls, fireworks, and pyro. I'm talking 200 dancers getting into "Formation." I'm talking a suspended Roc Nation diamond made out of actual diamonds. I'm talking whatever new technologies that Elon Musk has locked away that only other members of the Illuminati like Jay and Bey are privy to at the present time.
3. A Solange Mini-Set
Let's not forget, there were three people — technically four if you count the bodyguard — in that infamous elevator at the Standard Hotel on May 5, 2014. You had Jay in the white tux fending off blows, Beyonce standing against the back wall trying to stay out of it, and Beyonce's sister, Solange, throwing kicks and punches with fury. In the years since that incredible footage leaked, Solange has emerged from her sister's outsized shadow as one of the most enchanting live performers in the world. Her most recent album, A Seat At The Table, was a masterpiece. And while her son's basketball schedule might preclude her involvement, how incredible would it be if the Carters ceded the stage in the middle of the show for 20-minutes to allow Solange to bring to life cuts like "Cranes In The Sky," "Don't Touch My Hair," "Mad," and "Losing You?" Even better, have her appear from underneath the stage and emerge through a set of elevator doors. Too on the nose?
4. Kanye West Shows Up To Bury The Hatchet
It doesn't have to be for every show on the tour. Hell, it could be for one concert. Let's say in Chicago, Ye's hometown that also happens to be where I live (no one said I can't be biased here). Imagine how big the crowd would pop after Jay launches into "N****s In Paris" and out of nowhere Beyonce's biggest fan Kanye West saunters out all, "She said Ye can we get married at the maaaaaaall?" This whole Jay/Kanye feud feels like it's already gone on way too long. For the sake of the rap-loving world, these two titans need to bury the hatchet once and for all. What better way to do that than in front of 70,000 fans, sobbing over the line the "Roc is still alive every time I rhyme."