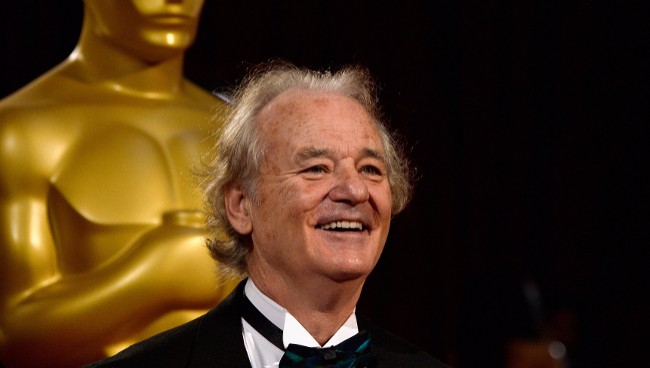 Add this one to the ever-growing list of things that can't possibly be real that passes for Bill Murray's life. The legendary comedian is performing a series of literary readings and standards over chamber music at Carnegie Hall.
The program — called "New Worlds" — is a collaboration between Murray and a classical trio led by cellist Jan Vogler. According to the New York Times, "Worlds" will include songs from West Side Story and readings of Mark Twain, all handled by Murray. The paper explained that the unlikely collaboration with the internet's patron saint came about after Vogler and Murray struck up a conversation on a flight from Berlin to New York.
Murray hit it off with the composer and eventually began to invite him to literary events. That led to the pair holding literature and music hangouts at Murray's home.
"I still remember those days at your house, sitting around the fireplace with a pile of books and some good music," Vogler said to Murray.
That combination naturally grew into "Worlds" — which will tour North America starting on July 20 and land at the storied New York venue on October 16. In the meanwhile, fans will be able to pick up a studio recording of the program that is expected out in August. Murray wants the recording to serve as a memento of the show, which he described as a "collision of America and Europe."
"We are from four different continents," he said. "And when the continents come together, the music moves right across the peninsulas from one to the other. It's just a short journey from one continent to the other."