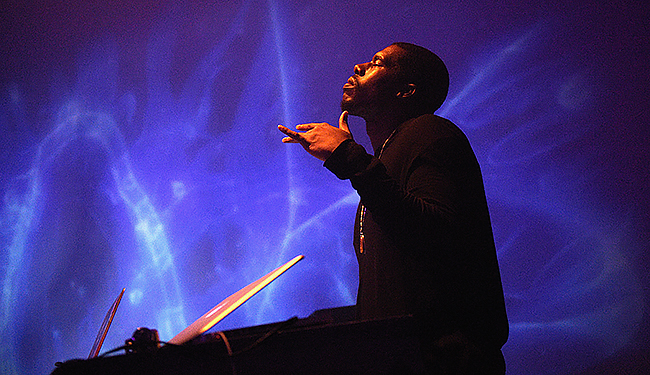 They don't make jazz like they used to. It's about time that phrase is more of a compliment than a lament.
There are multiple reasons for the fall of jazz's mainstream prominence. Miles Davis and John Coltrane died. Jazz doesn't make that much money. The industrialized technique of music-making in the '80s fazed out the sophistication of virtuoso sax. Perhaps the biggest reason, though, is that it's one of the few black art forms to resist change. Hip-hop made its move from party-starting, to sample-based density, and eventually to #FutureHendrix. Let Marvin Gaye's change from What's Going On's continuous instrumentation to Midnight Love's programmed backdrop be a truncated look at R&B's shift.
Jazz was often too stuck in traditionalism, refusing to embrace other music elements heading into the '80s and '90s. The irony is that the genre's greatest albums did just that; Miles Davis' Bitches Brew embraced rock's improvisational spontaneity, and Herbie Hancock's Head Hunters brought in the funk. Despite those genre highlights, jazz remained staid classism in perpetuity.
Fast forward past the aughts, and you have a member of Coltrane's heritage leading the way in the genre's renaissance. Steve Ellison is the grand-nephew of the late pianist Alice Coltrane, John's wife. Many of you know him as Flying Lotus.
The Los Angeles musician started his ascent from Adult Swim beatmaker to one of today's greatest working producers with his debut 1983 — an uneven album that marked his fascination with the cosmos. FlyLo made his steep improvement with his next project, Los Angeles, a hyper-kaleidoscopic masterwork that projected his Los Angeles surroundings toward the stratosphere and beyond.
But the point where FlyLo's work truly started to connect with the reinvigoration of jazz is at his next three albums: Cosmogramma, Until the Quiet Comes, and You're Dead! The genre's influence increasingly made itself apparent through the three; it only bubbled within Cosmogramma's space odyssey, but by You're Dead! FlyLo was incorporating complex bass breakdowns and a Hancock feature into the mix. What made the infusion of jazz into those albums impressive is how it didn't exist as an idea in itself. FlyLo's fusion was in service of ideas as large as death and the galaxy. It was thrilling to hear, and there was little regard for antiquated rules. Miles Davis would be proud, according to FlyLo.
"I always think about Miles Davis coming back," FlyLo said in an interview with Salon. "And if he came back to Earth and heard a lot of these jazz cats, he'd be mad. He'd literally be mad, and he'd just go back to wherever he was dead at. I was like, all right, if we're gonna do something like that, we gotta do something a little different and switch it up a little bit. So, if Miles heard it, he'd be like, "Okay, that's what ya'll doing. Oh, all right. Okay.
"So, partially, it's out of my own frustration of where it's all at, because I think everyone, with jazz, it's gotten so in the box, you know? It's gone quite stale over the past 20 years, and when you talk about it, people think of it as like elevator music now. But there's still people hidden, man. There's still some shit and places to take it."
FlyLo isn't alone in this quest, of course. In 2008, he founded the Brainfeeder label. Although underground hip-hop and electronic composes a large portion of its signees, the artists who've been at the forefront this year are Kamasi Washington and Thundercat. One injects cosmic energy into his saxophone; the other is a crazy good bassist who frequently collaborates with FlyLo. Both have two of 2015's best releases. Washington's The Epic isn't preposterously named — it's a three-disc album that runs as long as the second Godfather. It very rarely gets draining, though. Take Sun Ra's space travel gobbledygook and make it accessible, and you'd land near The Epic's vicinity. Thundercat's The Beyond / Where the Giants Roam, the most recent out of the three, is much smaller in scale (it's a mini-album), but still manages to remain compelling through its general sense of airiness.
Brainfeeder isn't alone in their jazz conquest. Pianist Robert Glasper and his band have been incorporating neo-soul and R&B elements in their compositions; Black Radio ended up winning Best R&B Album Grammy in 2013 (Esperanza Spalding justifiably took the Best Jazz Vocal Album that year). Chance the Rapper and The Social Experiment incorporates hip-hop into the acid jazz, not vice versa. Most prominently, that Brainfeeder collective was a creative focal point for Kendrick Lamar's opus To Pimp A Butterfly. In the album, Lamar tapped into what FlyLo and Brainfeeder has been doing for years: Finding new thrills and storytelling methods by expanding on their forefathers' blueprint.