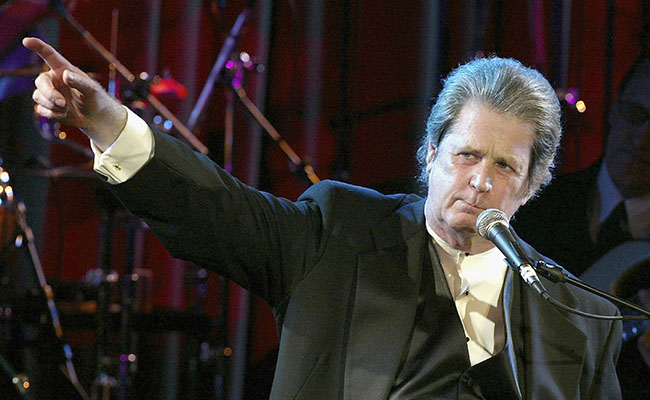 The Brian Wilson biopic, Love and Mercy, has just made its debut at SXSW 2015, and to honor the occasion, let's look at some of Wilson's live performances from his five decades in music. Wilson was hopelessly romantic when it came to both love and music, and that was often reflected in his compositions. These songs and performances represent him at his absolute best.
"Surfer Girl" (1964)
Wilson introduces the song as "the first slow song The Beach Boys ever recorded." Technically true, but the song was more important for being the finest showcase for Wilson's brilliant vocals up to that point. Lyrically, the song was a bit weightier than some of their early ones, as it deals not just with love, but with the insecurity that often comes with it ("do you love me/do you surfer girl?"). This was a clear sign of the direction The Beach Boys were heading, and the more ambitious material they would record in the future.
"Don't Worry, Baby" (2014)
Sadly, there were no YouTube videos of the band performing this song in the '60s, so this clip of Wilson performing it last year will have to suffice. He can't quite sing that high anymore, but considering his age, it's a fine performance. As with "Surfer Girl," this song was a bit deeper than the girls-and-cars formula of other Beach Boys songs, instead talking about how the security of having someone who loves you can help lessen the insecurity of, well, every other aspect of life. Even before The Beach Boys made their masterpiece, Pet Sounds, it was clear that Wilson was pouring his heart and soul into his compositions.
"I Just Wasn't Made For These Times" (2012)
The camera is a bit shaky in this video, but the music is captured quite well. Anyway, this is one of many brilliant tracks from Pet Sounds, which is rightfully considered one of the greatest albums of all-time. While Wilson's previous songs discussed insecurities and general neuroses, this one took things a bit further, going to serious social commentary (technically, the first Beach Boys song to do this was "Student Demonstration Time," but does anyone really like that song?),  serving as a thoughtful reflection on the turmoil of the 1960s.
SMiLE Live (2004)
For nearly 40 years, SMiLE was the Beach Boys masterpiece that could have been. Conceived as the follow-up to Pet Sounds, the album was unfinished, mainly due to Wilson's deteriorating mental condition. The songs that were finished made up the 1967 album Smiley Smile. Then in 2004, Wilson finally completed the album, releasing it as Brian Wilson Presents SMiLE. In this concert video, you can see Wilson's full vision in its entirety. When the album was finally released, it was praised by critics everywhere and with good cause. It's easily the most ambitious album he ever recorded.
"Southern California" (2008)
This live-in-the-studio performance represents one of the best songs of Wilson's excellent 2008 album That Lucky Old Sun. The song is every bit as ethereal and magical as the classic ballads Wilson wrote in his Beach Boys heyday, and honestly, this song wouldn't feel particularly out of place on Pet Sounds. A brilliant song, and proof that even in his '60s, Wilson could still write incredible material.
"That's Why God Made The Radio" (2012)
The fact that the Beach Boys' 2012 reunion album That's Why God Made The Radio even exists is nothing short of a miracle. That Wilson and Mike Love were able to put aside their many, many differences and record another album together is proof that world peace is an attainable goal. The album itself is pretty good, too, particularly the title track, which feels like a lost Beach Boys classic. As the title indicates, after 50 years, Brian Wilson was as much of a hopeless romantic as ever.