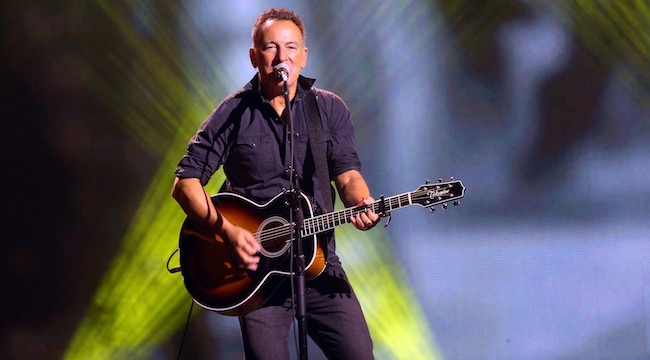 Bruce Springsteen has spent the last year or so regaling audiences in New York City with tales from his own life and a collection of stripped-down songs from his vast catalog in a highly lauded show on Broadway. Tickets to the intimate gigs at the Walter Kerr Theater are hard to come by, but next month, Springsteen has decided to share a full performance of the show on Netflix.
Today, he has revealed he'll be putting out an accompanying soundtrack album of that will be released the very same day and to herald the announcement, "The Boss" has decided to share a pared-down version of his Wrecking Ball anthem "Land Of Hopes And Dreams."
In his review of an in-person performance of Springsteen On Broadway, Uproxx's own Steven Hyden called it, "One of the best shows I've ever seen." Adding, "I've loved Springsteen songs for as long as I've loved songs, but this was something else — this felt like a late-night conversation, or a warm embrace. To label Springsteen On Broadway a tearjerker doesn't go far enough. Bruce might as well have literally reached out and pulled the tears out of my eyes."
The Springsteen On Broadway soundtrack is out on December 14, two days before his filmed performance hits Netflix. You can check out his rendition of "Land Of Hopes And Dreams" from the show above.