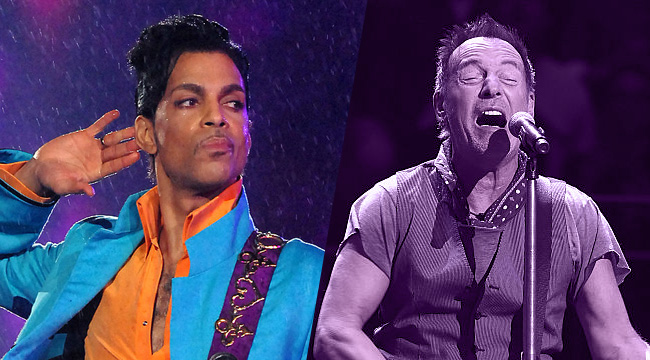 A few days have passed since the unspeakable news about Prince Rogers Nelson was uttered. The star that outshined all stars was no more, and to that effect, his hits (and non-hits) have played on constant radio and iTunes rotation since Prince was proven mortal after all. Perhaps he's surrounded in his own version of violet-tinted heaven while surrounded by savory breakfast foods right now. Or maybe fragments of Prince are now embedded in all of us, but let's not get too morbid. The Purple one would enjoy the adoration for some time but encourage us to move on to brighter, lavender-filled pastures.
Since the dreadful happening, many tributes have occurred. The internet appreciated Prince's merciless shutdowns while others were busy dancing the night away. Saturday evening saw a continued outpouring, including a tribute from a former charts rival, Bruce Springsteen. These two landed in vastly different directions, careerwise, but in the 1980s, they were pop music rivals. The Purple Rain album and Springsteen's Born in the U.S.A. jockeyed back and forth for the top Billboard album spot in 1984 and 1985. Each took their turn in the winner's position, but I think most would agree that Prince ended up leading the more diverse and celebrated career.
Regardless of which man's music you prefer, Springsteen paid tribute to his yesteryear competitor by opening his Brooklyn gig with a "Purple Rain" cover. Springsteen may be The Boss, but Prince's spirit shall reign for infamy.