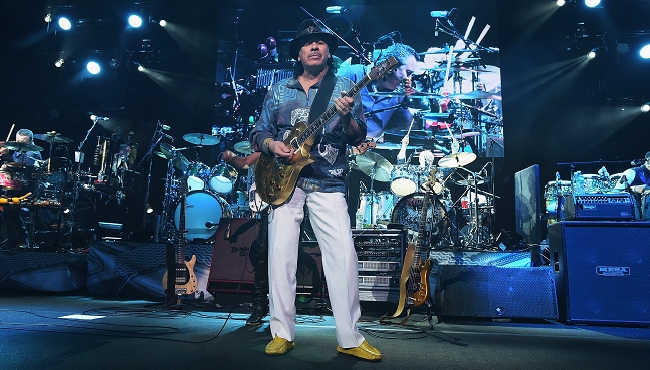 Even Adele thought Beyonce deserved the Grammy for Album of the Year for Lemonade over her own massive hit 25. Still, that hasn't stopped others from rushing to Adele's defense when people viewed her AOTY loss as a snub. The latest to come in defending the "Hello" singer — even though she never asked for it — is legendary guitarist and seventh-degree black bolo tie master Carlos Santana.
In an interview with the Australian Associated Press, Santana compared the two pop stars. He said that Beyonce was "very pretty to look at" but not a "singer, singer." Where as Adele can "sing sing."
Santana added that the focus on Adele's voice over Beyonce's stage production proved that she was deserving of the award. He said that she "doesn't bring all the dancers and props, she can just stand there and she just stood there and sang the song and that's it, and this is why she wins."
After his comments raised the ire one of the most contentious fanbases on the internet, Santana apologized in a post on his Facebook. He wrote that he never meant to disrespect Beyonce, and that his words of congratulation for Adele were "taken out of context." Take a look at his whole statement below:
"I would like to clarify a comment that was reported when I was doing an interview for some upcoming shows in Australia & New Zealand. My intent was to congratulate Adele on her amazing night at the Grammys. My comment about Beyonce was regretfully taken out of context. I have the utmost respect for her as an artist and a person. She deserves all the accolades that come her way. I wish Beyonce and her family all the best."
Santana's comments come at a particularly fraught time, when many artists are speaking out about the idea of race and the way that it plays into Grammy consideration of what can be considered the year's greatest album. Recording Academy President Neil Portnow rejected the idea that race plays a role in the selection of albums in an interview with Pitchfork.
"I don't think there's a race problem at all," he said. "Remember, this is a peer-voted award. So when we say the Grammys, it's not a corporate entity — it's the 14,000 members of the Academy. They have to qualify in order to be members, which means they have to have recorded and released music, and so they are sort of the experts and the highest level of professionals in the industry. It's always hard to create objectivity out of something that's inherently subjective, which is what art and music is about. We do the best we can."