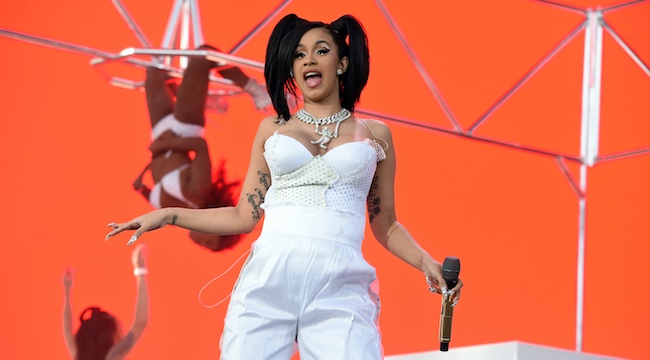 There's absolutely no doubt that Cardi B is a real force in the world right now: Her music continues to blow up, she nailed her Coachella performance, and she even got some love from Bernie Sanders. Now she can add another impressive accolade to her ever-expanding list of them: Time just unveiled their annual list of the most influential people in the world, and this time around, Cardi B is on it.
Her blurb was written by Taraji P. Henson, who praised Cardi's authenticity: "When her mixtape came out, I thought, That's it. She found it! She's clear on her talent, and she's not trying to get in anybody else's lane. She recorded 'Bodak Yellow' because it's what she loved. Now she's the biggest thing in music. And even with all those eyeballs watching, she's still unapologetically herself."
Cardi also found her way onto Ellen yesterday, and even though she didn't co-host show like she did on The Tonight Show, she may as well have, because she was there for essentially the whole episode. Of course, she was delightful and as unfiltered as she always is, talking about things like how sweaty and itchy her armpits got during her Saturday Night Live performance and twerking at Coachella: "I was just trying to show the world how I got pregnant in the first place!"
Read what Henson wrote about Cardi for Time here, and watch clips from her Ellen appearance above and below.