Some musicians manage to build a career that elevates them to icon status. Prince was one of those musicians, at once a pop star and a rock god. The Purple Rain superstar passed away on April 21 at the age of 57, leaving behind a vast host of mourning fans. The man was truly larger than life, and changed the music game in an indelible way. Honestly, no matter the situation, Prince always managed to leave people breathless.
As with many geniuses, Prince also had a bit of an eccentric persona. A swirling mix of androgynous bravado and brazen sexuality, Prince left his mark on many people. He also became a legend due to the stories that were told about him. Much like Bill Murray or a sexy Sasquatch, Prince had a tendency to pop up in incredibly surreal situations and inspire stories that would seem unbelievable if told about someone else. As we mourn the death of an icon, let's take a look back at some of the best stories about the man, the myth, the legend.
Dancing On Stage
Dancing onstage at a Prince concert would probably be where some people's lives peaked. Can you imagine being a small part of something so electric? When Queen Latifah was a guest on The Tonight Show with Jimmy Fallon last year, they swapped stories of being called on stage by Prince, proving that their lives were made cooler just by being in his presence.
Private Roller Skating
Questlove's story about attending a Valentine's Day roller skate party thrown by Prince might take the cake as the most surreal. As if Quest wasn't cool enough (seriously, check out the list of people he left behind to attend Prince's party), roller skating with Prince, who wore clear skates that left a trailer of rainbow sparks in his wake, natch, and Eddie Murphy will surely go down as one of the most strangely rad experiences ever.
Worst Or Best Tenant Ever?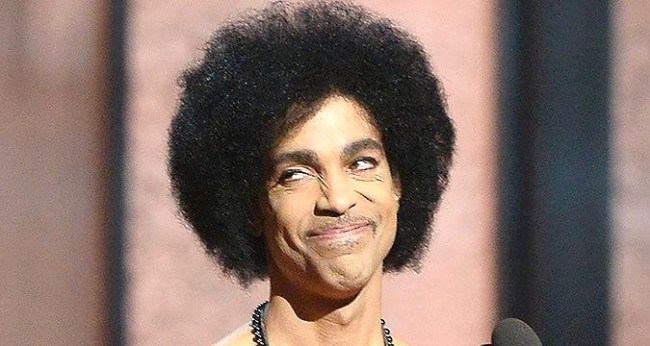 While having one of the coolest musicians as a tenant might seem like a great idea, it could also take a strange turn. While he was playing with the Chicago Bulls, Carlos Boozer rented his Beverly Hills house to Prince, and to say that Prince made some… creative… changes would be an understatement. However, Prince never leaves a person unsatisfied. According to Boozer's friend and former teammate Jay Williams,
"Supposedly, Prince changed the front gate to the Prince sign, he changed the master bedroom to a hair salon, he changed the streaming blue waters that led to the front door to purple water, he knocked out walls, he changed the molding on top of the ceiling. Booz was livid. So pissed off, so angry … He put his Purple Rain stamp on it … Booz was like, 'I was getting ready to go over there and beat this little man down.' And dude was just like 'Here, Boozer, here is a little check for about a million, it'll take care of everything, get it back the way you want it.' And Booz was like, 'This little man is cool as hell.'"
Ping Pong Legends
There was always a friendly rivalry between Prince and Michael Jackson. Despite the fact that they were both icons of the '80s, they never actually worked together (Prince took great offense at being asked to work on "Bad"). However, during the '80s, they did record in the same studio, which prompted Prince to invite Jackson over to play ping pong. However, due to Jackson's sheltered upbringing, he wasn't exactly familiar with the rules of the game.
"You want me to slam it?" Prince asked, according to engineer David Z, who was there. "Michael drops his paddle and holds his hands up in front of his face so the ball won't hit him. Michael walks out with his bodyguard, and Prince starts strutting around like a rooster. 'Did you see that? He played like Helen Keller.'"
Despite their rivalry, it is reported that the two were on friendly terms.
There's also Jimmy Fallon's amazing telling of the time he played Prince at ping pong before seemingly disappearing like some kind of wizard. We can't find video of that, but it just goes to prove that Prince got great joy out of kicking people's asses in whatever sport he was playing them in.
Speaking In Riddles
This video is long, but it is definitely worth a watch. Kevin Smith had originally planned on making a documentary of Prince's life, but the plans never panned out. However, he did get to spend time at Prince's Minnesota estate, Paisley Park, and was given a first hand look at the strange goings on in Prince's psyche. Not only did he speak in riddles about snakes, he also was a huge Finding Nemo fan.
The Beverly Hills Hotel
Even in an awkward situation, Prince still comes off like the coolest guy in the room. Soundgarden's Chris Cornell didn't actually meet Prince, but he saw him pushing his room service cart out of his suite at the Beverly Hills Hotel. Of course, Prince was shirtless and wearing a purple headband, ready to go on stage at a moment's notice. Even wrestling with an unwieldy cart, Prince probably could have wooed anyone who walked by.
Proselytizing For Jehovah's Witnesses
Prince took his religion very seriously after he converted in 2001, talking at length about it with The New Yorker in 2008.
"I wanted to be around people, connected to people, for work," he said. "You know, it's all about religion. That's what unites people here. They all have the same religion, so I wanted to sit down with them, to understand the way they see things, how they read Scripture."
He was even known to take the time to go door to door to evangelize. Just try to imagine the shock on people's faces if Prince, '80s sex god, showed up on their doorstep, Bible in hand.
Pancakes And Basketball
There are few Prince stories as iconic as the one recounted by Charlie Murphy on The Chappelle Show. From the visual of Prince playing basketball in full Princely garb and still dominating to the post-game pancakes, this story is Hollywood perfection from beginning to end. Truth is always stranger than fiction, and Prince himself confirmed that his day with the Murphy brothers and their crew really did go down. Game: blouses.
He Might Have A Vault Of Unreleased Music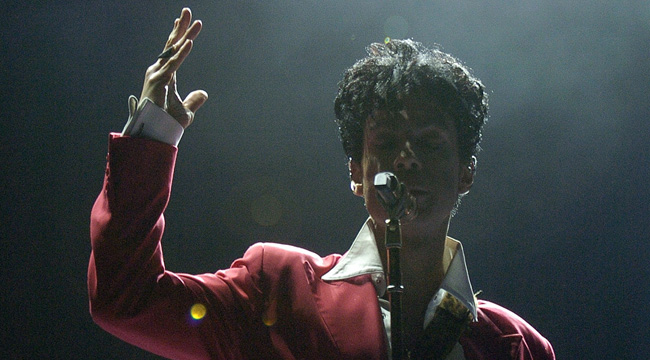 Few artists have been as wildly prolific as Prince was over the years, who allegedly has hours of music that has never seen the light of day locked away in a vault. Gregg Geller, former Warners vice president of A&R, said about the pop powerhouse:
"One problem Prince had was productivity. He created an avalanche of music that kept coming for years. Record companies don't move that quickly."
Also, according to longtime collaborator and main engineer David Z, Prince held back a lot of good work to maintain a purity of creative vision.
"He did great stuff [but] he'd say: 'That's what they want from me. I don't want to put it out.' He wanted to be more obscure, I guess."
Whether or not fans will ever get the chance to listen to these lost tunes remains to be seen, but knowing that there is still a wealth of creativity from Prince out there somewhere is a comforting thought. Gone, but definitely never forgotten.
Now Watch: Prince's Greatest Live Performances