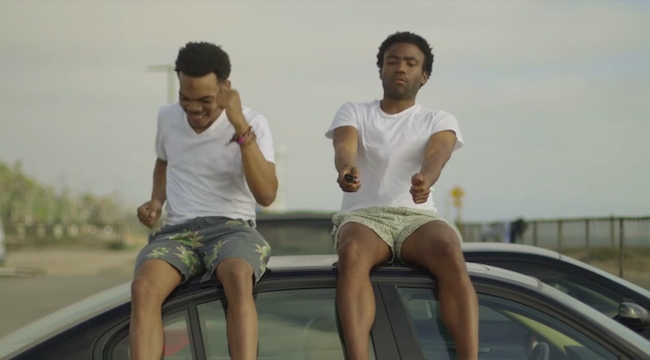 Early in the careers of both Chance The Rapper and Childish Gambino, they worked together on two songs that have stuck in the minds of fans since. "The Worst Guys" from Gambino's 2013 tape Because The Internet and "Favorite Song" from Chance's Acid Rap are so beloved, the pair has been linked for years by promises to fans that they would collaborate again someday. However, because both blew up around the same time but it such different ways, the promised music just hasn't materialized.
Now, it seems the duo finally has the opportunity to make good. At Pitchfork's "In Sight Out" discussion with Chance The Rapper at the Museum of Contemporary Art in Chicago, the Chicago MC finally admitted that although they basically kept the rumor going for years without really having anything done, they've finally actually recorded the new music they've been teasing all along.
"We perpetuated that rumor for a long time without recording anything," he capitulated, "We did link up in Atlanta and record some tracks and… they're amazing." The MCA Chicago Twitter account confirmed the quote in real time, stirring the slumbering beast of fan discussion.
The full discussion will be available as a podcast "in the coming weeks," according to Pitchfork, so it looks like we'll have to wait and see if anymore details arise. While it may not be the joint mixtape Gambino once joked fans threatened to "kick my ass" over, at least the possibility hasn't been killed off, and that gives us plenty to look forward to.
Just for the fun of it, check out the video for "Worst Guys" below.