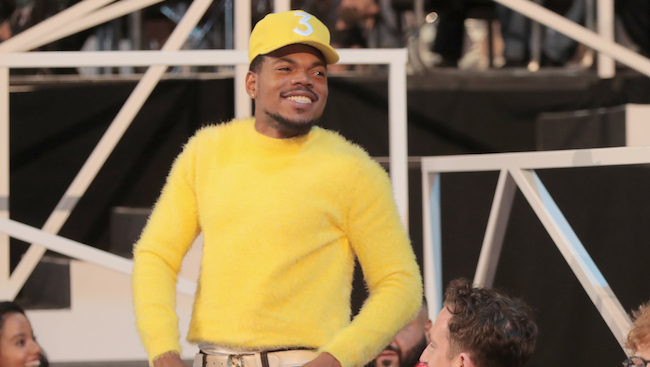 With all of the success Chance The Rapper has had in the last year you'd think he might be content. His album Coloring Book became the first ever streaming-only album to chart on Billboard's albums chart, topping off at No. 8, then the album netted Chance three Grammys, another first for a streaming only album. He parlayed all that success into a massive, successful, nation-wide arena tour. Basically, life is a peach and business is booming for Chance. But this week, he looked back with disappointment at one missing piece that he wishes he could have added to the Coloring Book puzzle: a rather innocuous song called "Grown Ass Kid."
You may remember the track, featuring Mick Jenkins and Alex Wiley leaking just hours before Coloring Book hit Apple Music. It seemed that Chance sprung a leak or let the song loose purposely, but then when the album surfaced "Grown Ass Kid" was nowhere to be found. He eventually revealed sampling issues held the track up, and apparently he's still upset about those issues because Chance randomly tweeted the song out this week and despondently said "Still get pressed cause this was supposed to tie Coloring Book together and it didn't get cleared."
It's still unclear what held the track up last year. The song samples the Roberta Flack and Peabo Bryson live version of "If Only For One Night," in a rather obvious way. The song is a Brenda Russell original, made famous by Luther Vandross and has been sampled many times.
The most famous sampling of the Roberta Flack and Peabo Bryson version is probably the Terror Squad's 2004 track "Take Me Home." The Vandross version was sampled by Bow Wow and Omarion's 2005 hit "Let Me Hold You," produced by No ID.
Whatever the case, Chano is clearly still miffed about the whole ordeal, and with how dope his version was it's not all that surprising. Maybe now with a little more clout and a few Grammys under his belt Chance can get a few strings pulled and get the track an official release. Only time will tell.