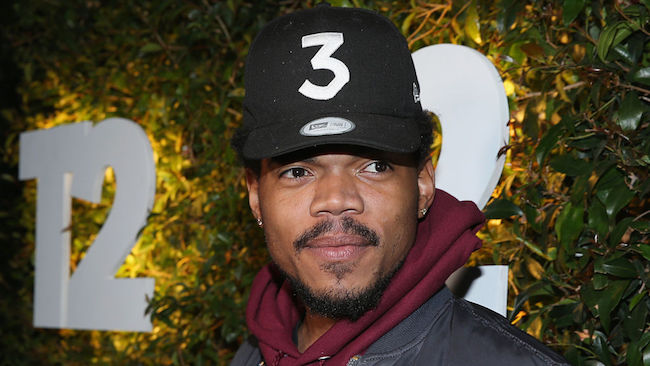 This morning Chance tweeted out his excitement that "No Problems" had hit No. 1, and while the song is certainly pervasive on urban radio, Billboard still has the song ranked solidly at No. 3 on the charts. How did this happen? Well, a site called Mediabase, which tracks radio play in the US and Canada, is the one that reported Chance hit No. 1. According to them, the song is up to 3,724 plays, above any other track for the week of 10/31 to 11/6.
Nielsen reports that as of this week, the Coloring Book song, which is bolstered by features from veteran MCs Lil Wayne and 2 Chainz, is at No. 2 on the Billboard chart, with a total of 3,246 plays — that's about 500 plays different from what Mediabase is reporting. Blame Canada?
In his earlier tweet, Chance mentioned the site rapperradio.com, which is a the self-created launching pad for the song where Chano encouraged his fans to use their voice through Twitter to request their local radio stations pick up the song. While the site and the "optioncee" marketing tactic is is definitely working, the announcement may be preemptive. For now, it seems unclear whether or not "No Problems" has actually officially hit the No. 1 slot.
Still, Chance's song has been on the rise since it entered the chart fifteen weeks ago, and with the release of Coloring Book, the Chicago MC helped change the Recording Academy's stance on streaming music. His album will be the first streaming-only release that is eligible for a Grammy, and he's been pushing hard for the award throughout the year.
Plus, he's continued on his invigorating campaign for Coloring Book that reaches far beyond promo for just music. On Monday, he'll be taking to the streets of his Chicago hometown for a "Parade to the Polls" where he'll lead fans to the Chicago Board of Elections just before early voting ends for the city so they'll be able to hit the polls. The march will culminate with a free rooftop performance at the Virgin Hotel with Chance and friends participating in the show.