Donald Glover — aka Childish Gambino — has demonstrated a true flair for the visual components of his latest releases. First, his "This Is America" video lit up the internet with discussion as fans and journalists alike analyzed the symbolism throughout the video and its various imitators. Then, just days ago, he released the animated video to follow-up "Feels Like Summer," packing it to the brim with cameos and commentary on the rap game.
From visually remarking on Nicki Minaj's one-sided feud with Travis Scott to referencing Migos' enthusiasm for basketball, many of the cameos portray a piece of the hip-hop tapestry that has expanded to include both pioneers like Puff Daddy and upstarts like Lil Pump. There's even a semi-controversial scene in which a crying, MAGA-hat clad Kanye West receives a loving hug from Michelle Obama. That particular tableau was dissected both on Twitter and in several publications by viewers trying to parse its intent.
Here are all the cameos from the video, with brief explainers of who each of the figures is and why they're so important to hip-hop today.
Lil Pump and Trippie Redd
Two of the hottest up-and-coming rappers from the Soundcloud scene, it could be said their appearance makes reference to the way their presence seems to pester older, more established artists.
21 Savage and Metro Boomin
21 Savage, known for his aggressive deadpan and harrowing tales of the trap life, sits in his car with Metro Boomin, one of trap music's top producers, smoking a joint, and shooing away Pump and Redd. The pair released a joint album last year with Offset from Migos.
Kodak Black
Kodak Black, another Soundcloud-affiliated rapper, can't come out to play with his buddies Pump and Trippie, possibly referencing Kodak's current legal troubles. His orange shirt sure looks like a prison jumpsuit.
Migos
Quavo, Offset, and Takeoff hoop in the driveway, a favorite summer pastime of both the hood and the trap rap trio, who have taken to getting in games with Drake on their shared Aubrey And The Three Amigos tour.
Chance the Rapper, Jaden Smith, Birdman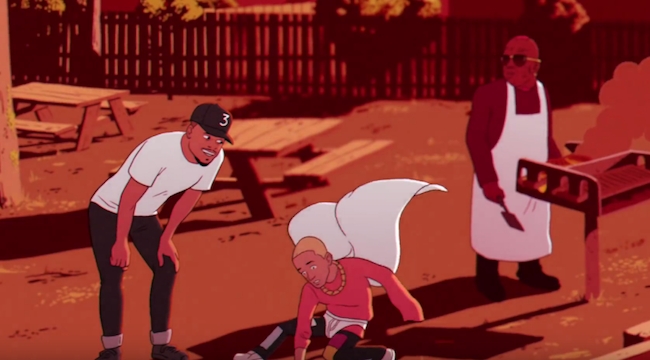 Birdman, CEO of Cash Money Records, works the grill while Jaden Smith, son of Will and all-around quirky, eccentric young thought leader, leaps around in a homemade superhero costume — much like his real-life counterpart. Chance The Rapper seems amused and is easily identifiable from his trademark "3" hat — which he once claimed his own daughter can't recognize him without.
Will Smith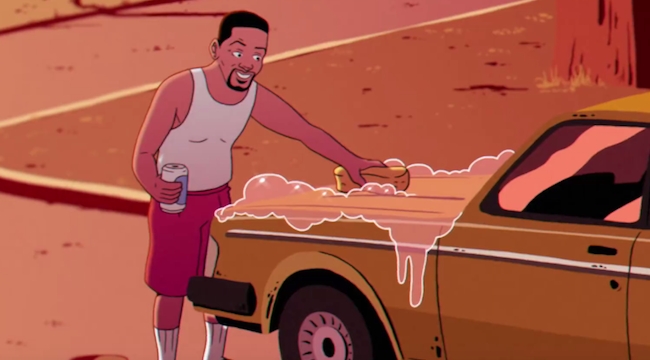 Rap's current number one dad takes part in the most "dad" ritual of the warmer months — scrubbing up the family station wagon in socks and sandals. The only thing missing is a Bluetooth earpiece.
Azealia Banks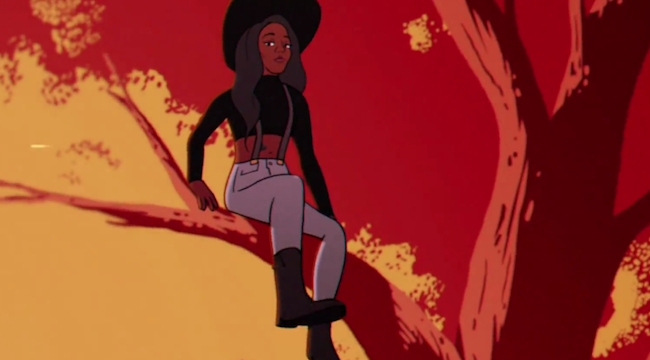 Unlike the real-life Azealia, the animated version keeps out of the way, perching on a branch in a nearby tree and surveying the neighborhood goings-on. If only the real one could confine herself to doing the same, she might have been a lot more successful like the erstwhile rival who appears next.
Nicki Minaj and Travis Scott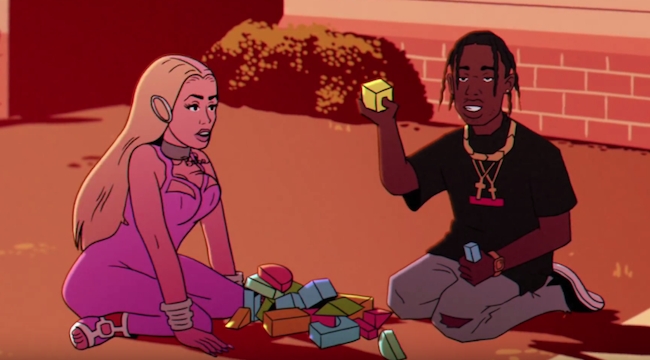 Possibly the most topical appearance of the whole video, Nicki appears annoyed when Travis pulls a support block out of her block castle, causing the whole thing to crumble. This mirrors the real-world temper tantrum Nicki threw when Travis outsold her comeback album, Queen, in its first week, even though his own album, Astroworld, was in its second.
The Weeknd, Ty Dolla $ign, and Frank Ocean
The three crooners are seen playing tug-of-war with A$AP Rocky, Solange, and Willow Smith, but perhaps this is a bit of good-natured summer fun rather than a musical commentary. After all, Rocky doesn't even obviously fit with this particular group, who are all notable singers leading the R&B renaissance on radio and streaming stations for the past two years.
Soulja Boy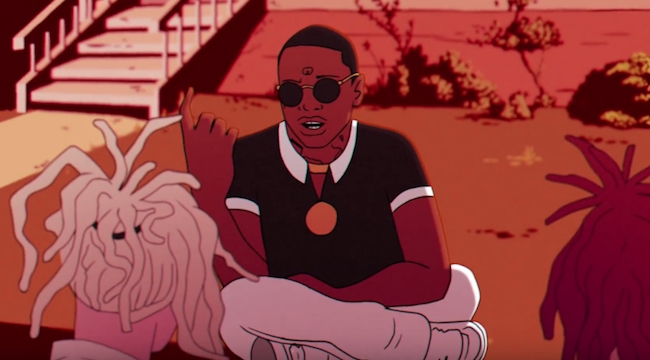 Soulja Boy is seen instructing Trippie Redd and Lil Pump, which is apropos; Soulja was arguably the first rapper to really break through to the mainstream using online resources like Youtube, which helped propel his viral hit "Superman" into cultural ubiquity and was likely a staple of the younger rappers' upbringings.
Drake and Future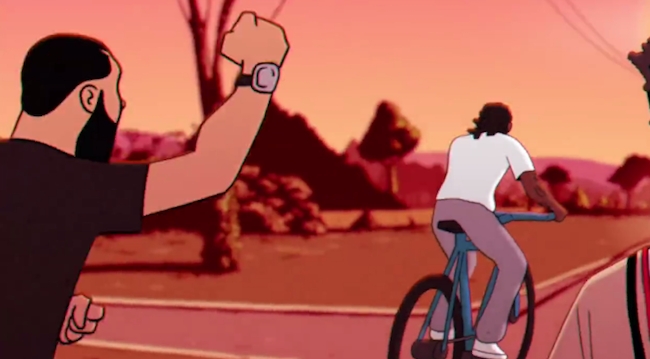 Drake and Future are paired, as they were on their joint mixtape, What A Time To Be Alive, but here, Drake struggles to chase down Future, who seems to have stolen his bike. Again, this is probably more a reference to summertime shenanigans than any sort of beef between the two.
Kid Cudi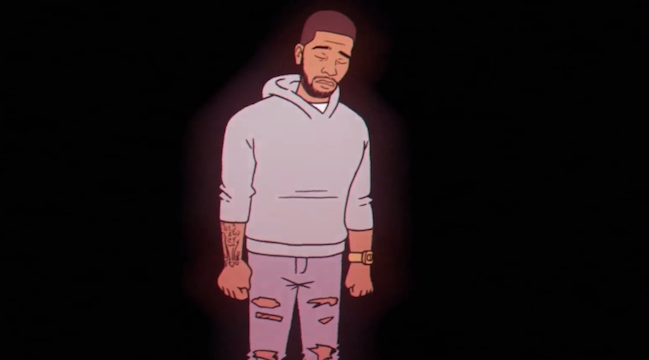 The first break in the neighborhood scenes depicts a pretty sad-looking Kid Cudi. The reason for his melancholy expression isn't readily apparent, but as one of the rappers who put depression at the forefront of his musical agenda, the look isn't out of place on Cudi's face.
Kanye West and Michelle Obama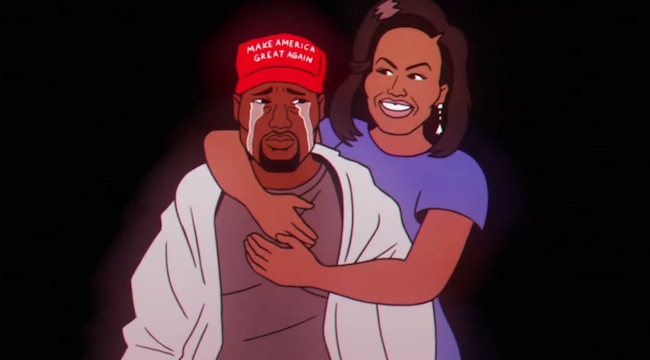 The most controversial scene of the video portrays either the healing power of a mother's love, the need for Black women to "save" Kanye from "The Sunken Place," or Kanye's secret hope to be embraced by the Obama administration, the rumored cause of his sudden liking for Donald Trump.
Beyonce
Beyonce's presence here could likely lend credence to one of the Kanye theories, or simply be representative of the end result of finding and accepting oneself and the inner peace that comes along with it, judging from her beatific expression.
Andrew Gillium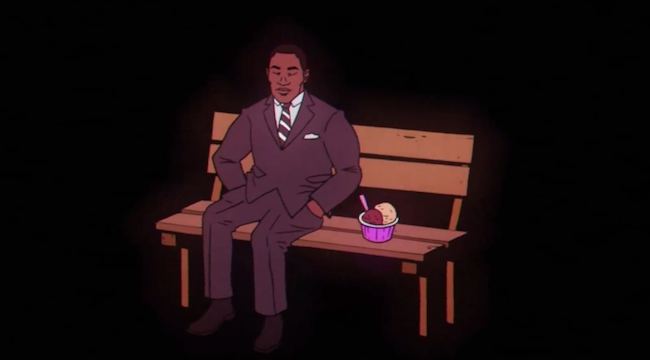 Perhaps depicting a sort of hope for the future, the Democratic Atlanta governor hopeful sits on a park bench, maybe relishing a moment of peace from his long, unlikely campaign.
Lil Uzi Vert, Oprah Winfrey, Kehlani, and Tiffany Haddish
Returning to the neighborhood, Donald passes a porch where Lil Uzi Vert, current symbol of a new kind of carefree masculinity in hip-hop, gets his hair braided by Oprah alongside Bay Area crooner Kehlani, who is attended to by comedian Tiffany Haddish. Uzi and Kehlani have both been open with their struggles with mental health and have challenge gender stereotypes while unabashedly expressing their individuality in recent years — something Oprah and Haddish probably know plenty about.
Lil Yachty and Charlamagne
Radio personality Charlamagne Tha God shares an ice cream bar with young rapper Lil Yachty, who he once called the "Poster Child For Wack Rappers." Maybe Gambino hopes for a reconciliation between the two hip-hop generational figureheads, which could ease tensions among the broader culture. After all, everybody loves ice cream.
Gucci Mane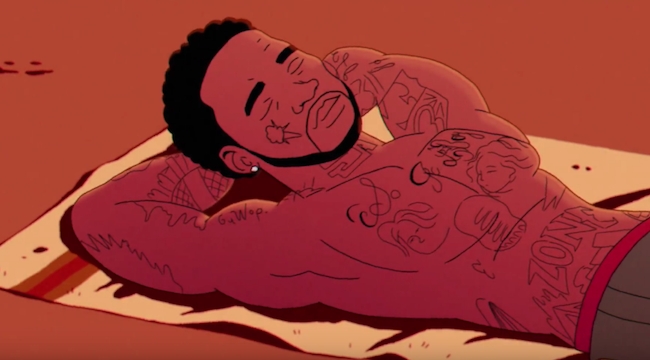 Gucci Mane, one of the godfathers of modern Atlanta hip-hop, sunbathes, showing off his newly chiseled physique. Gucci shocked the world when he was released from prison last year slimmer and brimming with optimism, but his new outlook paid off as he had a huge 2017 complete with book deals, weddings, and collaborations galore.
Snoop Dogg, Dr. Dre, Diddy, Wiz Khalifa, and Jay-Z
This grouping seems bizarre, but all five of these rappers are also big names when it comes to business, with Jay and Puff Daddy (aka Brother Love) topping Forbes' Wealthiest Hip-Hop Acts of 2018 with Dr. Dre. The stoner duo of Snoop Dogg and Wiz are also perennial favorites with some of the broadest-reaching fanbases due to their affable personalities and love of cannabis. However, the verity of the dance skills displayed here is questionable (especially for Jay), and barring some kind of perspective trick, everyone's heights are wildly off — Snoop and Wiz are by far the tallest at 6'4, while Diddy tops out at 5'10.
Ball Brothers and Young Thug
Although they're primarily known as athletes, the Ball brothers (Lonzo, LiAngelo, and LaMelo) have become fixtures in hip-hop as well thanks to their outspoken father Lavar and Lonzo's rap ambitions. Young Thug seems content to play his video game and do his own thing — fur coat and all.
2 Chainz, Meek Mill, Pusha T, and Lil Wayne
The photo 2 Chainz takes on his iPhone seems unlikely; Lil Wayne and Pusha T have been beefing since about 2006, but if anyone has what it takes to promote some "peace" in hip-hop, it's Meek Mill, recent advocate of prison law reform.
Rae Sremmurd and J. Cole
Unfortunately, 2 Chainz may have to shoot another pic, as pranksters Slim Jxmmi and Swae Lee spray down his subjects with their Super Soakers. Rae Sremmurd have seemed pretty lighthearted and rambunctious in interviews, so their antics here wouldn't be totally out of the realm of possibility. Of course, J. Cole is slightly better armed with a gardening hose and though he may seem like a pretty serious guy, he's always come off as good-natured, turning his short-lived "beef" with Lil Pump into a teachable moment for all of hip-hop.
Janelle Monae and Tessa Thompson
Former android stand-in Janelle Monae — who may have one of the best albums of 2018 so far — skateboards down the street with rumored paramour Tessa Thompson in tow.
Chris Brown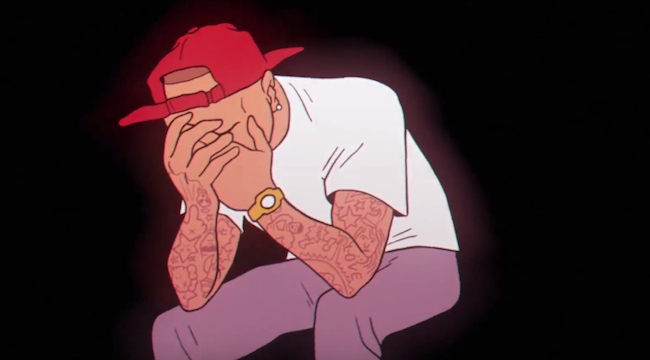 As the neighborhood fades away again, the first figure to appear from the darkness is one who has long struggled with his time in the spotlight, Chris Brown. In the video, he too sheds some tears, as perhaps the real-life Brown wishes he could do without the pressure of outdated ideas of masculinity pressuring him into violent behavior and displays of bravado.
Outkast
The original ambassadors of Atlanta rap are reunited here in Donald Glover's imagination, even if it seems even more unlikely than ever that they'll link up again for the betterment of hip-hop and music as a whole. Their iconic status is sealed, though, and maybe that's why they appear here like monuments to a legendary time in history.
Rihanna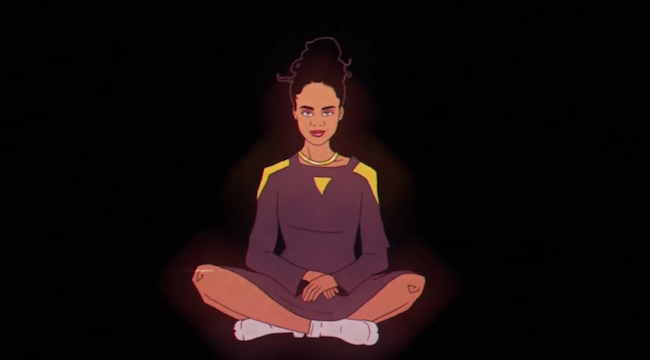 The singer appears as an ethereal being, like a goddess with a mischievous smirk on her face. Perhaps this is how Childish Gambino sees her — and he wouldn't be the first.
Whitney Houston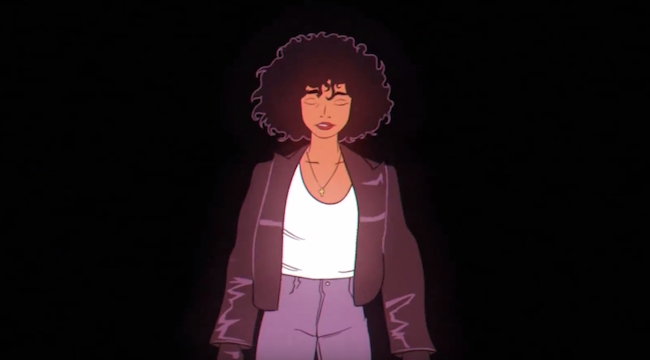 The late singer appears like a flashback, probably as a tribute to her remarkable influence over many of the artists who also appear in the video. Like Outkast, she is a legendary artist who deserves to be remembered at her peak.
Michael Jackson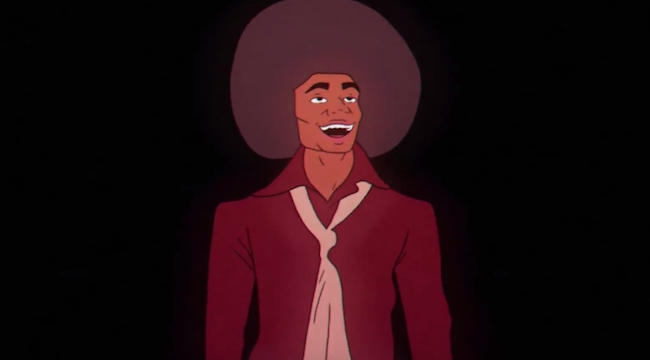 Continuing that theme, we see the King Of Pop himself, but perlaterot the version we came to know later in his life. This is the ideal Michael Jackson, proud of his appearance, self-assured, unbothered by his father's judgements or the standards of the world that he would spend his latter years trying to escape. If the ultimate goal of the video was to depict Donald Glover's musical influences and heroes, then perhaps he saved the best for last, honoring his greatest idol with prime placement as the last face the video shows before Glover's animated counterpart makes it home.