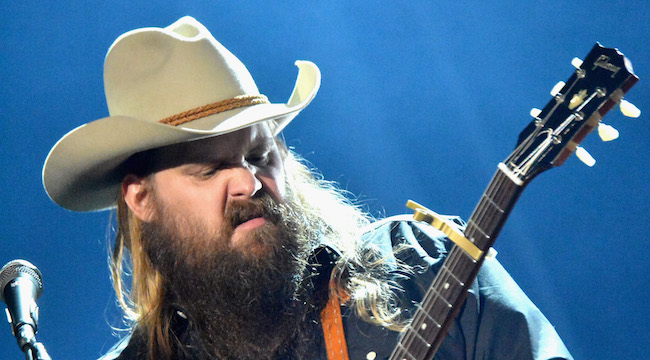 Chris Stapleton is a country powerhouse. It's been two years since the bearded songwriter released his debut album, Traveller. And after winning the Grammy Award for Best Country Album a few months after, he's on to the next one. For the second year in a row, Stapleton took to the ACM Awards stage — but this time, he busted out new music.
Stapleton revealed his new song, "Second One to Know," at the awards show on Sunday night. It's pure rock 'n roll, with Stapleton blaring out a raspy country howl, harmonizing with a band that includes his wife, Morgane, who wielded a tambourine. Billboard captured a little hint of the song, below:
[protected-iframe id="28743108663bbfb8f465e77848ffb3cd-60970621-76566046″ info="http://players.brightcove.net/1125911414/VJ949r8Fg_default/index.html?videoId=5382819141001″ width="700″ height="450″ frameborder="0″ allowfullscreen=""]
"Don't put my love on your back burner/ Never let anything that hot get cold / And if you ever change your mind, wanna leave my love behind/ Just let me be the second one to know," Stapleton sings on the rousing track. Stapleton's guitar skills were put on full display too, as he strummed at a hummingbird's pace during the song's breakdown.
At the ceremony, Stapleton was also nominated for Male Vocalist of the Year, Song of the Year ("Tennessee Whiskey"), and Video of the Year ("Fire Away").
This is the first time we've heard "Second One to Know," expected to appear on his sophomore album, out May 5. However, Stapleton has given fans "Broken Halos" and "Hard Living." On the day of his album's release, he'll begin his new All-American Roadshow with guests Brothers Osborne, Lucie Silvas, Brent Cobb, Anderson East, and Margo Price.
Here's "Hard Living," which has become a Stapleton live staple: