Listen To This Eddie is a weekly column that examines the important people and events in the classic rock canon and how they continue to impact the world of popular music.
The state of the classic rock in 2017 was shockingly good. Though we lost some true titans this year — RIP Tom Petty, Malcolm Young, Chris Cornell, Gregg Allman, and Chuck Berry to name a few — many of those who stuck around produced a bevy of new, meaningful work. Others burnished their legacies with sprawling, gem-packed reissues and box set. While some hit the road, or hunkered down for epic, multi-night residencies, staging some of the finest performances of their entire careers. With that being said, I'd like to hand out a few prizes to those who really went above and beyond in 2017.
Best New Album
There were many good rock records that came out this year. Alice's Cooper's Paranormal screamed "return to form," especially the tracks he cooked up with the members of the original Alice Cooper band. The collaboration between Lindsey Buckingham and Christine McVie, aptly titled Buckingham/McVie was predictably fantastic. Roger Waters summoned some of that late-era Pink Floyd magic on Is This The Life We Really Want? Van Morrison put out not just one, but TWO, projects this year comprising 31 songs total. Gregg Allman's farewell Southern Blood was soulful and heartfelt. So was Chuck Berry's Chuck. But for all the good records, there was really only one great entry, and that was Robert Plant's latest solo effort Carry Fire.
As I wrote when the album dropped a couple of months back, Plant has remained maybe the most vital artist of his generation by sidestepping the pitfalls of nostalgia. He's not about to chase trends or the shadow of his former self either. He makes music that is both exciting to him as an artist, but meaningful to the listener as well. Carry Fire is a record that sounds both of this era, especially when Plant laments the modern proclivity for building "walls and fences," but also completely out of time as well. The sounds and motifs are downright ancient. Carry Fire also features some of the deepest and most insightful writing of his entire, lengthy career. For that reason, and many more, I have to give it the Listen To This Eddie, New Album Of The Year award.
Best Reissue/Archival Release
Putting out expansive reissues of seminal albums and whole collections of newly-unearthed archival material has become the bread and butter for many classic rockers hoping to cash one more check on songs written long, long ago. Fans — myself very much included — of course love these sets for the way they can re-contextualize some of our most cherished bands and albums. The Beatles and The Rolling Stones got in on the action with massive box sets filled with outtakes from their psychedelic-era works Sgt. Pepper's Lonely Heart's Club Band and Their Satanic Majesties Request. U2 buffeted their 30th anniversary Joshua Tree stadium tour with a hefty re-issue of that classic record. Minnesota hardcore legends Husker Du shed new light on the earliest portions of their career with the three-disc Savage Young Du set, while their regional cohorts the Replacements unveiled maybe the best live album of the year For Sale: Live At Maxwell's 1986.
The winner of the Listen To This Eddie, Reissue/Archival Release Of The Year in 2017, however, goes to Neil Young for his album Hitchhiker. What an incredible document this record turned out to be. Recorded over one night in 1976 with his longtime producer David Briggs and fueled by a plentiful amount of tequila, Neil let loose with a stunning collection of new songs, warbled through the microphone with only an acoustic guitar to accompany him. Though many of these tracks would end up on subsequent releases in different forms, there's a certain degree of beauty and majesty to the totally unvarnished way they are treated on this record. "Captain Kennedy" is particularly captivating. If Hitchhiker is any indication, his newly opened Archives website could provide a wealth of eye-opening collections for years to come.
Best Tour/Live Show

I've sung the praises of a few live performers this year. No one, to my mind is rocking massive football stadiums with the same depth of emotion, the same strength of vision, or the same eye-popping production as U2. Their Joshua Tree tour this year was one for the ages. Stepping down a size, the realm of the hockey and basketball arena belonged squarely to Guns 'N' Roses, who toured the planet bringing a four-hour long presentation of some of the loudest, most visceral rock and roll you've ever seen. And yet! This year's winner and reigning champion of the Best Tour/Live Show prize goes to none other than the Boss himself, Mr. Bruce Springsteen for his one-of-a-kind run on Broadway.
Part one-man show, part oral autobiography and part straight-ahead concert, Springsteen has managed to bridge the gap between a multitude of worlds for his extended run in the intimate confines of the Walter Kerr Theatre. He didn't need to do this. For almost the same money, Bruce could easily pack Met Life Stadium 10 times over a two-week span, playing his hits, but the man wanted something more. He wanted to dig deeper and tell his story to a crowd numbering in the mere hundreds in the spell-binding way that only he is capable of doing. While it's yet to be seen if other prominent artists will choose to follow in his footsteps, staging confessional, musical stage shows of their own in the year's to come, it's hard to imagine they'll come close to matching the raw, visceral power that Springsteen brings to these special performances.
Artist of The Year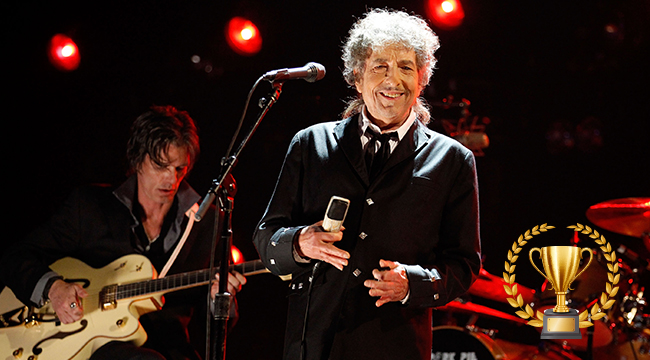 There was one figure who had a plainly better year than just about everyone else, and if you've been following along, you can probably guess who I'm talking about. That's right of all his esteemed contemporaries, Robert Zimmerman, otherwise known as Bob Dylan, had the best 2017. The man did it all. He put out new music. He put out old music. He toured almost nonstop across the US and beyond, playing dozens of shows as part of his so-called "Never Ending" tour. And he made the definitive case for songwriters during an incredibly well-penned essay for his Nobel Prize acceptance lecture.
Let's start with that last bit actually. It's hard to imagine Dylan, or any songwriter for that matter, ever receiving a more prominent award in their career than the Nobel Prize for Literature. Rather than race to Stockholm and pick up his trophy and $1 million prize, in classic Dylan fashion, he waited. He made the committee sweat it out. And then, finally delivered an address for the ages, marrying his story and his work with that of Moby Dick, Shakespeare, Buddy Holly, All Quiet On The Western Front, Homer, and the entire tradition of literature.
"I've written all kinds of things into my songs. And I'm not going to worry about it — what it all means. When Melville put all his old testament, biblical references, scientific theories, Protestant doctrines, and all that knowledge of the sea and sailing ships and whales into one story, I don't think he would have worried about it either — what it all means."
"What does it all mean?" is a question Dylanologists have pondered about the great man almost from the beginning. He's managed to dodge both their inquiries and their expectations time and again, shifting every few years through different phases and different guises. These last few years have seen the emergence of Dylan the Crooner. The swanky, Sinatra-singing balladeer, weaving together smoky, lovesick covers of some of the greatest standards ever cooked up by all those faceless writers inside of Tin Pan Alley. In 2017, he upped the ante on previous releases in the vein, dropping the monolithic Triplicate, a three-disc collection of 30 new classic tracks dating back to the '40s and '50s. Some may remain beguiled by his decision to set aside his pen and wholly dedicate himself to re-interpreting the work of others, but given the gravelly state of his current voice, you can't deny that the motif suits him. Grammy voters seem to like it anyway, giving it a nomination in the Best Traditional Pop Vocal category.
Speaking of phases, in what may turn out to be his greatest achievement in 2017, Dylan managed to score major vindication over so many detractors who've spent decades tearing down his so-called "gospel period" between 1979 and 1981 with the latest entry into his breathtaking Bootleg series. Titled Trouble No More, the new set captured Dylan live and in the studio just after finding Jesus and becoming a born-again Christian. The strength of these songs, and of his powers as both a songwriter and a singer during this time have been finally, fully realized that the incredible live tapes, some of which have been shared amongst the underground for decades. The Saved and Shot Of Love material in particular gains new life thanks to his crack live band led by bassist Tim Drummond, and the outtakes, songs like "Caribbean Wind" reveal once again that sometimes Dylan himself is the worst judge of the quality of his own material.
While many other rock and rollers could lay claim to this esteemed honor, because of the way he continues to defy convention, set new trends, and leave both his fans and the critical elite panting in his wake, Bob Dylan is the 2017 Listen To This Eddie Artist Of The Year. Bob, I'd advise you to print out a copy of this article and set it on your mantle between the Oscar and the Nobel Prize.