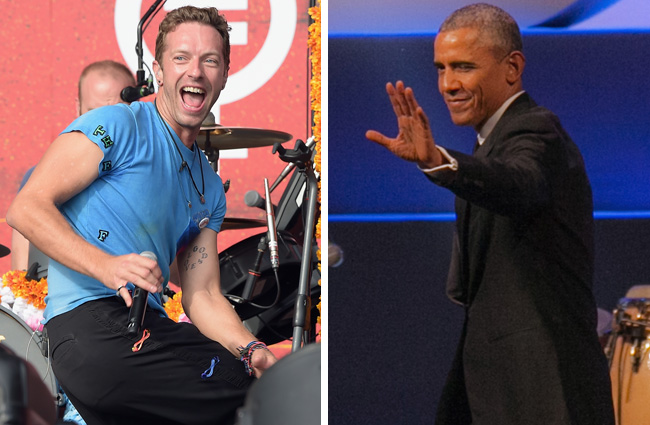 In and about all the mystery shrouded in Coldplay's new album, A Head Full Of Dreams, the details that have emerged are certainly on the stranger side. Earlier this month, the band revealed in an interview that not only will Beyoncé and Blue Ivy Carter share a duet (which is a pretty big get, by most stretches), but the album will also feature Chris Martin's ex-wife Gwyneth Paltrow. If most men "consciously uncoupled" with their wives and then dated Jennifer Lawrence, the last thing they would do is want them on their next album, but who knows?
All of that aside, now the "Adventure Of A Lifetime" singer has announced another hot, super fire feature to the alt rockers' forthcoming album, and perhaps even more unexpected: President Barack Obama.
Chris Martin told British newspaper The Sun of the collabo:
"We have a tiny clip of the president singing 'Amazing Grace' at that church, because of the historical significance of what he did and also that song being about, 'I'm lost but now I'm found.' "
The clip in question is from his speech following the mass shooting in Charleston, and the group received personal permission from the president to use the audio, saying that he was a fan and has their music on his iPod. (Now, Obama didn't specify if that just meant Kanye West's "Homecoming," but still.)
In this last year of his presidency, Obama has certainly cut a little looser, but appearing on a Coldplay album was on no one's radar. Papa Joe Biden playing saxophone on a smooth R&B song, we could definitely see. In fact, please make this happen.
A Head Full Of Dreams drops on Dec. 4.
(Via Radio.com)