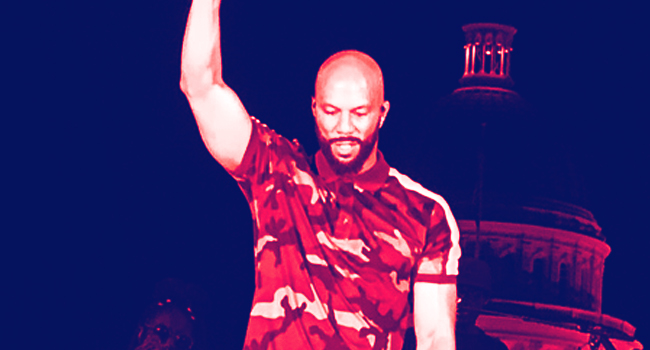 For over two decades, Chicago native Common has proven himself as one of the most respected MCs in rap time and time again. He's been awarded Grammys, Golden Globes and Oscars for his work, crossed over into Hollywood as an actor and achieved new levels of fame that allowed him to transcend rap as a worldwide celebrity. Even with all of that on his resume, Common is still working, and now at 45 years old he's found a new cause to support and a new battle to fight. Common has dedicated himself to helping reform the criminal justice system and combat the mass incarceration that's plagued people of color in this country.
The latest effort in that fight for Common was the Imagine Justice concert at Capital Mall in Sacramento, California last night, a free show for the estimated 25,000 who signed up for free tickets. Common was the headliner, but he brought along guests like local legend Goapele, CNN host Van Jones, special guest J. Cole and more.
This comes on the heels of his Hope and Redemption Tour a few months back, where he performed in four prisons in four days and wrote an op-ed for the USA Today about his new mission to reform the criminal justice system. "Redemption and rehabilitation are possible only when we as Americans make sure that people in prison are inspired by what they can do, not reminded of what they can't," he wrote in the USA Today. Common was clear, he is seeking "a criminal justice reform that eliminates life without parole sentences for juveniles and includes bail reform and reductions in harsh sentences for juveniles, and gives kids the chance to expunge their criminal records."
That mission for change led him to California's state capital, where change does seem to be underway. Three Senate bills in California that would completely alter the justice system for juveniles are gaining steam. According to The Sacramento Bee, Senate Bill 394 "would give juveniles sentenced to life without parole a chance to be released after 25 years of incarceration." Senate Bill 395 would "require minors to consult with legal counsel before waiving their Miranda rights during interrogations with police." And Senate Bill 10 would alter bail rules in California, "allowing more people to be released without the requirement of a money-backed bond," a common hinderance for lower income families as they seek to free their family members.
So Common brought the massive show to town to support his cause, and volunteers handed out free shirts adorned with #SchoolsNotPrisons, and various signs with messages like "Black & Brown Solidarity," and "Rise Up As 1." Speakers expounded on that same solidarity, between all people of all races, sexual orientations and any other barriers that separate people. Goapele sang angelically, and Van Jones offered an introduction fit for a king that praised Common as a man who could choose to simply do nothing, but has instead devoted his life to making the world better.
By the time Common made it to the stage more than 20,000 people stood shoulder to shoulder in the fenced off streets adjacent to the state capital. The crowd filled up an area that extended for four blocks, hanging over barriers, sitting together on dried up and trampled grass, and a lucky few found seats in the two bleacher sections. Men, women, children, babies and everybody in between made up the faces in the crowd, and those who couldn't fit inside the gated off area watched from restaurants along the street, or from just outside the fences.
His nearly two hour performance was powerful, revolving around the change he looks to make and the unity he seeks. "The reason I'm on this stage right now, is because of mass incarceration," he announced to the crowd at one point. "I believe we all have a duty to look out for those who have been overlooked, and those who have been thrown away. Because we all have made some type of mistakes, we've all had issues and did things that we wish we could take back, but when people are willing to transform and change their lives they shouldn't be punished for it forever. So we're standing up now, because we want you all to be aware of this issue of mass incarceration, it's been around since slavery, then Jim Crow and now mass incarceration."
Eventually Common stepped aside for a minute to allow J. Cole — who made his own visit to California prison San Quentin earlier this year — to wow the crowd with a handful of songs like "Power Trip" and "No Role Modelz." But even with the show-stealing act Cole can be, Common was still the star. He was a showman, freestyling about the city for over two minutes, inviting a woman on stage and serenading her, and giving the spotlight to each member of the band and each backup singer throughout his performance.
He, of course, sprinkled in his greatest and biggest hits like "Go," and "I Used to Love H.E.R.," as well as "The Light" and "Come Close." But Common never waned from his message, performing fiery, politically-charged records like "Food," "The Corner" and "Black America Again."
His song selection was riveting and timely, especially his closer, the Oscar-winning Selma cut "Glory." That song is full of references to Rosa Parks, Martin Luther King, Ferguson and more, and had fans spontaneously raising their fists in the air as Common performed a spirited rendition of the track with assistance from singers Andra Day and Ledisi. It was a fitting and stunning end to a dynamic performance.
Common is set to partake in meetings with legislators, including California Governor Jerry Brown, as well as the city's youth before he leaves Sacramento. He's also set to visit Folsom State Prison along with Goapele and comedian Mike Epps to perform and further pursue his goal as he continues to look to make changes. It's unclear if each of the aforementioned Senate bills will pass, as opponents say they would allow dangerous criminals back onto the streets. But what's undeniable is Common is doing his part, and giving his all in the effort.
Check out the entire Imagine Justice show below, including performances from Common, J. Cole, Goapele, Los Rakas and more.