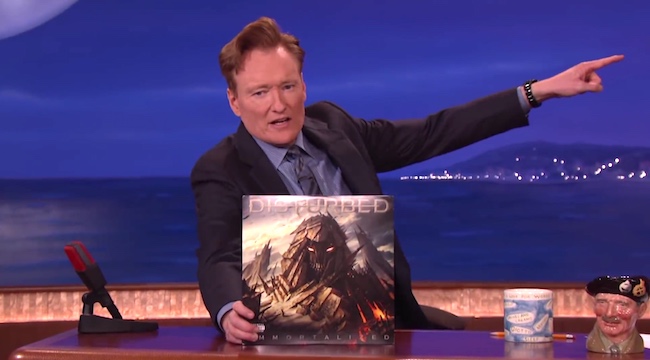 In one form or another, Conan O'Brien has had a late night talk show since 1993, when he took over Late Night as a relative unknown, his previous claim to fame was writing on The Simpsons. He has since become one of the longest-running talk show hosts in history and has been a television staple for 25 years now. This means that his shows have been one of the most consistent musical showcases on the air, as programs he's hosted have had hundreds of musical guests over the years. Sadly, that is coming to an end: A lot of change is coming to Conan on TBS, and now it's been revealed that this means no more musical performances.
Variety reports the news, which also means that booker Roey Hershkovitz will no longer be with the show. Variety notes, however, that his departure "[leaves] the door open for consulting work on the occasional special music episode and potential music content to appear on TeamCoco.com's digital platforms." Still, don't expect musical performances to be a regular part of re-tooled Conan.
O'Brien's shows have been home to a bevy of memorable music moments over the years: The White Stripes' 2009 performance of "We're Going To Be Friends" was the band's last time playing together, and Disturbed's 2016 cover of "The Sound Of Silence" has over 81 million views on Youtube and is Conan's most viewed video. Assuming that there truly are no more Conan musical performances scheduled, Dawes has the honor of being Conan's final musical guest with their July 12 performance.
Watch the aforementioned performances by The White Stripes, Disturbed, and Dawes above.