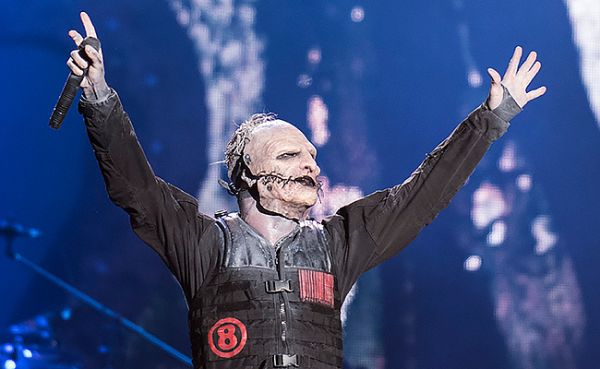 The new year is a time to start fresh, so Slipknot's Corey Taylor is looking to kick off 2016 on a positive note by expelling all of his negativity in an end-of-year interview about all the things that pissed him off in the year that was. Taylor targets Donald Trump, Justin Bieber, and the Rock and Roll Hall of Fame in an interview with Rolling Stone.
Taylor made his thoughts about Trump very clear throughout the year, but he singled his campaign out in the interview as the worst thing that happened in 2015 (and compared The Donald to white supremacist David Duke).
"I think I can speak for everyone when I say Trump running for president. That just f*cking sums it up. I can remember when [former KKK Grand Wizard] David Duke ran for president, and people scoffed at him. It was a joke. Like, how do you even consider the fact that you've got a shot at this? And now here comes Trump. And just because he's a f*cking talking head on television, people are taking him seriously. Between that and the fact that he is appealing to some crazy f*cking fear in the conservative wing of America, it is scaring me to be honest. The Republicans need to fucking disavow him if they want to be taken seriously at all — not only by middle-of-the-road America, but by the rest of the f*cking world."
Justin Bieber also made the People = Sh*t list. Though Taylor used to be a fan of the Biebz, he said he stopped listening to the singer after he became a "f*cking caricature of a spoiled brat."
He then bashed the Rock and Roll Hall of Fame for inducting Madonna before Deep Purple.
"The fact that Madonna got in before Deep Purple got in? Those people can kiss my ass. Like, f*ck you. Stop calling it the Rock and Roll Hall of Fame. Stop. Because it's obvious that you don't give a sh*t about rock & roll. If you did, bands like Deep Purple and Cheap Trick would've been in years ago. And that's f*cking upsetting. Call it the Popular Music Hall of Fame. Call it anything other than that. Because all you do is f*cking piss me off."
Taylor added that he wouldn't attend the induction ceremony if Slipknot were chosen to enter the Hall. Check out the rest of the interview over at Rolling Stone.