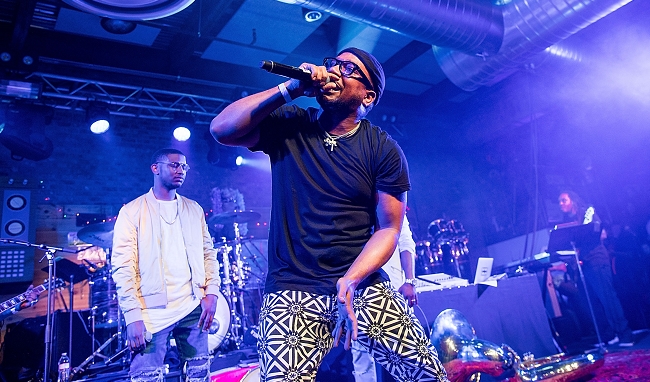 CyHi The Prynce does an incredible Kanye West impression.
That shouldn't come as a surprise. Over the years, he's developed a reputation as G.O.O.D. Music's man behind the curtain, writing some songs and punching up others to keep the overall quality of the label high. CyHi is arguably more responsible for what we think of as Kanye West's sound in 2017 than anyone outside of 'Ye himself. He has beaucoup credits on Yeezus and was instrumental in the creation of The Life Of Pablo tracks like "Father Stretch My Hands, Pt. 1." In short, he's spent a lot of time with Yeezy.
Though his awards and credits point to a more hands-on involvement, CyHi thinks of himself as more of a hype man. He admits that he will say when Ye can "do something that goes a little harder." But, to hear him tell it, he's mostly providing positive reinforcement.
"That's why [Kanye] keeps me in the studio," he explained when we spoke to him last week. "I'm there to say 'Aww, that was crazy.' I'm like Jamie Foxx in Ali. Just jumping around like 'Yeah, you got 'em, champ'!"
Even knowing that relationship, it's hard to suppress a laugh when he switches from his slow-rolling drawl to Kanye's explanatory and nasal chiding. The studio svengali is aping Kanye to describe his involvement on CyHi's new project. You see, after years of being kept on one side of the recording booth, CyHi's finally getting the chance to drop his debut album No Dope On Sundays. And Ye is repaying the years of effort by executive-producing the project.
CyHi explained what flipping roles and having Kanye advising day-to-day on No Dope was like — and busted out that awesome impersonation — when we spoke to him last week.
"Well, honestly it's more like month-to-month," he said, laughing and explaining how Kanye can jump from big-picture recommendations to the minutiae of drum sounds. " He's a busy guy. But he'd come in and say 'You need to take that to Mike Dean… you need to change that snare to this snare.'"
Although CyHi is thought of as as G.O.O.D. Music's hidden maestro he extends the same ideas to the labelhead.
"He's like the Wizard of Oz," he said of Kanye's recommendations, adding that West is able to help shape his solo work with just a few words of advice. "I feel like I'm taking it to the oracle. I've been with him long enough that I don't need him to touch the keyboard. He doesn't need to get on the track to help."
That hands-off approach helped No Dope become something we haven't yet seen from G.O.O.D. Music. CyHi explains his upcoming album as a week-in-the-life concept album that addresses topics like racial profiling, inner-city violence and the church.
"Before I had the concept of the album, I told my manager I wanted to make something so powerful, so spiritual that nobody was going to be able to find a nickel bag on Sundays," he said. "So, I catered the album around a point in my life where I had a lot of terrible things going on, and how on that Sunday I was able to really assess the situation."
Beyond just telling a true story from his life, CyHi hopes that his tale of breaking out of that moment and moving forward will provide inspiration to people like the friends he grew up with in Stone Mountain, GA — who he describes as "street dudes."
"I want it to give them something to look forward to," he said. "A lot of times people get caught up in the process and don't really stop to reflect and think about it until they are in jail. I want to show them that there's a different way of thinking."
That new lane is evident in the tracks that CyHi has shared ahead of the project. His single "Nu Africa" mixes Garveyism with shiny-suit-era excess, describing a new African nation founded by hip-hop icons. Though the song is equal parts uplifting and funny in its escapism, the world that inspired the track is anything but.
"When you're a kid, you don't realize that there's no social justice," he said. "You're just doing what you mom tells you and that's it. But then you see that police mess with you when you leave outside of your neighborhood. You start to see that skin color and where you're from matters. The album's a concept album about how to deal with those issues."
It's heady stuff to go after on your debut. But if anyone can tackle it, it's G.O.O.D. Music's resident songwriter. For his part, CyHi doesn't see any difference between crafting songs for a project like Yeezus and writing for himself.
"The form is always the same," he said. "It's the concept and ideas that are different. Because my life is different from their life and what I want to say is going to be different from what they want to say."
What CyHi wants to say on No Dope perhaps unsurprisingly aligns with his work on Yeezus, which he describes as his favorite thing he's ever done for another artist.
"I mean, I got to see Daft Punk without their helmets! How many people can say that?" he said. "What [Kanye] was doing in Paris, the purpose of the music was so dope. Knowing what we were writing it for, that it was about ourselves and our struggle, it was great."
And CyHi's brought that collaborative spirit to his new project. Though it's being billed as his solo stepping out, CyHi explains that he recruited a who's who of rappers to inhabit the roles of CyHi's hometown friends in No Dope's narrative.
"I didn't want to look like I'm the only one waving the flag," he said, noting features by ScHoolboy Q, Travis Scott and Big Sean. "This album is damn near a compilation."
Speaking of, CyHi says that even though he's focused on his solo career for the time being, he's still pushing hard for the long-awaited G.O.O.D. compilation Cruel Winter.
"I keep telling people 'We have to get Cruel Winter out," he said. "We have a lot of parts of the record, they just aren't finished. We might have 8 bars from Pusha T, a verse from me, a verse from Big Sean or some tracks of Travis just humming. It's a bunch of unfinished pieces and hopefully we can get back in and finish it up."
Right now though, CyHi isn't thinking about posse cuts. He's ready for the world to hear his solo debut and see what he can do when he's allowed to step out of the studio.
"I hope people consider it the album of the year," he said. "Nobody has the concepts that I'm going to bring and still keeps it digestible. I get to actually write about the trials and tribulations that I've been through… This is the real story of Cydel Young."