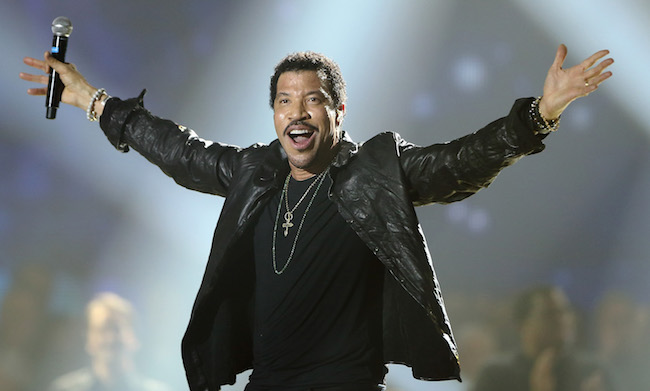 This weekend, an all-star collection of musicians got together for the MusiCares Person of the Year concert, which honored Lionel Richie. The most recent honorees include Paul McCartney, Bruce Springsteen, and Bob Dylan, so sure, Lionel Richie seems like a reasonable choice. But that's not the big story here. Neither is the thing where Dave Grohl performed a cover of Richie's "You Are" at the concert, even though it was a nice thing to do. No, the big story here is that Lionel Richie once sent a hospitalized Dave Grohl 500 muffins, as Grohl explained before his performance (helpfully transcribed by Vulture):
"When I got out of surgery, I was in my hospital room, and I started getting flowers and get-well cards and stuff like that. One day my wife comes into the room and says, 'Wait till you see the muffin basket that just showed up.' I went in there and this was the biggest muffin basket I've ever seen. It was like 500 muffins. This high! But I didn't know who it was from. A couple days later, I got a text from my tour manager. He says, 'Hey, Lionel Richie called and wanted to know if you got the muffin basket.' So Lionel, tonight, I didn't bring you a muffin basket, I brought you this."
A few things you should take away from this story:
It is much more fun if you disregard the fact that Grohl's estimate of "like 500" is probably exaggerated for effect, and instead assume that there were quite literally 500 muffins in the basket.
It is much, much more fun if you assume that Lionel Richie baked all 500 muffins himself, rather than ordering the basket online or something.
Are Lionel Richie and Dave Grohl that close, or does Lionel Richie send giant muffin baskets to all of his friends who are facing difficult stretches?
What does Lionel Richie's annual muffin budget look like? Like, are we talking thousands of dollars here?
Imagine if you were in the hospital — you had an appendectomy, but you're fine — and Lionel Richie sent you a basket filled with 500 muffins.
Imagine if the note said, "Hello. Was it these you were looking for? Feel better, LR."
What would you do with 500 dang muffins?
What did Dave Grohl do with 500 dang muffins?
This whole story is incredible.
Lionel Richie seems like a lovely man.
(Via Vulture)