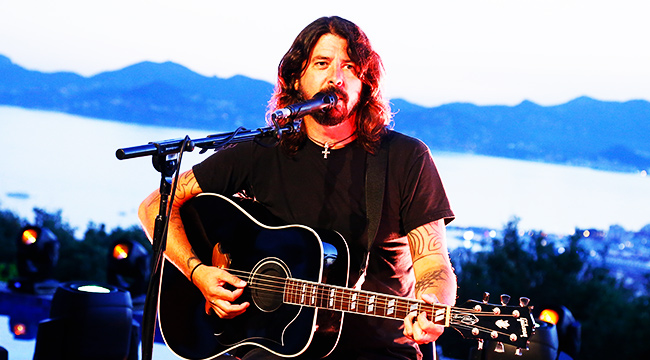 In 2014, the music-loving world caught a glimpse of something many thought they would never get to see when Nirvana was inducted into the Rock And Roll Hall of Fame and Dave Grohl, Krist Novoselic, and Pat Smear got onstage and with a rotating group of front women, brought some of the band's most beloved songs back to life once again.
It was a incredible moment to witness Joan Jett blast out "Smells Like Teen Spirit," Kim Gordon play "Aneurysm," St. Vincent's Annie Clark take on "Lithium" and Lorde to croon "All Apologies." It must have meant a great deal to the living members of the band to, especially drummer and Foo Fighters leader Dave Grohl who recently penned an essay for The Times U.K. where he refused to rule out future Kurt Cobain-less reunions of his legendary band.
"There have been a few seminal gigs over the years," Grohl wrote. "Glastonbury this year was up there. Another was when Nirvana made the Rock & Roll Hall of Fame in 2014. I got together with my old bandmates…and we played those songs again — it sounded just like it did, but of course with one thing missing. We hadn't played a Nirvana set since Kurt died. Could we do that again? I don't know."
"I don't know." He just leaves it hanging out there. It's difficult to imagine what kind of event might entice Grohl, Smear and Novoselic to play some of those songs live once again, but it's not like the three guys aren't tight. Smear is a full-blown member of Foo Fighters these days, and Novoselic joined up with them on their 2011 album Wasting Light an the collaboration with Paul McCartney for the Sound City documentary, a song called "Cut Me Some Slack." Anything is possible.