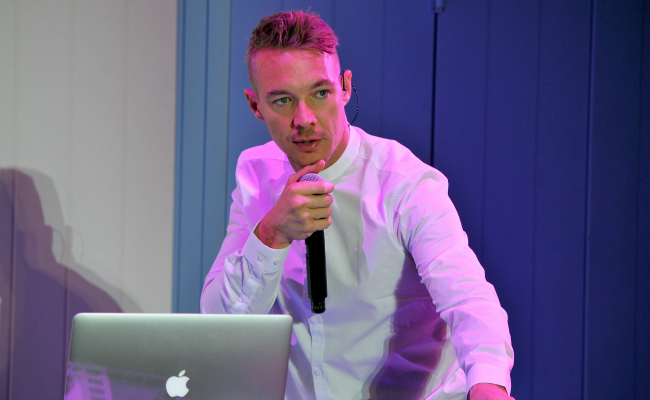 I don't think Shazam gets enough love. Sure, we can all fawn over Spotify for hours, gush over Apple Music for three months, and heap praises on Pandora and its wizardry, but Shazam is the true miracle worker here. What did we do before Shazam when we were driving along in our car and a dope song came on and we really wanted to know who it was, but didn't want to wait for the DJ to tell us? Well, we did just that — we waited. Waiting is for suckers. Thanks to Shazam, waiting is also a thing of the past. Also, how else would you let people on social media know what you're listening to? They have to know!
Hey Shazam, you rock.
Based on the latest news coming from the folks at Shazam, I'm definitely not alone in being a fan of the music discovery app. The app announced on Monday that Diplo was "the only artist in the world this year with more than 40M shazams." So one of his songs, whether it was one from Major Lazer or Jack U or done all by himself, was identified via the app in 2015.
Diplo has already been nominated for three Grammys (including Producer of the Year.) His song with Major Lazer, "Lean On," recently took home the title of the most streamed song of all time on Spotify. Well a decent chunk of people streaming that song got turned onto it thanks to Shazam, as the song was shazam'd more than 16 million times. Major Lazer was shazam'd 27 million times. With Jack U, Diplo's team-up with Skrillex, he hit almost 10million Shazams. Diplo was already in the Shazam Hall of Fame. Now it looks like he might be getting his own wing.
(Via Billboard)