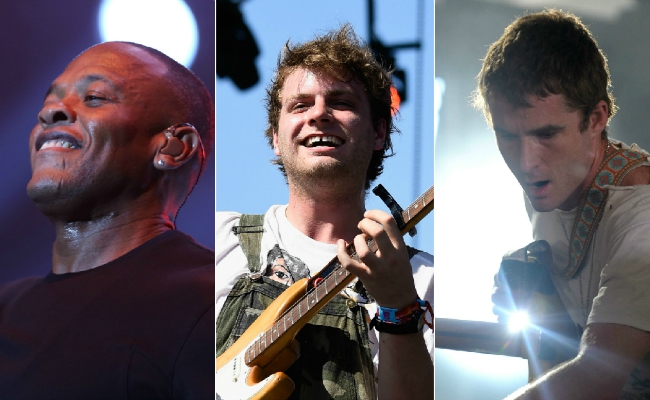 Okay, let's just address the elephant in the room: Dr. Dre has returned. After 16 years, the Compton native has come back to assume the spotlight, seemingly out of nowhere. But, to be fair, there are a ton of other great albums dropping this week, as well. New records from Mac DeMarco, HEALTH, Luke Bryan, Robyn, and Chelsea Wolfe should definitely tide you over.
Here are the new albums you need to hear this week.
Dr. Dre — Compton
He may be a billionaire music mogul now, but some old habits just die hard. Dr. Dre is a born producer and rapper. Compton, while highly anticipated, was not 16 years in the making like its canceled predecessor Detox. Dre decided that project had stalled so many times, and it wasn't good enough, so he scrapped it entirely.
And this new project feels like a fresh start, instead of reheating the same old ideas. With guest appearances from heavy hitters like Kendrick Lamar, Ice Cube, Snoop Dogg, The Game and Eminem and new hype like King Mez, Jon Connor, and Anderson .Paak, just to name a few, Compton truly fits into Dr. Dre's very limited, but untouchable discography.
Click here to stream Dr. Dre's Compton on Apple Music.
Mac DeMarco – Another One
The king of chillout folk is back with his new "mini-album," Another One. That may seem like a dubious title, but when you give your home address out at the end of your record so people can come by and have a cup of coffee, that's pretty chill behavior.
From what we've heard of the album like "The Way You'd Love Her" and title track "Another One," the album is pretty much as described… an additional helping of breezy, '70s-style trippy indie folk from a kinda weird, but ultimately likeable dude.
HEALTH – Death Magic
The ambient noise rockers in HEALTH are back with their first proper LP since 2009. While they did score the excellent soundtrack to Max Payne 3 in 2012, most of it was instrumental, save for a few tracks like "Tears." On Death Magic, the group is more melodic than they possibly ever have been on tracks like "Stonefist" and "New Coke." It's always astonishing how HEALTH can strike the balance from sounding so suffocating and alluring all at once, and they've managed to do it again here.
Here are the rest of the week's releases:
Luke Bryan – Kill the Lights
Robyn & La Bagatelle Magique – Love Is Free EP
Chelsea Wolfe – Abyss
Wonder Girls – Reboot
Frank Turner – Positive Songs for Negative People
Night Beds – Ivywild
Never Shout Never – Black Cat
Warren G – Regulate… G-Funk Era, Pt. II EP
Langhorne Slim – The Spirit Moves
Chevy Woods – The 48 Hunnid Project
La Luz – Weirdo Shrine
Vivian Green – Vivid
Obie Trice – The Hangover
Fear Factory – Genexus