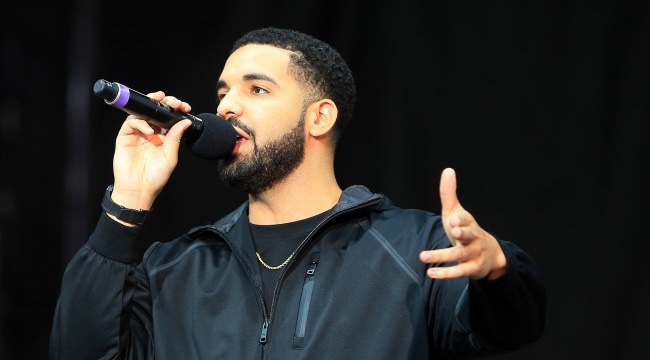 Drake seems to be on a one-man mission to totally and completely dominate the music world in 2018. Ever since he dropped the philanthropic video for his No. 1 single "God's Plan," Drizzy has been an omnipresent force, from his feud with Pusha-T, "Nice For What," the "In My Feelings" challenge, and now, today, he's shared another video from his mammoth double-album Scorpion for the song "Nonstop."
In Drake terms, it's actually a pretty Spartan production. The clip opens with a shot of Drake backstage at a festival, waiting to go onstage while getting pumped up by members of his crew. The "Nonstop" beat drops and he rips into the track, live, like a tornado to an audience who absolutely loses their sh*t at the mere sight of the 6 God. Midway through the video however, the setting changes to an opulent club, where Drake is escorted back to the VIP section to rip it up with other famous faces like Quavo of Migos and French Montana.
Drake's ubiquity is about to extend through the remainder of the year thanks to his upcoming Aubrey & The Three Amigos tour, that's set to kick off just next month and keep Drizzy and Migos out on the road until November.
You can watch the video for "Nonstop" above.