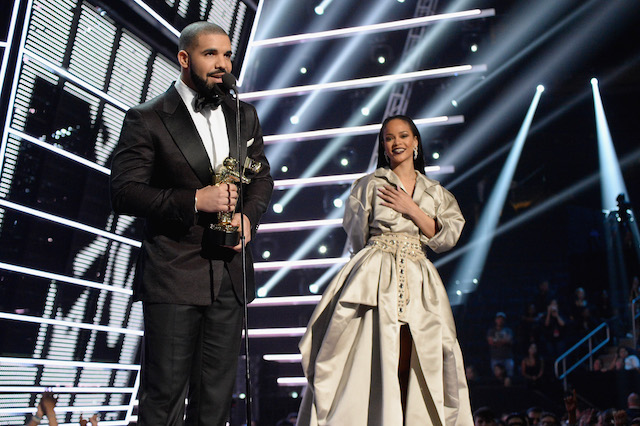 After quite an eventful night for the newly-back-together-no-for-real-this-time couple of Drake and Rihanna, the pair are celebrating together. Rihanna was honored at tonight's VMAs with a Vanguard award, along with performing four separate times (count em out) and receiving the award from her tuxedo-clad Toronto boo (Their awkward kiss stole the show, natch.)
But as usual, Drizzy posts all his favorite moments on that carefully-curated Instagram of his, and you'd be sorely mistaken if you thought he wasn't going to take the opportunity to be extra careful about how much he loves Rihanna. It looks like the happy couple didn't stick around for any VMA afterparties, but headed straight back to Toronto for some quality time. (Of course, this could also be an old photo he's been saving for the perfect moment.)
I'm no architecture expert, but you'll notice that it looks like Drake skillfully included the exact tower — aka the Canadian National Tower, the tallest building in the Western Hemisphere — that he perches on for his Views album artwork in their adorable half-face selfie. You know Drake, always working. Why not put his city on one time while he puts his girl on, too?
Here's his full caption: "This is a night for us all to be thankful for what you have done for us! You have affected so many of our lives in the best way possible. Tonight we celebrate you! @badgalriri." For what it's worth, Rihanna's last Instagram was of her opening performance at the VMAs tonight:
Regardless, this selfie is literally the best view he's ever had. Hope he takes care of her… you know? He better really put in work to keep this relationship thriving. The commenters are begging these two to tie the knot, and well, a lot of people thought he was going to propose to her onstage tonight. But maybe we'll give the reunited couple a little time to make sure it's not all too good to be true. Okay, I swear I'm done with the puns now… must be all this love on the brain. Congrats again to Rihanna and Barbados for her big night.