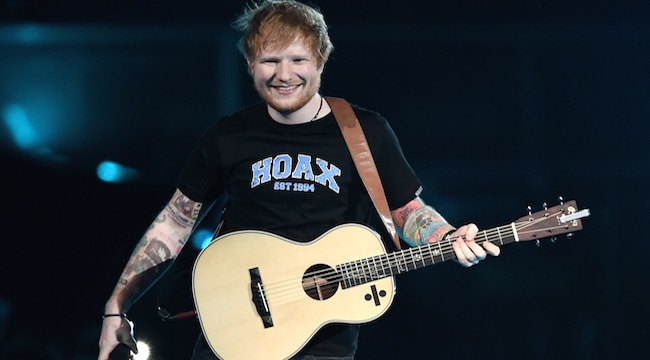 Has Ed Sheeran hooked up with members of Taylor Swift's squad? Why yes, yes he has. In a new interview with Rolling Stone centered around the release of the British singer's new album ÷, he revealed that being a part of Taylor's world was a bit like a fairy tale for him.
"Taylor's world is celebrity," says Sheeran. "I was this 22-year-old awkward British kid going on tour with the biggest artist in America, who has all these famous mates. It was very easy. … I would often find myself in situations just kind of waking up and looking over and being like, 'How the f*ck did that happen?' " (Katy Perry recently summed up his appeal as a secret ladies' man: "Everybody loves him, no one's scared of him, they want to date him. They can have him.")
Rumors of romance between Ed and Ellie Goulding have long lingered, especially since his song "Don't" is reportedly about her hooking up with someone else while they were all staying at the same hotel, and not just in the same hotel, but on the same hotel floor. Ouch. But Sheeran doesn't name names in the interview, aside to gush about his friendship with Tay Tay. In fact, he thinks it's "lazy journalism" that anyone ever linked his name romantically with Taylor herself.
"I found that aspect quite lazy journalism, there wasn't any truth to it whatsoever," he said of rumors that they were dating. "We've gotten matching Scottish folds, made each other arts and crafts Christmas presents, vacationed with our families, and had each other's backs."
Instead, he finds it incredible that even if he had no fame, no music, and no career, he'd still have his friendship with Taylor.
"She would be there if everything ended for me," Sheeran says. "Taylor is kind of an anomaly in that sense. She's omnipresent because she's the most famous woman in the world, so she can't make the decision to not be in the press. I always stick up for Taylor."
The moral is: Always stick up for your hot pop star friends that help you get laid.