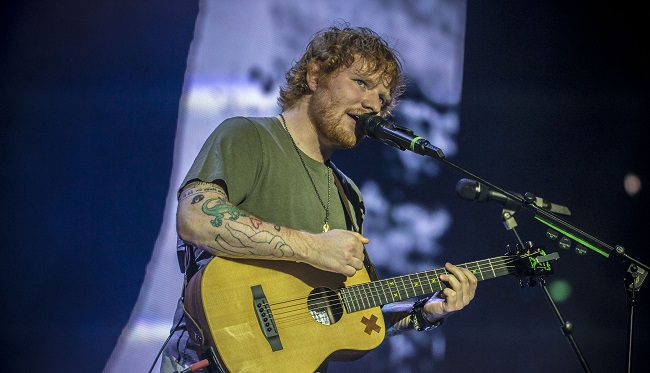 I have a soft spot for Ed Sheeran – I saw him live a few years back, and his ability to play massive stadiums with literally nothing more than an acoustic guitar and a loop pedal is incredibly impressive. After over a year of almost complete silence – during which he was sued for plagiarism not once, but twice) — Ed Sheeran has returned with two new tracks from his as-yet-untitled (it's probably called ÷) forthcoming album, which he calls "the best one I've written so far."
The first track "Shape Of You" is a pretty standard song for Sheeran, with a basic marimba beat backing his looped acoustic guitar, singing "I'm in love with your body." It sounds like something that could have been from 2011's + or 2014's X. Check that out below.
Now for the real treat: The second single "Castle On The Hill." Here, we see what Sheeran with a full backing band would sound like. I've wanted Sheeran to front a pop punk band since I took a chance and actually listened to the words in his songs (did you know that "The A Team" is about a cocaine addict?), and now I have a taste of what Sheeran fronting a pop punk band might sound like. The opening riff is reminiscent of U2, and the chorus sees his vocals straining into something of a scream, exerting more than they ever have. Sure, the lyrics are still sappy as ever, but the melody is undeniably catchy and the bridge even tells the story of losing friends to jobs, families, and overdoses. That's just not something you typically hear in a pop song. Check out "Castle On The Hill" below.