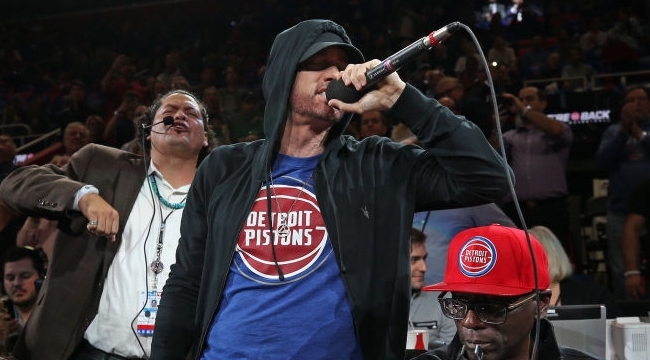 Detroit rapper Eminem, who is apparently a pretty big metal-head, once tried to appear on Black Sabbath guitarist Tony Iommi's 2000 debut solo album Iommi, but was turned down. The reason? Eminem wasn't famous enough at the time. Everything comes full circle though; Eminem is now every bit as famous as Iommi, with just a TV appearance generating enough online furor to spur a video of a parking garage freestyle to well over 35 million Youtube views in just a little over a week.
In an interview with Loudwire, Iommi related that Em reached out expressing interest in appearing on the album, which featured guest vocals from other rock legends like Dave Grohl, Henry Rollins, and Billy Corgan, but Iommi had no clue who Eminem was at the time and declined the request.
Ironically, Iommi did accept a collaboration from another Detroit rapper in Kid Rock (who is, thankfully, not really making a Senate run), but ultimately wound up nixing the track in the final sequence. Eminem did get vindication of sorts later in his career when he managed to secure a sample of Black Sabbath's "Changes" for "Going Through Changes" from his 2010 album Recovery, proving that the music business works in some truly mysterious ways.