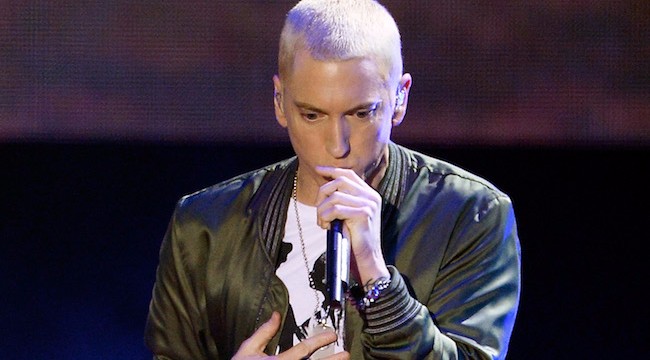 Ever since Eminem dropped his scathing critique of Donald Trump at the BET Hip-Hop Awards it was clear he had a bone to pick with Trump, the country and the rampant racism that seems to be the prevailing topic of the day. There have been murmurs that Em's new album, Revival, would be a politically-charged, anti-Trump soundboard, and by the sounds of the second release from the album "Untouchable," that will come to fruition when the album releases on December 15th.
For over six minutes, Em discusses everything from institutional racism, police brutality, Colin Kaepernick, the old practice of redlining to keep minorities in certain neighborhoods and a myriad of topics of similar ilk. "Black boy, black boy, we ain't gonna lie to you /Black boy, black boy, we don't like the sight of you," he raps to open the song, from the perspective of a racist white man.
The song's title is itself a commentary on racism, as the "untouchable" figure in the song is white men, who remain unbothered by police and free of the metaphorical shackles placed on the wrists of black people in America. It's a stark contrast from the album's first single, the introspective "Walk On Water," with Beyonce, but if the rumors are to be trusted, "Untouchable" is a truer representation of what is to come when Revival hits retailers next week.
Stream Eminem's "Untouchable" below.
[protected-iframe id="2416efafc53c626e6a97e48d319e0d95-60970621-76566046″ info="http://tools.applemusic.com/embed/v1/song/1321745102?country=us" width="100%" height="110px" frameborder="0″]