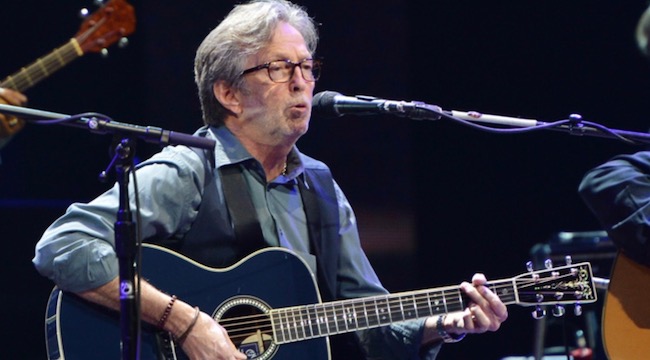 Early next year, Showtime is set to air a brand new documentary about the life and career of one of the greatest musical talents of the 20th Century. Titled, Eric Clapton: A Life in 12 Bars, the film is set to premiere on February 10, 2018, and will tell the full, unvarnished story of the guitar player's incredible musical legacy and personal demons.
Recently, Clapton was onhand at the Toronto Film Festival to help promote the documentary, where he was asked about the declining sales of the instrument with which he is nearly synonymous. "I didn't realize it was that bad," the guitarist said when confronted by a reporter with Billboard with stats showing that sales dropped down to 1 million a year from 1.5 million recently. "Maybe the guitar is over," he added.
Clapton then gave a rather nuanced view on the larger state of music. "I'm out of touch," he admitted. "I mean, I don't know what's going on. I don't know where it's gonna go either. I think anything that has a natural process will end up where it's supposed to be."
Then he shared a story about his own efforts to keep rock alive…at least in his own home.
"My kids listen to classic rock, but that may only be because of me, because that's what I've played to them. I mean, from the time of their conception, they've been listening to music through the womb. I played them playlists, just brainwashed my kids, and at the back of it was always the guitar or some kind of solo instrument or a singer. My belief in music is it's all good. It's all good. Even stuff that doesn't appear to be so, it's all good."
You can watch a trailer for Eric Clapton: A Life in 12 Bars below.