When Young Thug boasted "Every time I dress myself, it goes mothaf***in' viral" on his 2015 track "Halftime," it felt like a typical rapper braggadocio, but a year later it's clear that not only was he right, he might have been on to something.
Thug's affinity for female clothing that "fit how they're supposed to fit, like a rock star" is hardly new, and the Internet's disdain and adoration for his attire seems to have reached a fever pitch with the release of his new LP No, My Name Is JEFFERY. On the cover, Thug is decked out in a purple (blue?) Alessandro Trincone dress and a humongous bonnet.
As is the case with all things online, it's been meme'd.
But it has also drawn praise from Erykah Badu, who called the cover and choice of outfit Andre 3000-esque.
Erykah is, of course, the mother of Andre's son Seven and long-time friend of the more eclectic side of Outkast, and she has a point. While 'Dre was criticized for it often, he continued to push boundaries with his fashion choices and dabbled in women's clothing along with other sorts of unorthodox attire.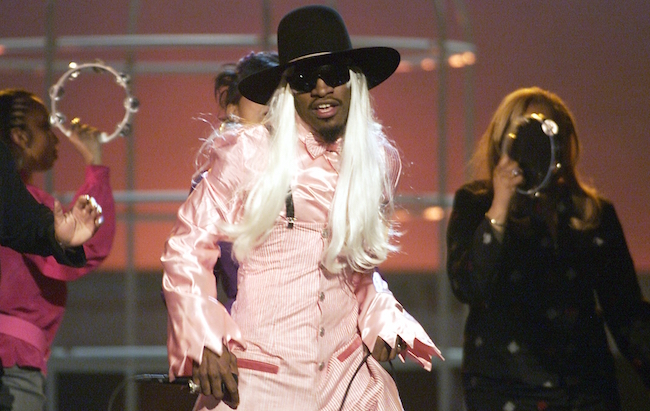 Thug isn't the only rapper he's influenced in that way, either directly or indirectly. Whenever a rapper suits up in something people consider effeminate, be it Kanye's Céline blouse during his Coachella set in 2011, Kid Cudi's crop top, Lil Wayne's skintight, zebra print leggings or CeeLo Green's various dresses, it always seems to be traced back to Dre.
Earlier this year, 3K proclaimed his admiration for Thug, stating, "Thug is charging up the rap game" in a rare interview. Thug hasn't cited Three Stacks as an inspiration publicly, but it's clear he at least opened the door for an album cover like this to exist. The dress has also sparked conversation about gender norms, cross dressing and sexuality across social media.
Maybe that's what Thug wanted, maybe he just wanted a bright cover to his new album or maybe he just liked the outfit. Whatever the case, the cover was clearly important to Thug's plan for the album as it caused a delay in Jeffery's release. Thug took to Instagram to explain, in a since deleted video that, "The reason why the mixtape isn't out is because of the photo that they wanted to use. I didn't like the photo and I know my fans wouldn't like the photo as much as the photo that I'm gonna use."
Some may not like the comparison of a legend like Andre to an upstart who doesn't fit traditionalist views of what a rapper is like. Yet, the Andre-Thug connection is appropriate, at least in terms of aesthetics.