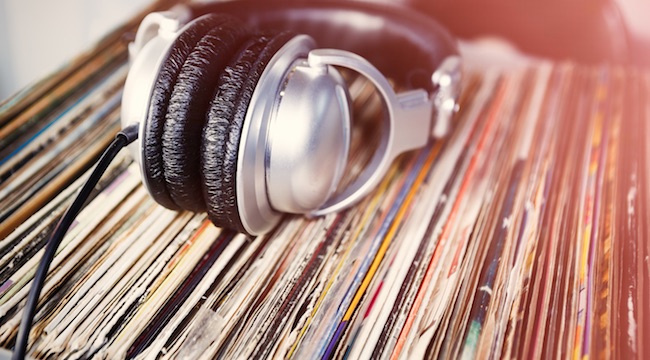 While life in 2016 may feel pretty topsy turvy, the world spins madly on and the holidays are still speeding toward us at hyper-speed. Maybe that's a good thing? In a year marked by some real low points, the holidays are a great time to reset, recharge, and celebrate the one thing in life that really makes this all worthwhile — shopping! Kidding, I mean love, of course.
While there's plenty of ways to show love, giving gifts is certainly one of them, and making sure the music-obsessive in your life has tickets to their favorite show, or the must-have vinyl of the season, or a piece of coveted tour merch, is part of making this time of year the magical time of year that it's supposed to be. Especially in a year fraught with aggression, music is a soothing solution and escape from all the tumult, so here's a list of essentials from 2016 for the music-obsessive in your life. Get ready for vinyl, and lots of it.
A Subscription To Vinyl Me, Please
Start off strong with the hugely popular indie music service that will surprise and impress any avid vinyl collectors. After all, who doesn't want to be part of a record club? For the music fan who wants to stay up to date on must-have albums, but is a bit of a casual listener themselves, a subscription to the ever-growing Denver-based Vinyl Me, Please is the ideal gift. Plus, VMP is focused on building a community and supporting art on a substantial level, not just shipping out random records like other vinyl retailers may be. You can select three levels of membership, all of which fall under $30 a month, to send monthly vinyl, art prints, cocktail recipes, and much more. Plus, members get discounts on other items in the VMP store — two gifts in one. Sign up here.

A Shower Head Speaker
What's more loving than concern about how your favorite person starts the day? What if they could start their day while listening to Chance The Rapper's "All We Got" in the shower and be filled with hope throughout their commute? You can make that happen. This shower head speaker from Kohler is a bit steep at $100, but it comes in four different colors and can be shipped anywhere in the world. It pairs with Bluetooth technology to stream anything your heart may desire, and the wireless speaker comes out of the shower head itself for recharging. The best gifts have an air of care and an air of novelty, and this definitely has both. Order it here.

All-In-One Record Player
This is an all-in-one record player with cassette player, radio, USB port and built-in speakers for less than $300. If you're stumped on what to get your loved one, and they are an avid listener without a speaker set up yet, this is a great place to start. And every time they put on their favorite record, they'll think of you! It's sleek, affordable, and guaranteed to put you on the top of their list in the future. Get it here.
Solange's New Album On Vinyl
Solange's surprise-release, A Seat At The Table, is a magnum opus. This would be true even if America wasn't currently fighting against itself on issues of race, gender, creed, and sexuality that the record beautifully and intensely navigates. Solange heals while interrogating, uplifts while mourning. She has truly come into her own as an artist in every sense of the word — her visual grace and musical wisdom is a boon to us all, and her affirmation of black women, one of the most systematically disenfranchised groups in our country, makes this record even more special, powerful, and important. This album will go down in history, not to mention the vinyl treatments are astonishing and rare. Order a copy here.
Amanda Petrusich's book Do Not Sell At Any Price: The Wild, Obsessive Hunt For The World's Rarest 78rpm Records
In case there was any confusion, women have been writing books full of criticism about music for quite a bit now. A great place to start if you're looking specifically for women writing about the force of music and counterculture is Ann Powers' Weird Like Us: My Bohemian America. A welcome, and magnificent counterpoint to Powers' exploration of rebellion and bohemia, is Amanda Petrusich's examination of precious and rare vinyl in America. Petrusich is the kind of writer who can make mundane or peculiar topics seem light and airy, her prose brushes the cobwebs off these ancient records — 78s to be exact — and the people who love them with a loving sweep, and then keeps crate-digging. Vinyl collectors, history buffs, and fans of Petrusich's already well-known graceful style will adore getting lost in this effortless story. A particularly great gift for young female music writers. Get it here.
Musical Instrument Teaspoons
A bit of whimsy is what Christmas is all about! These are great stocking stuffers for the musician, industry exec, or journalist in your life who knows their life is already completely overtaken by music. At this point, why not just own it? These spoons make sure they're measuring a little bit of sound into everything they make. Somehow, I am constantly losing or breaking plastic measuring spoons, so these are also a great gift by virtue of the fact that they're actually useful. And they're cute as hell. Order them here.

Easy-Access Play And Display Vinyl Frames From Art Vinyl
Don't mess with all the other harebrained ways that people try to sell you when it comes to displaying vinyl — just shell out the $60 for this easy-access, sleek frame that will solve all your problems. Unlike the more popular simple frame model, that makes it hard to access the record inside, this frame is made for the music listener who would still want to play the album they're displaying. Yes, you have to pay shipping from the UK. Yes, it's still worth it. Trust me, I've been through about twenty of the other versions of this frame, this is the only one that actually holds up. Invest. Order the frames in black or white from Art Vinyl here.
Sonos Speaker Systems
After getting them that all-in-one record player, why not upgrade their sound system and blow their minds? Sonos consistently offer some of the best, sleekest, and most accessible speaker systems in the world, few brands make such an effort to blend analog prestige and sound with the ease and comfort of modern technology. Their systems work together seamlessly, so you're not stuck messing with cords and hammering wires into the wall on Christmas morning. They offer multiple bundles, models, and types of speakers to suit any room, mood, or atmosphere. The sound quality? Unmatched. Shop Sonos speakers here.
Steven Hyden's book Your Favorite Band Is Killing Me: What Pop Music Rivalries Reveal About The Meaning Of Life
In case you are an infrequent reader of the Uproxx music section, Steven Hyden is our resident critic-at-large here. He also contributes to other sections, but Hyden remains one of the most compelling, funny, and fascinating music critics of the last few decades. In his recent book Your Favorite Band Is Killing Me: What Pop Music Rivalries Reveal About The Meaning Of Life, Hyden unpacks why we love the bands we love and hate their enemies, and what that says about human behavior at large. He also manages to seamlessly inject his own personal experiences as a fan into the music criticism itself. His book is full of overlooked history and weird, uncanny facts about some of the biggest musical rivalries that often loomed larger than the music itself. It's a shoe-in gift for the argumentative, passionate music lover in your life. Order it here.
Kacey Musgraves' Christmas album 'A Very Kacey Christmas'
This woman has an allure that spans seasons, holidays, and genre. Even if you don't like country music, you will like Kacey Musgraves. Following two chart-topping, critically-acclaimed albums, she's blended her '70s soft rock countrypolitan charm with some traditional Christmas anthems, and a few newer ones, to create a country Christmas record that will appeal to anyone and everyone on your list. Throw in a Willie Nelson feature for good measure, and you have a Christmas miracle: The album everybody likes. Diehard fans stay tuned for some exclusive behind-the-scenes content about the making of this record, which you can stream below while you're buying it for everybody else.
Personalized Mixtape Doormat
Yet another way that people have begun expressing their personalities is through cute doormats. While most music journalists I know won't be buying their own home anytime soon, they will definitely be attending festivals where their boots get muddy as all get out, and therefore a doormat is actually a quite thoughtful gift. Up the ante by copping them a tape facsimile to greet them whenever they come home, and remind them that the key to life can be found in a really great playlist. Luckily for us, making them on Spotify is way easier than making them on a tape. Still, the nostalgia remains. Pick up a customized doormat here.
Rihanna's Entire Discography On Vinyl
While we're on the subject of incredibly talented black female performers, why not thrill the Rihanna fan you love by gifting them her entire discography on vinyl? Sure, many traditional vinyl collectors shunned pop music, but in this new era of poptimism, that mindset has gone out the window. Particularly with the release of this year's Anti, Rihanna has defined herself as a career artist worthy of the distinction, and releasing her albums on vinyl is a statement from the pop star we shouldn't ignore. The set runs a cool $300 and will be released 12/16, if you order it now that's just in time for Christmas. Pre-order the box set here.
Columbia Records Complete Box Sets
Whether you're trying to thrill a Johnny Cash obsessive or a Robert Johnson fanatic, you can make the musical history buff in your life happy with a Columbia Records box set. From Simon & Garfunkel, to Gene Autry, to Robert Johnson, these box sets gather all the historic material in one place, keeping them safe and secure for generations to come. Investing in one of these is investing in history — and in your future happiness. These will run you a couple hundred dollars, so order them sparingly. Order a Simon & Garfunkel box set here.
Vinyl Shelving And Organization
For those music lovers who already have tons of vinyl in their possession, the most helpful gift might be a way to organize the records. Check out Koeppel Design for the record crate (above), vinyl organizational tabs, and a special 45s crate to hold all those rarities. While Ikea shelves are great for a season, these crates have long-lasting appeal and look classic anywhere.
Bob Mehr's book Trouble Boys: The True Story Of The Replacements
While The Replacements might never have made it to world-stopping fame, their legacy is one that looms large in American history. Bob Mehr took it upon himself to make sure the band's story got told, preserved, and investigated the way it deserved to be. Rarely is a music biography as all-access and remarkably bold as Trouble Boys, with a clear look at the self-destruction, abuse, and addiction that did hold The Replacements back in many ways. Mehr did a decade of research and reporting to achieve a narrative arc about the band's rise from indie fame to major label success that does not gild the lily. Replacement fans wouldn't want it too, and apparently, neither did the band, who fully participated in the endeavor. When it comes to "real stories" in music history, Mehr has crafted one that goes above and beyond. Any obsessive will find this book more than thrilling, any newcomer will be immediately sucked in. That's the mark of a great story sure, but also a great storyteller. Buy it here.

Grado Prestige Headphones
To the chagrin of many I still fall squarely in the earbud camp, but the people I trust who insist on over-the-ear headphones swear by Grado. It's not part of the Beats By Dre monopolization of the market, but they quietly produce quality headphones that don't break the bank. The Series SR80e comes in at $99 and made CNet's headphone list in the "strikingly good sound for less than $100" category. I like their slim look and the fact that they come with an adapter for use on devices with a smaller plug — not that we'll have a headphone jack at all on our iPhones soon. Get a pair of Grados here.
Music Wine Glasses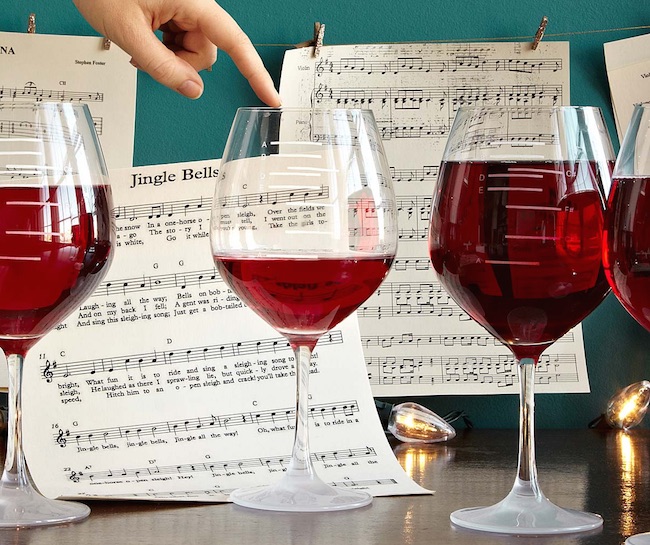 What's that? A chance to drink wine and nerd out about music? Yup. It's a hit. Get these wine glasses emblazoned with the major scale shipped directly to your house, gather up your nicest couple bottles of Pinot Noir, and call it a day. Christmas on lock. Buy the wine glasses here (Wine not included.)
A Tribe Called Quest's We Got It From Here…Thank You 4 Your Service
This album is a masterpiece and should be treated as such, with a vinyl copy that you can display in one of those easy-access frames up above. Honor Phife, honor the Tribe, and honor the fan — or youngster — in your life, who absolutely needs to hear the golden-funk medicine of We Got It From Here…Thank You 4 Your Service. Pre-order the record from outlets like Amoeba Music for around $30, the official vinyl release date is 12/23, so it could still make it before the big day. Order it here.
For a look at more must-have gifts this holiday season, take a look at our other guides.