Last night's MTV VMAs saw plenty of messy drama, which will surely inspire think pieces for days to come. This superficial post is all about the fashion of the event. We already saw the barely-there custom Versace of Miley Cyrus and the colorful statement outfits of Amber Rose and Blac Chyna. Both of those examples could easily fall into "best" or "worst," depending upon which way the VMA fashion standards flow. Let's call them both borderline outfits and run down some slightly more clear-cut ensembles from the evening. Fashion is always subjective, but we can have a little fun evaluating the other reigning dresses from the evening.
Best: FKA Twigs donned a very sexy Atelier Versace gown made of chiffon. The undergarments were embroidered with Swarovski crystals for some added oomph. Twigs' dress fit the mood of the event while still allowing her to retain her own unique style.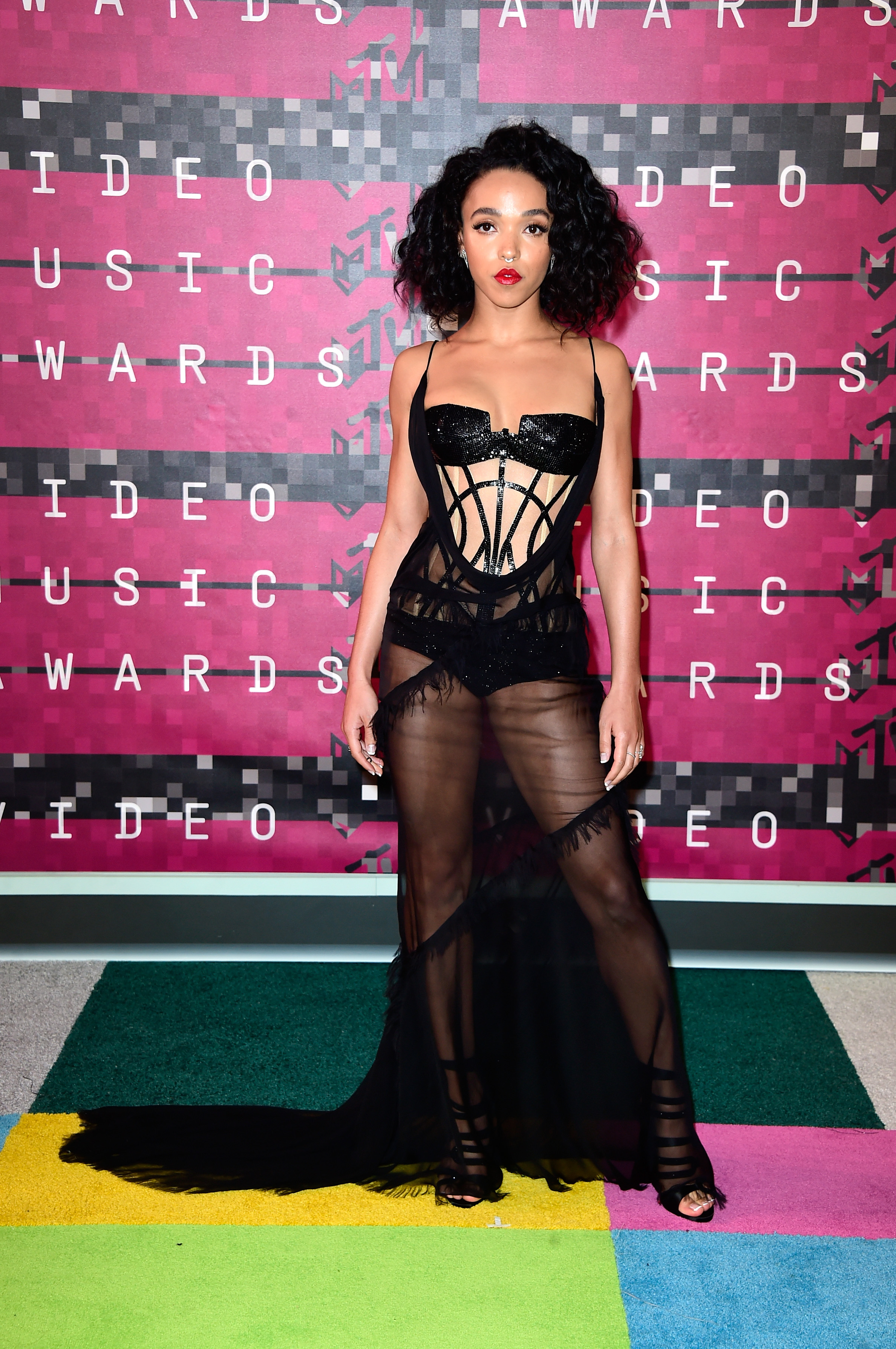 Worst: Taylor Swift disappointed in a fairly dull Ashish ensemble. This crop-top-and-pants failed to bring any drama to the red carpet, and we all know how good Swift is at coveting drama. Her shoes are Christian Louboutin, which was another safe selection. Lorraine Schwartz earrings completed the look, which Swift could have worn on any given day.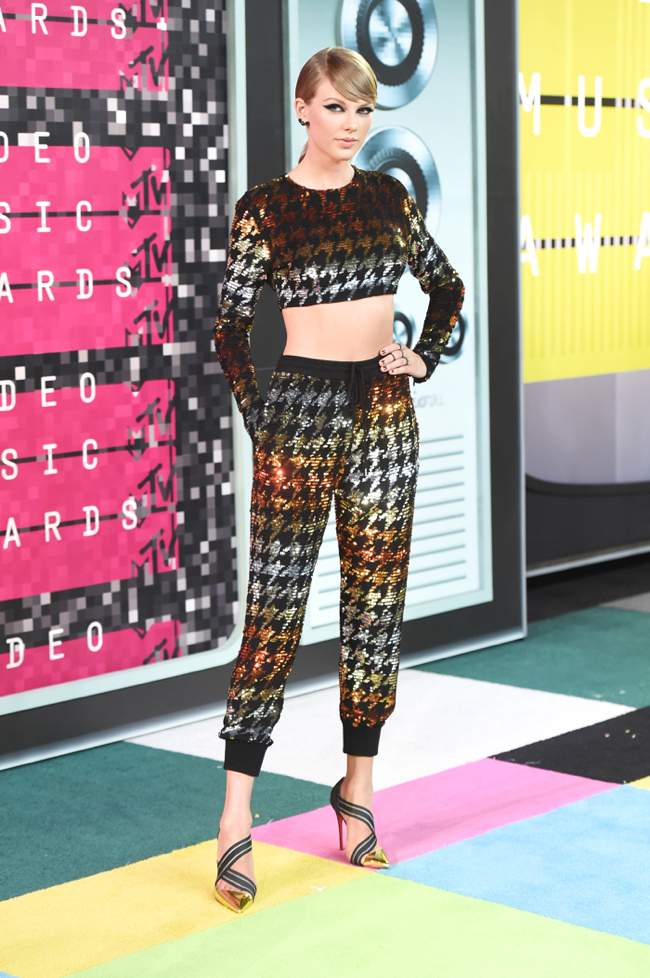 Best: Emily Ratajkowski nailed it and proved that she could escape the taint of Robin Thicke, whose career peaked two years ago at the same event. Emily's ensemble was full-on Altuzarra. Her top and skirt showed a little skin, but didn't go overboard. Those boots were everything.
Worst: Britney Spears was so excited to be at the VMAs, but her fashion sense is still stuck at the height of her fame. Brit Brit runs about a decade behind the times in this Labourjoisie dress. She looks pleased with her selection, which is what really matters. The dress still looks rather uncomfortable.
Best: Justin Bieber broke down on stage and dropped his new music video at the event. Before all that happened, he strolled the red carpet. Dare we say he looks a little bit — and this is a stretch — suave? For once, Bieber looks completely comfortable in his own skin. As for his clothes, the Saint Laurent jacket and shirt provided a decent contrast to those throwaway jeans.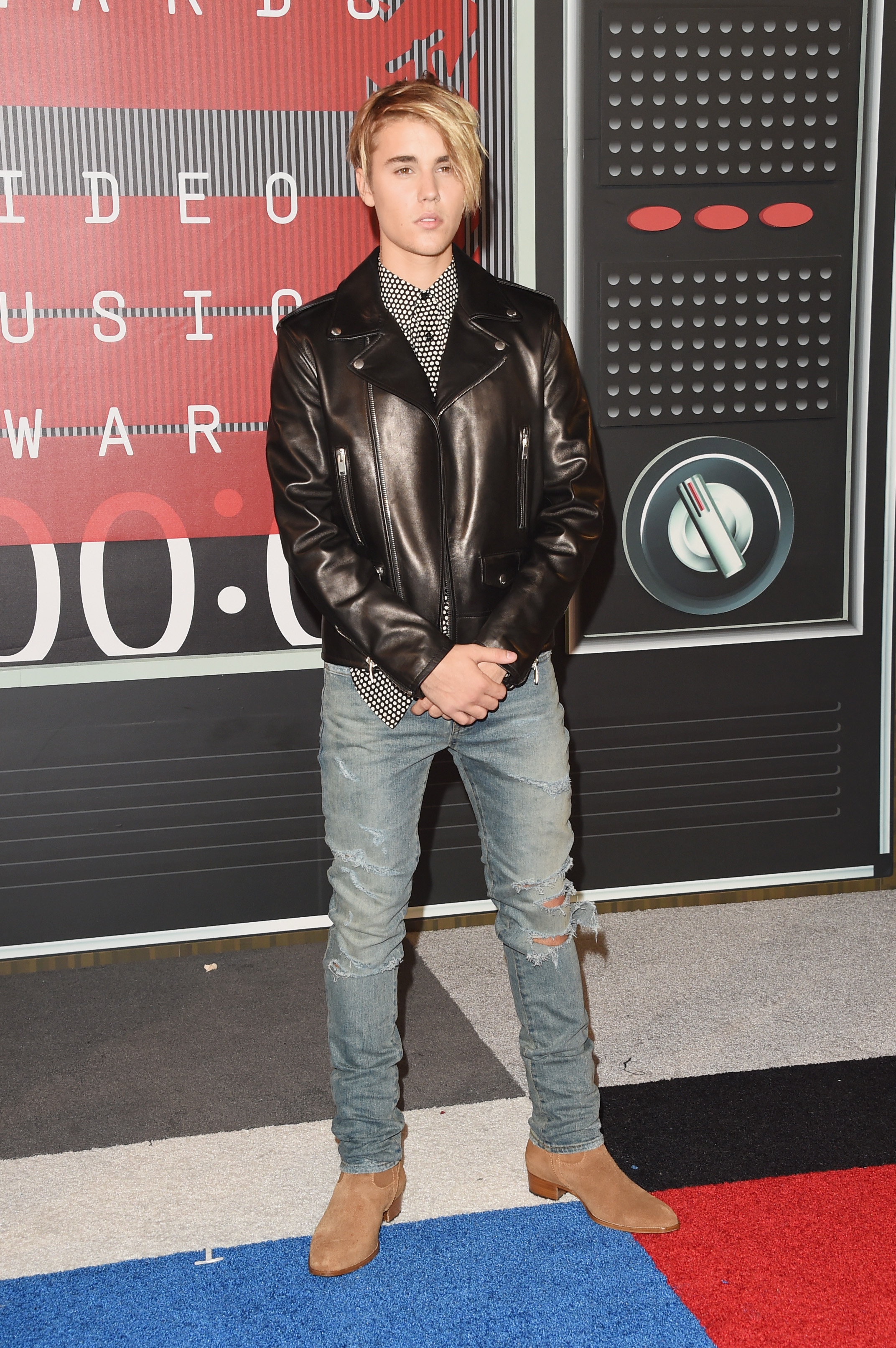 Worst: Rita Ora aimed for the vibe that FKA Twigs achieved. Rita pulled out all the stops in a custom Vera Wang gown, which ultimately felt out of place on the VMAs red carpet. Far too much effort (and too many feathers) went into executing this look. Rita tried much too hard, even for this event where attention means everything.
Best: Kat Graham struck the right chord for the VMAs in this Versace dress. The wild, offbeat pattern is perfectly executed, as are the cut and fit. She looks cool and collected but still fits the mood of an outrageous awards show.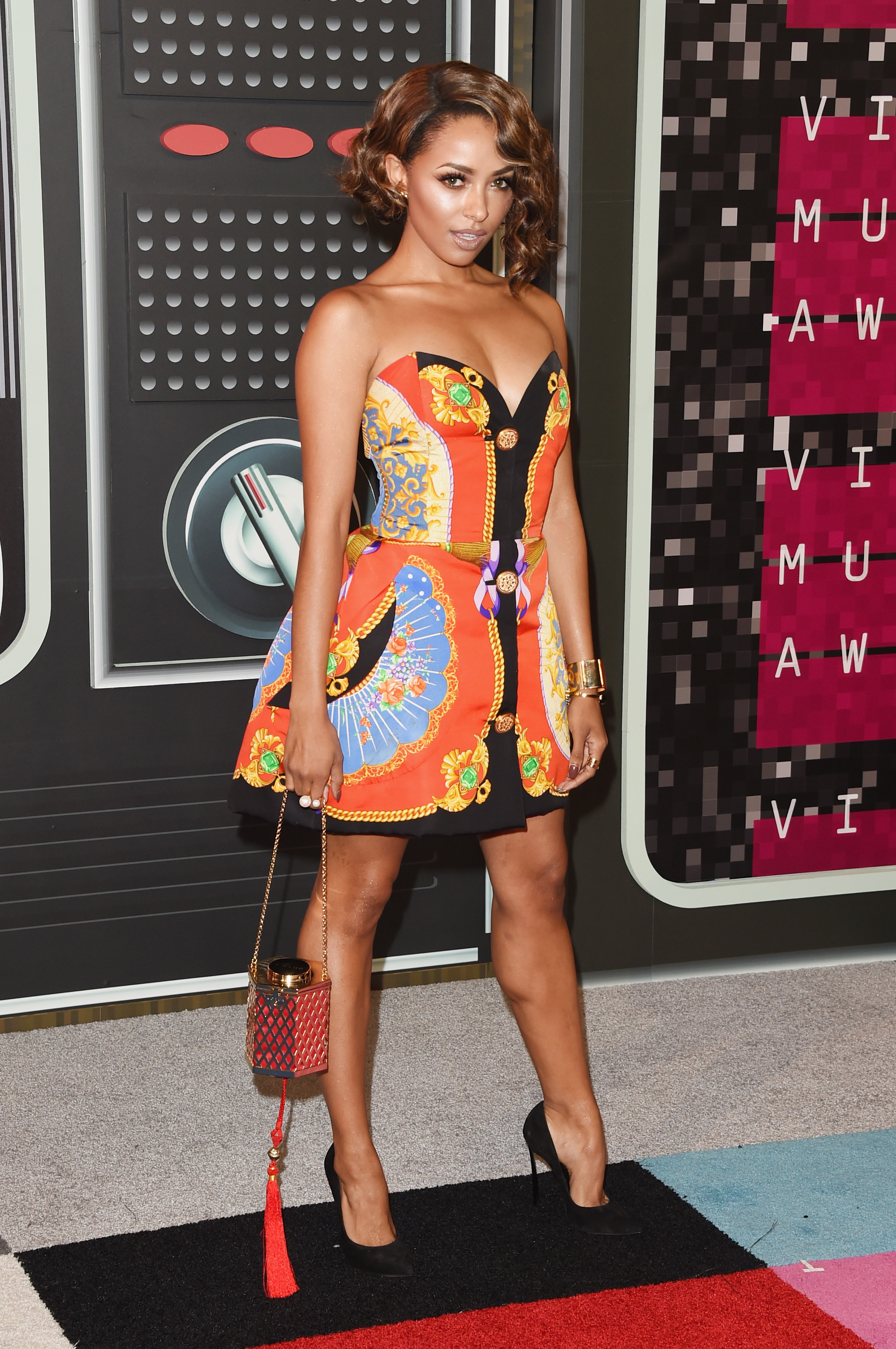 Worst: Nicki Minaj wore a metallic Labourjoisie gown that revealed all. Some might appreciate the geometric feel of the gown, but this dress has been done so many times already. A little fresher feel wouldn't hurt, especially when Nicki expertly called out Miley Cyrus in an interaction that may or may not have been real. Then again, no one was talking about Nicki's dress when that feud hit the stage.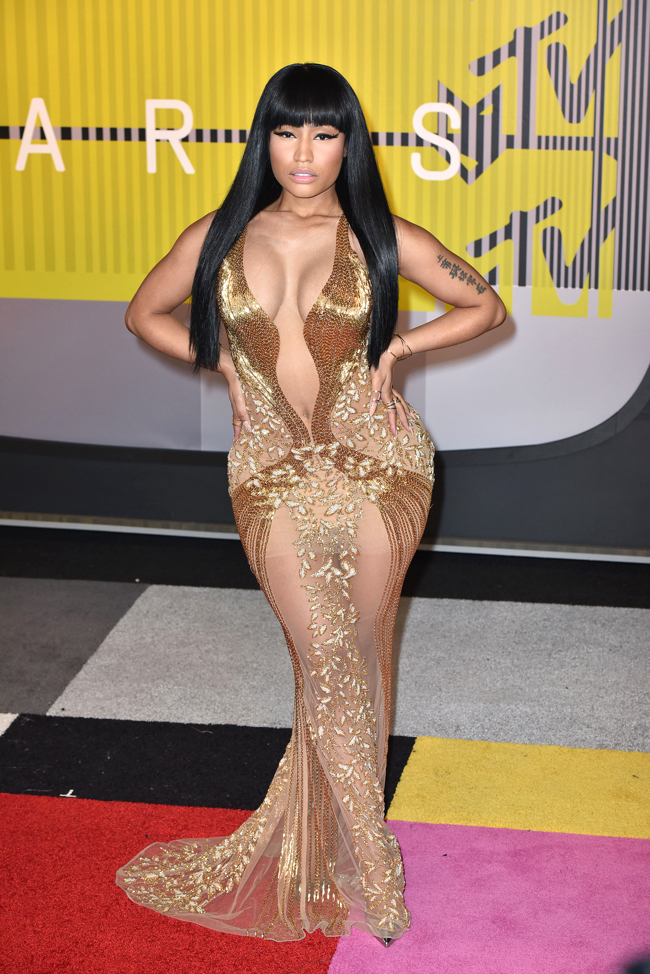 Best: Pharrell abandoned his Mountie hat in favor of a laid back outfit, which he donned in conjunction with his laid back lady, Helen Lasichanh. Who knew denim on denim could work so well in a post-Britney-and-Justin era?
Worst: Aubrey O'Day may have dressed for the evening with the full intention of landing on a worst-dressed list. The former Danity Kane singer donned a coral-colored nightmare that fit the mood of a circus trapeze act. Her Swiss Miss braids further confused the masses.
Best: Charlotte McKinney looked much more glamorous than expected in this tight-fitting, black gown with strategic cutouts near the bodice. She usually shows off the girls but covered up in favor of highlighting her fantastic legs. Well played.
Worst: Vanessa Hudgens would have made the "best" list for nearly any other event, but this Naeem Khan dress was a little too ethereal for the VMAs. This isn't the Lilith Fair, after all. She does look beautiful but simply out of place.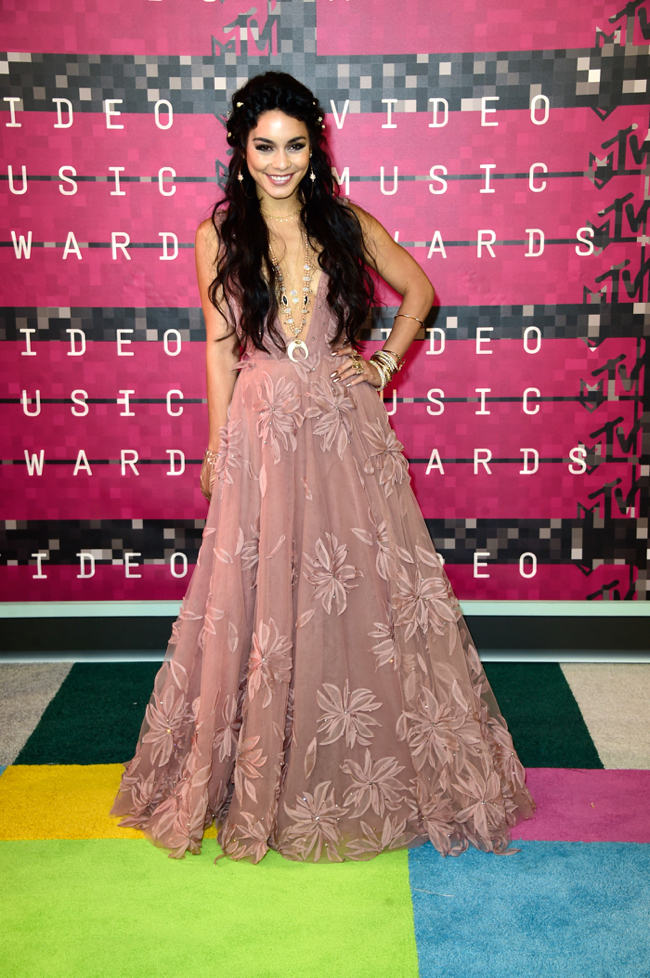 Best: Jillian Michaels may have won the whole show without writing a single song. This funky Natalia Fedner top had a chain mail feel, and the red satin pants are perfecto. Jillian took a moment in the middle of the show to tweet, "Awkward." One can only guess the meaning of her simple statement.
Worst: Bella Thorne wore a mint-colored Maria Lucia Hohan dress that looked fit for a spring prom dance. The Disney star's uptight ballet bun was completely unprepared for the onslaught of weirdness known as the VMAs.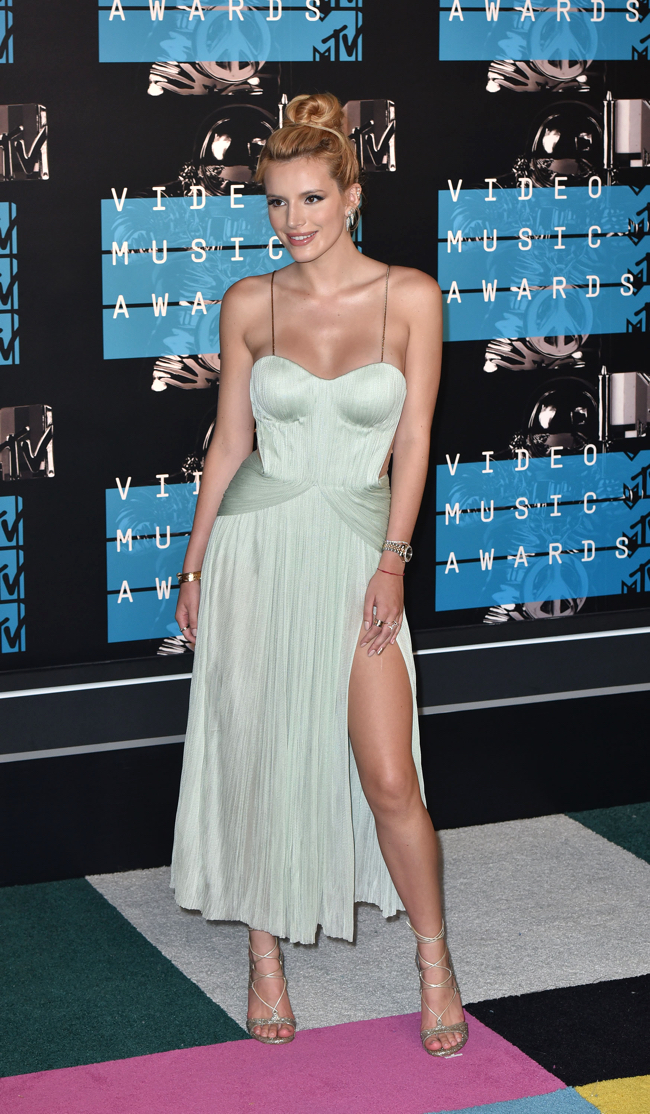 Best: Stella Maxwell brought her Victoria's Secret vibe to the red carpet to support her rumored girlfriend, Miley Cyrus. Stella's dress is Moschino (by Jeremy Scott) and achieved the desired combination of glam and funky for the event.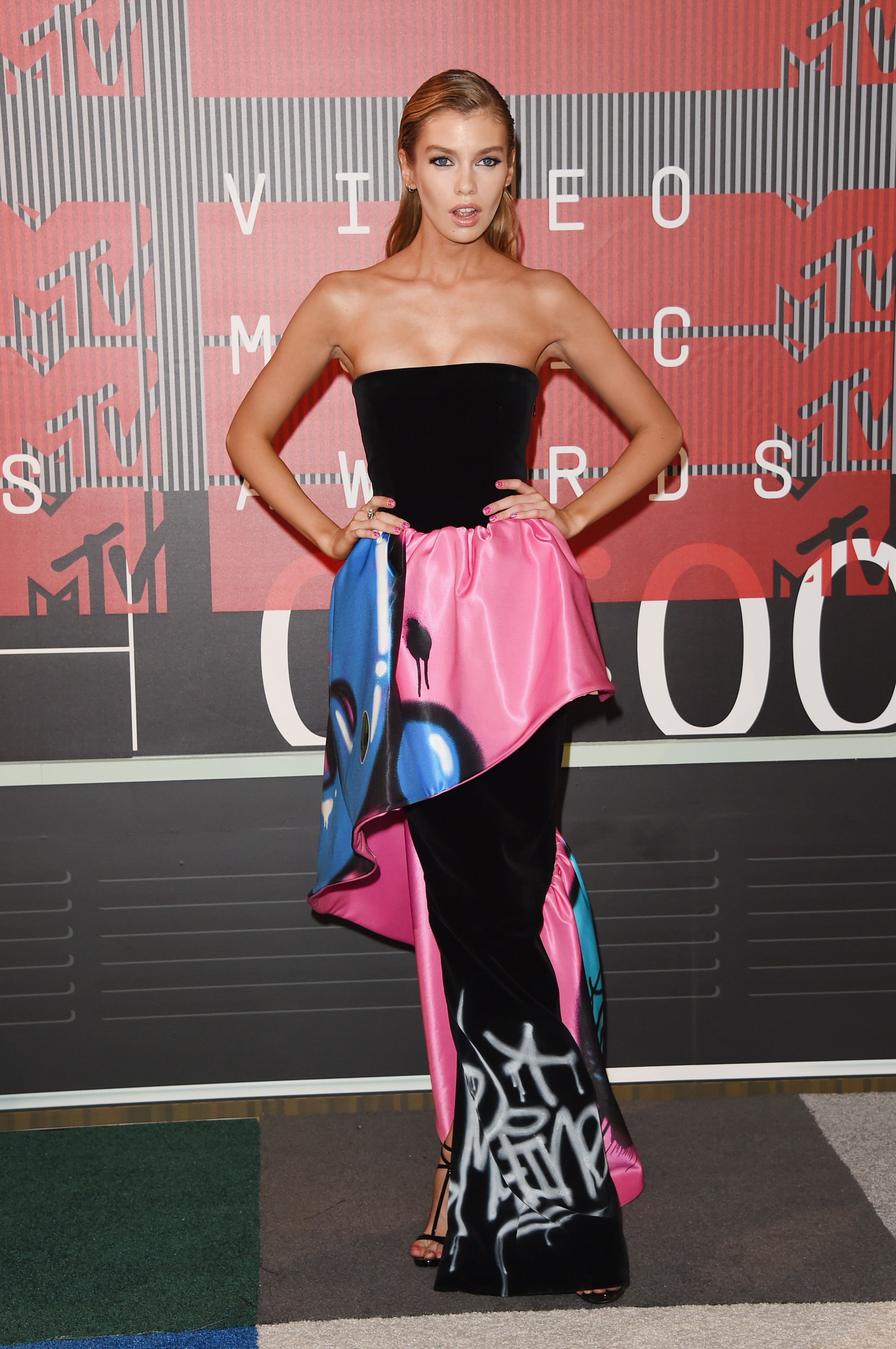 Worst: Z LaLa's outfit defied explanation, but someone had to fill in for Lady Gaga.