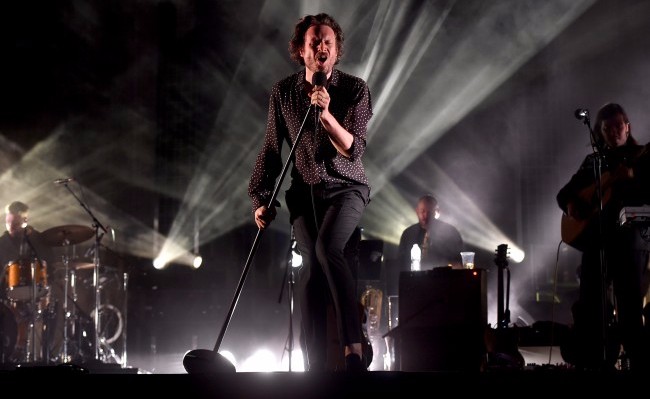 You think it would be impossible to get anything new out of Father John Misty at this point. He's so plugged in — engaging with the media constantly and dropping nuggets of information alongside headline-grabbing nonsense for a laugh — that you'd think the well of Tillman tidbits would run dry this far after the release of his excellent new album Pure Comedy. But Tillman is making good on his promised idea of "Total Entertainment Forever," continuing to wow fans and detractors alike with his latest interview.
In an incredible new profile for The New Yorker, Tillman reveals some new information about his time as a pop music songwriter. The singer talked about his work on Beyonce's standout Lemonade single "Hold Up" and how the new mother of twins changed a crucial line in the song.
Via the piece:
"Tillman also wrote the refrain, the first verse, and the melody of 'Hold Up,' one of the big singles from Lemonade. He had written, 'I'm not gonna lose my pride if I'm gonna lose my sh*t,' but Beyoncé changed it to "F*ck me up a b*tch," which became everyone's favorite. "There's no way I'd write that," Tillman said."
He also added that "Hold Up" wasn't the first song that he wrote for Beyonce.
"It was the first song I ever wrote for somebody else," he said of the unheard track. "Beyoncé bought it. She cut it. She was working on Lemonade. But it's not on the record. It's in the stash."
In addition to that anecdote, the piece also contains funny moments between Tillman and his fellow rock stars. A slight testiness runs through his interactions with Art Garfunkel — who he implies is not a decent person — and Dave Grohl.
The first thing he says, 'Isn't it great to hear that sold-out crowd cheering, so you know business is booming?'" Tillman said of his interaction with Garfunkel. "He also said, 'I hear you've been ripping me off.' "
The piece follows Misty through Hollywood parties, a visit to his old Christian college and practice sessions and is more than worth your time. Give the whole thing a read over at The New Yorker. And for more on Tillman, don't miss our own interview with him on the Celebration Rock podcast.