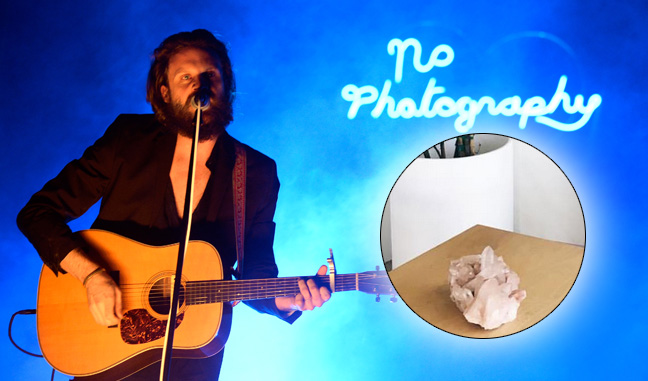 Father John Misty might be at the center of the oddest controversy in recent memory. Moon Juice in Silver Lake has lost their cherished rose quartz from the shop, also throwing off their mystical energies. The juice bar posted a plea for the stone's return and covered it with a slight threat for the person who took the powerful rock.
To whomever took her out the door, you do not want the energy of a stolen crystal, please trust me! Anyone who can help her find her way home will be hugged and fed, no questions, just thanks.
It didn't take too long for Moon Juice to get their answer, as Father John Misty stepped forward to claim the stone as his own. Well, not truly his own, but as a piece of the universe that just happened to find its way into his possession:
https://www.instagram.com/p/BHqF3VVByMl/
I am here to claim responsibility, though I do not condone the rhetoric employed in Moon Juice's post.

To claim that "something has been 'stolen'" is in itself a tacit endorsement of the capitalist values that blended superfoods and locally sourced produce stands, ironically, in direct opposition to. The universe, however you may define her, brought this crystal into my life at what can only be described as a "pivot moment".
As Vocativ points out, many online found the situation to be fairly ridiculous and pointed it out on social media:
Doesn't matter what they think, though. This is possibly the finest story one could ever stumble across and it should be celebrated. More rocks should be stolen, with curses placed on them to force wayward rock stars to boast their theft online and then feel the wrath of a curse later on. It's a Stephen King book brought to life — or at least Richard Bachman.