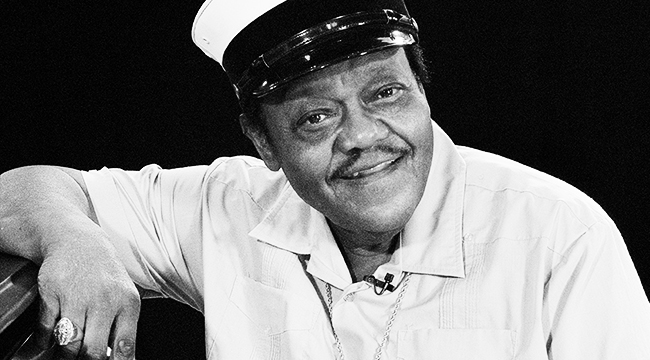 Fats Domino, one of the most iconic singers and pianist in American history has died. He was 89 years old. The news was confirmed by the New Orleans network WWLTV, who received a statement from his family. According to their report, "His daughter said he was surrounded by family and friends and died peacefully."
Domino was a New Orleans institution. He was born in the city on February 26, 1928, and despite all of the fame and accolades he racked up throughout his life, remained an enduring presence, living in the same home for decades where he raised his 13 children. Domino was known the world over for numerous hit songs he penned and performed throughout his lifetime, including immortal cuts like "Ain't That A Shame" and "Blueberry Hill," but first gained national recognition around 1949 with his hit single "The Fat Man." All told, he sold something around 110 million albums throughout his lifetime.
Throughout the 1950s, Fats renown as a performer preceded him in nearly every town he appeared. His high-energy sets were known to sometimes spark full-scale riots, as people lost themselves in his signature boogie-woogie. "It wasn't anything in the music," he once told Rolling Stone about his penchant for mania. It must have been something in the audience."
Our condolences go out to his friends, family and the entire city of New Orleans.