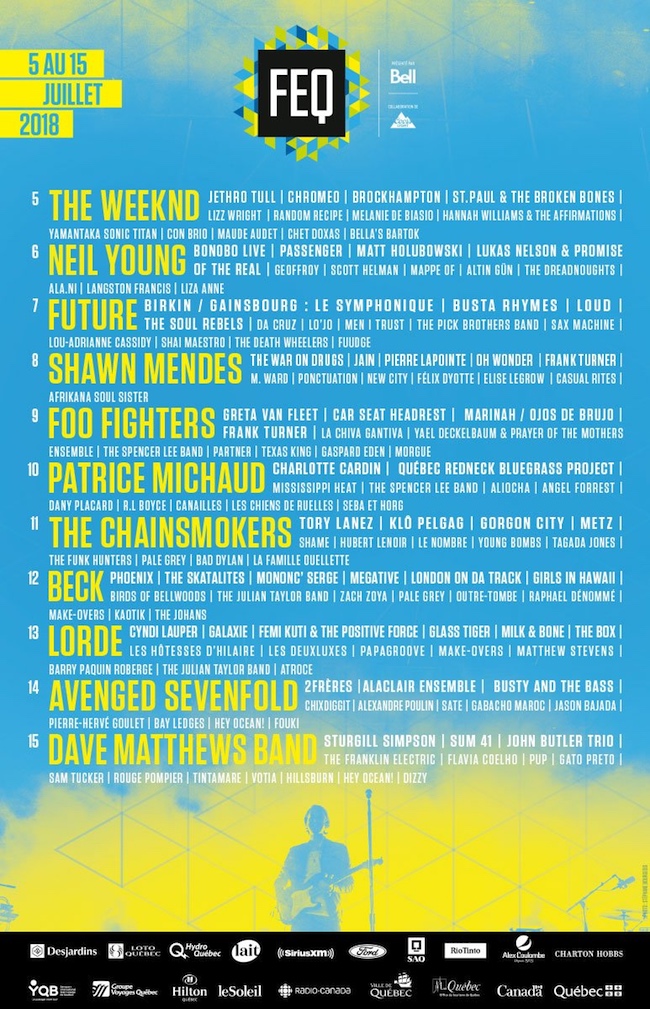 It might not be on the same echelon as Coachella, Bonnaroo, or the like, but Festival d'été de Québec (or in English, Quebec City Summer Festival) is as storied as either of those, even if just for its longevity: The event has been held in Quebec City annually since 1968. The festival has had some strong lineups over the past few years, and this year's just-revealed slate of performers continues Festival d'été de Québec's tradition of having something that should please every audience.
The format of Festival d'été de Québec is significantly different than most North American festivals: Instead of cramming a bunch of artists into a three- or four-day weekend, the festivities here are spread out over the course of eleven days: Headlining each day this summer, from July 5th to 15th, are, in order, The Weeknd, Neil Young, Future, Shawn Mendes, Foo Fighters, renowned Québécois singer Patrice Michaud, The Chainsmokers, Beck, Lorde, Avenged Sevenfold, and Dave Matthews Band.
Other notable performers include The War On Drugs, Car Seat Headrest, Brockhampton, Cyndi Lauper, Tory Lanez, Phoenix, Jethro Tull, Busta Rhymes, and Sturgill Simpson, among others. This clearly isn't the type of festival you're going to see the entirety of if you aren't from the Quebec area, but even if you just want to make a trip to Canada around your favorite batch of days, it's probably worth it: Festival d'été de Québec is incredibly cheap by festival standards, considering that access to the entire thing only costs about $80.
Check out the full lineup above, and learn more about the festival on its website.