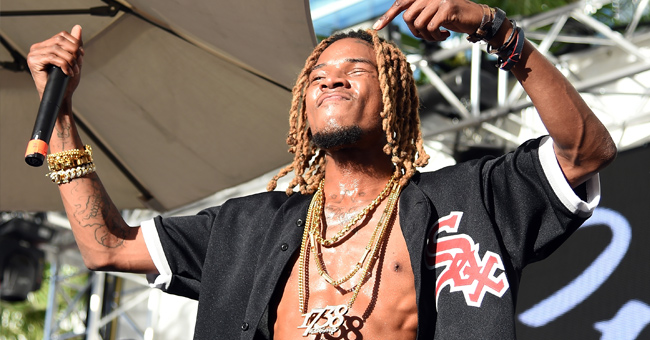 Fetty Wap was reportedly involved in a dispute that led to a shooting in his home state of New Jersey. The incident took place at an all-night deli in South Paterson early this morning. According to NorthJersey.com, who spoke to Paterson Deputy Police Chief Troy Oswald, Fetty and his friends were confirmed to have been somehow involved in an argument that perhaps led to the shooting, however, Fetty is not among the suspects being looked at by police.
The shots started going off sometime around 5 am. Three people were reportedly wounded in the melee, but the "Trap Queen" rapper was not among them. Two victims were taken to a nearby hospital, but no one sustained injuries that were considered to be life-threatening. Fetty himself was not injured.
Shortly after the incident, Fuzz whose real name is Raheem Thomas, the CEO of Muscle Team Ent, posted a photo on his Instagram of a figure wearing Fetty's signature 1738 chain. Apparently, in Fuzz's bio section, there's a song by another rapper named Remy Boy P-Dice who is currently suing Fetty for $7 million.
The caption on the photo explained.
"Just to set the record straight. I personally didn't take @fettywap1738 chain. I'm not responsible for no one else action but my own. I don't have a personal problem Fetty Wap. He just a good kid in the way. How he got his chain taken I don't know and I don't care. That's none of my business. Did I take a picture with it? Yes. The whole down the hill got a picture with it on. Now enjoy the rest of y'all night. ?? I will love to take the credit for it but unfortunately, my Instagram is no liar."
https://www.instagram.com/p/BRyd8jzAtky/?taken-by=fettywap1738
According to TMZ, authorities in Paterson have arrested Thomas for the shooting. Apparently, their sources allege that Thomas and his crew had warned Fetty to "stay out of Paterson," which is admittedly hard to do, considering that it's his hometown. Earlier this year, Thomas' Muscle Team Entertainment dropped a diss track aimed at Fetty titled "Got Em Remix."