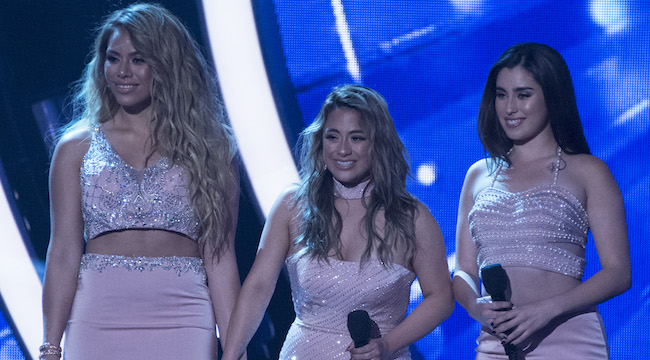 Fifth Harmony are no stranger to reality competition TV series. The group was put together by Simon Cowell on the 2012 season of the X Factor. And five years later, with one less member, they paid Dancing With The Stars a visit.
5H's Normani Kordei is currently a contestant on Dancing With The Stars (and has been absolutely killing it, quite frankly), and on Monday night, she was joined by her bandmates for a performance of their very first song they sang together. The theme this week is "Most Memorable Year," where the dancers dedicated a dance to the most important year of their lives. Kordei, of course, chose 2012, that fateful year on X Factor, where she was linked up with Dinah, Ally, Lauren and Camila to be the biggest girl group in the world.
Fifth Harmony's rendition of Shontelle's "Impossible" had fans reminiscing about the first time 5H sang together for Simon Cowell — at his house, no less. Their DWTS performance served up evidence of the years past — from losing Camila Cabello to a solo career, to their more skillful harmonies, to even Normani Kordei's inevitable solo work. It was almost as if, for the first time, Fifth Harmony became a collective, with every member supporting each other's independence, rather than feeling the need to stick together in a close-knit group.
Kordei kickstarted the performance by dropping the first verse of "Impossible" before losing her mic and teaming up with partner Val Chmerkovskiy. Her bandmates took over, forming a trio and letting Kordei shine (foreshadowing??), while carrying out the rest of the tune.
"It was such a special moment," Kordei said after the performance. "I wouldn't be in the position that I'm in without these beautiful girls and I recognize that. They make up [for] all of my weaknesses, and I thank them for that."
Here's Fifth Harmony's first performance together, if you need to see how far they've come: