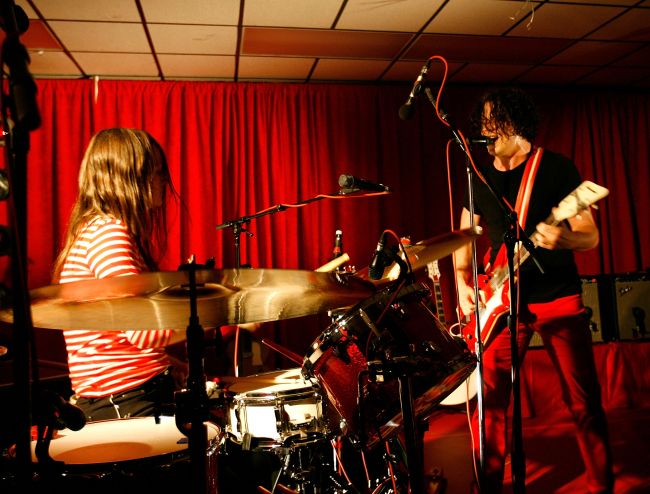 With the news that Guns N' Roses and LCD Soundsystem are both reuniting for Coachella this year, an obvious, yet selfish question has been raised: what about our other favorite bands who called it quits? Will those great groups that we never got to see — or only got to see once or twice — ever grace us with their presence again?
Well, let's take a look at some much-beloved acts that currently have no plans on ever playing another gig, and try to figure out what the odds are that they'll eventually come back for some of that tasty music festival cash.
Note: I'll try to avoid succumbing to wishful thinking here, but I promise nothing!
The White Stripes
While it's been almost nine years since the last White Stripes album, their breakup is more recent, coming in 2012. In the excellent documentary Under Great White Northern Lights, we see some tense moments between Jack and Meg White, and in a 2014 Rolling Stone profile, Jack expressed his frustration at being in "a two-piece where the other one doesn't talk." So, there's some fences to be mended here.
That said, you'd have to think the pair would talk things out at some point, and while a tour could be grueling, a festival appearance for some quick cash doesn't seem like an utter impossibility. The real question is would Jack need it? He's released two acclaimed solo albums since the dissolution of the Stripes, and also has a good thing going with The Dead Weather. Jack White is doing quite well without Meg, and he might not be motivated reconvene with her, even if there's a ton of money in it.
Odds They Reunite: 40%
The Smiths
I'd like to see this happen. We all would, but there's just a few problems:
A. Morrissey has said repeatedly that it won't happen.
B. Morrissey doesn't need the money.
C. Morrissey probably wouldn't care if Andy Rourke or Mike Joyce needed the money (Johnny Marr doesn't need the money).
D. Morrissey probably hates the idea of bands reuniting in general as much as he hates the idea of reuniting his own band.
Sorry, kids. Unlike LCD, this one isn't happening.
Odds They Reunite: 0.0000000000000000000000001%
R.E.M.
These guys broke up in September 2011, just a few months after releasing their critically acclaimed final album, Collapse Into Now. It's worth noting, this split had little to do with animosity between the band members, and seemed to be more related to the idea that R.E.M. were creatively finished. They had accomplished everything they intended to as a band and there was nowhere else to go.
So, does that mean they're really done for good? Hard to say. Boredom can set in, and the guys all seem to be getting on pretty well. Even if they never record another album, a festival reunion in five years or so doesn't seem out of the question.
Odds They Reunite: 60%
Motley Crue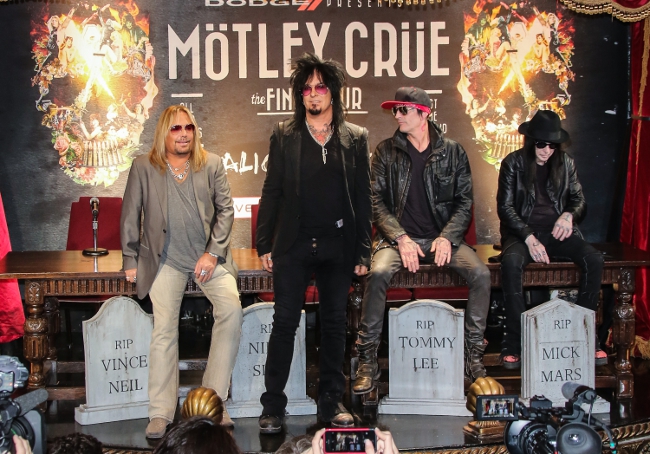 These guys played their supposed last show ever this weekend, but I'm still skeptical. They've broken up a bunch of times in the past, so I didn't know why we should take them super-cereal now. That said, they did seem a bit more intent on "closing the book" on Motley Crue this time around, so they might really be gone for good.
Still, I can't help but feel like in a few years, the itch will set in. Motley Crue know they can make an insane amount of money off their name, and while they might think they're done, they could be singing a different tune in 2022. Call me crazy, but I don't think "Girls, Girls, Girls" has blasted from an amphitheater for the last time.
Odds They Reunite: 70%
Talking Heads
It's been about 25 years since the original Talking Heads lineup played together, and in the time since, all we've gotten is an ill-advised David Byrne-less album called No Talking, Just Head which featured rotating vocalists. It's all-too-obvious that Byrne has absolutely no desire to reunite with his old band.
Admittedly, he's not quite as stringent about that as Morrissey is, so it's not impossible that these guys could play Coachella or Bonnaroo at some point, but for now, it doesn't seem all that likely, either.
Odds They Reunite: 20%