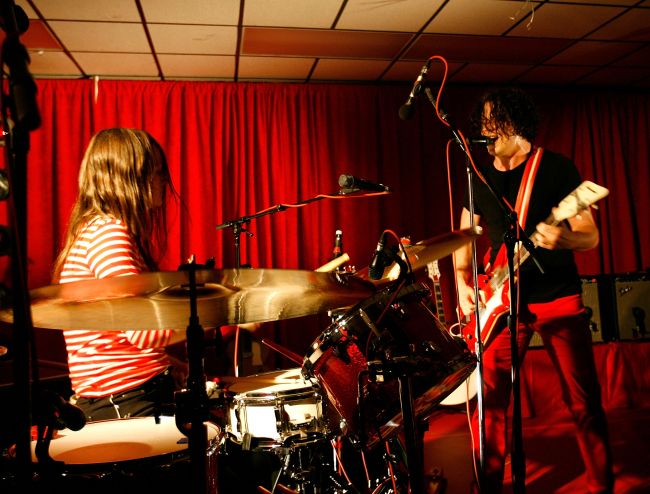 With the news that Guns N' Roses and LCD Soundsystem are both reuniting for Coachella this year, an obvious, yet selfish question has been raised: what about our other favorite bands who called it quits? Will those great groups that we never got to see — or only got to see once or twice — ever grace us with their presence again?
Well, let's take a look at some much-beloved acts that currently have no plans on ever playing another gig, and try to figure out what the odds are that they'll eventually come back for some of that tasty music festival cash.
Note: I'll try to avoid succumbing to wishful thinking here, but I promise nothing!
The White Stripes
While it's been almost nine years since the last White Stripes album, their breakup is more recent, coming in 2012. In the excellent documentary Under Great White Northern Lights, we see some tense moments between Jack and Meg White, and in a 2014 Rolling Stone profile, Jack expressed his frustration at being in "a two-piece where the other one doesn't talk." So, there's some fences to be mended here.
That said, you'd have to think the pair would talk things out at some point, and while a tour could be grueling, a festival appearance for some quick cash doesn't seem like an utter impossibility. The real question is would Jack need it? He's released two acclaimed solo albums since the dissolution of the Stripes, and also has a good thing going with The Dead Weather. Jack White is doing quite well without Meg, and he might not be motivated reconvene with her, even if there's a ton of money in it.
Odds They Reunite: 40%
The Smiths
I'd like to see this happen. We all would, but there's just a few problems:
A. Morrissey has said repeatedly that it won't happen.
B. Morrissey doesn't need the money.
C. Morrissey probably wouldn't care if Andy Rourke or Mike Joyce needed the money (Johnny Marr doesn't need the money).