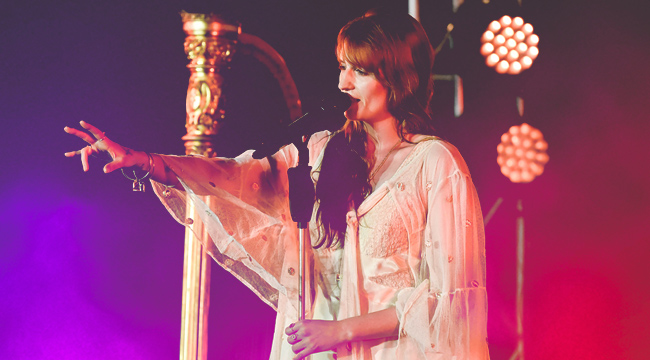 Just in front of me, two girls splayed their arms toward the heavens, trying to bring the sky down with the shattering chorus of Florence And The Machine's early fan-favorite "Two Lungs." Taken from her 2009 breakout album, Lungs, the song was expertly fixed in Florence's set between cuts from her magnificent new album, High As Hope, a towering effort even for Florence Welch, a woman known for towering over the musical landscape around her. Florence's beatific, brutal ballads somehow supersede the genres of pop, singer-songwriter, folk, and rock, hewing closer to some ancient form of music used for incantations and worship. She is more spiritual conduit than singer onstage, leaping and spinning along to her own music like a child or an angel.
Last night at the Hollywood Bowl, she kicked off one of two nights at the landmark Los Angeles venue with a set that closely mirrored the one she's been playing all tour — I had the chance to see her perform it a couple weeks earlier at Denver's brand new Grandoozy festival — but of course, that show wasn't bookended by appearances from one of LA's own local musical heroes, the inimitable technicolor jazz saxophone wizard Kamasi Washington. Washington appears on a track off High As Hope, the bustling, brawling "Big God," and after an incredibly funky, unforgettable opening set with his own massive collective, made his way back into the spotlight toward the end of Florence's set — at her request — to join her machine in performing the swaggering tune.
This was my second time watching Kamasi command the attention of the Hollywood Bowl, and even in the early slot, as he was last night, he treats every performance like it's a sacred act, administering the same care on a stage this massive as he would in a small, local LA club, the kind he had been playing for years before Kendrick Lamar tapped him as a backbone player on his political jazz-rap masterpiece To Pimp A Butterfly.
Since then, Washington has enjoyed the Kendrick effect — bigger stages and bigger name collaborators, name recognition and perhaps even modest fame — but none of that has impacted his earnest, tender live performances or the cadence and structure of his devotion to jazz itself. Even concertgoers there for Florence's set and more attuned to the pop and commercial world marveled at his commanding presence; so it goes for nearly every listener who discovers his astonishing music in a live forum it seems.
But before Washington helped Florence close out her magnificent night, there was plenty to keep listeners glued to their seats — or ready to pop up and sway along, as the woman of the hour frequently demanded. Briskly stepping out onto the crescent that encircles the pit closest to the stage at the venue, Welch delighted one fan by singing a bit of a song directly to her, and honored her latest album by belting renditions of its massive fan-favorites like "June," "Hunger," "Patricia," and "South London Forever" out and up, toward the moon, stars, and trees — and the nearly 20,000 listeners gathered to hear them. For fans who have been along for the ride since Lungs, the decade since has seen Florence jump from a show at the Troubadour, still playing harp herself, to a full band of support, Billboard hits, partnerships with luxury designers like Gucci who help create her beautiful costumes, and the co-signs of celebrities like Blake Lively.
https://www.instagram.com/p/BoLVc6yFDt9/?taken-by=harmonicait
Through it all, though, Florence's commitment to her black and blue power ballads has never diminished. She stills sings her old hits — "Dog Days Are Over" and "Cosmic Love" — like they're brand new. And, breaking with her established setlist for a minute, she performed the title track off her 2015 record How Big, How Blue, How Beautiful, noting that the impetus for that song had begun at this very venue, as the opening line, now decoded reveals: "Between a crucifix and the Hollywood sign / we decided to get hurt." It was the tour debut for this song, and though she dubbed the love affair in question a disastrous one, Florence seemed to still relish the album that pain spawned, and gloried even more in performing the track onstage at the spot it came to life.
Which, in a way, speaks to the power of the Hollywood Bowl; it isn't just a venue to those of us who live in LA and regularly make the trek to the heart of the city, to sit and hear our favorite artists at one of the most historic musical locales in the entire state. Between a crucifix and the Hollywood sign, the show always goes on, even when our hearts fail, when our relationships fail, or our Gods fail. There is a peace in that, and a certain grace, and yes, definitely a sense of hope. If you're looking for all those things, go and see this show again tonight, and try to bring the sky down with your dancing.