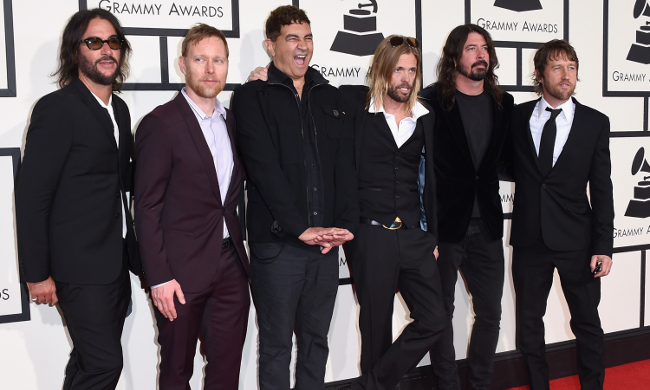 A little less than a year after Foo Fighters drummer Taylor Hawkins said that the band would be taking an "indefinite hiatus," then the band made a wacky video to disprove the claims that they were actually calling it quits, Dave Grohl and Co. are back! After a mysterious countdown was launched on the band's website, fans started to speculate that the announcement could be related to the band's long-awaited return to Glastonbury after Grohl's nasty spill in Sweden left him with a broken leg and the band was forced to cancel their appearance. As it would turn out, the countdown was for exactly that: it has been announced that the Foo Fighters will be joining Radiohead at the UK's Worthy Farm this summer for the Glastonbury Festival, where they will headline on Saturday, June 24th.
The announcement came as part of a pre-recorded segment after a mysterious countdown on the band's site struck zero, which in turn launched a livestream of secret celebratory gig at a non-profit venue up the road from Worthy Farm called Cheese and Grain. Tune into the stream below, which Grohl has already noted will (of course) last more than three hours.
With any luck, the huge Glastonbury announcement, in addition to a few other festival appearances means that more gigs are coming down the pike from the Foos, who are known to put on quite a show.