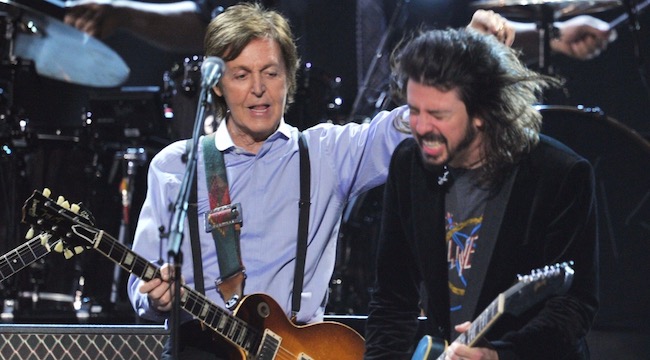 Dave Grohl is one of the greatest drummers of all-time. His work with Nirvana alone is enough to cement his place in the boot-stomping, stick-wielding pantheon. Taylor Hawkins, the main percussionist in Foo Fighters, is no slouch either. Both of these facts are what make it especially surprising to learn that the band decided to pull in one of the greatest songwriters of all-time to man the skins for a new song off their upcoming album Concrete And Gold.
Paul McCartney has a reputation for being something of a renaissance man. Sit him in front of piano, lend him a guitar or a bass, and he can come up with something pretty transcendent. What most people don't know is that he's also a pretty good drummer as well. Have you heard the Beatles "Back In The U.S.S.R." or "The Ballad Of John And Yoko?" Yeah, that ain't Ringo behind the kit.
Anyway, during a recent recent interview with ET Canada, the Foos let it slip that Sir Paul had lent them a percussive assist on the new record and that the sessions went even better than they had expected. "He hadn't even heard of the song," Hawkins said. "He comes in and Dave picked up an acoustic and showed him real quick. He sat on his special drum set that his tech set up for him. I sat there with a drumstick conducting. He did two takes."
If that weren't tantalizing enough, Grohl also mentioned that one of the biggest pop stars out there also appears on the album, but he won't divulge who. "There's one who is probably the biggest pop star in the world. He or she sings backup on one of the heaviest songs on the record. And we're not telling anybody who it is."
You can leave your guesses about who the remaining mystery guest is in the comments section below.